Asset management functionality for your customers
On the ToolSense after-sales platform you can offer your customers an asset management  system for their machines.
This allows your customer to manage his machine-related processes, avoid downtime and increase productivity.
In addition, the ToolSense platform can map the complexity of multi-level organization and data security settings – secure & scalable.
In addition, your customers can handle all after-sales processes with you via the ToolSense platform.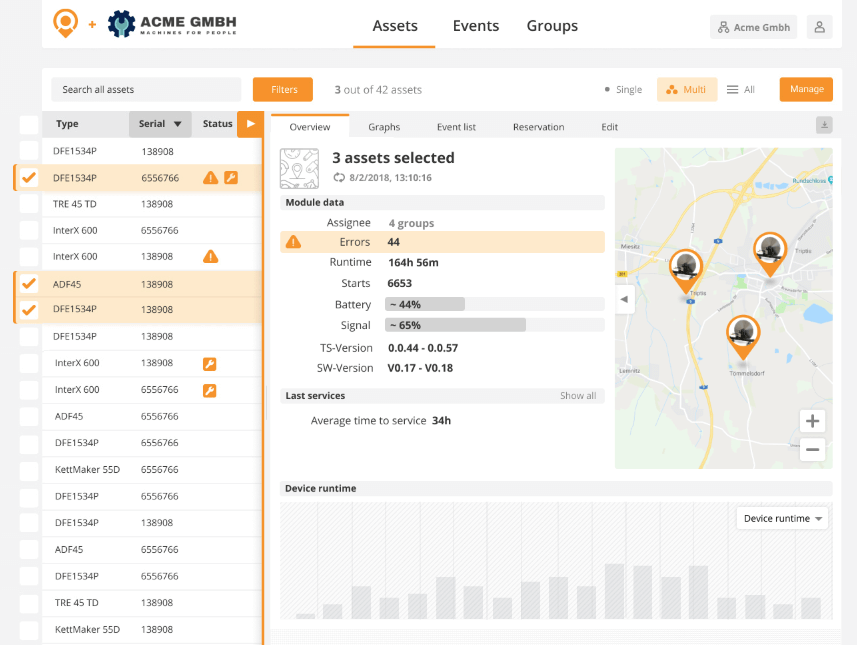 Management of all machines and relevant processes (e.g. machine reservation calendar) 
Location and GPS route tracking of each individual machine (with optional IoT Hardware)
Display of error codes, notes & maintenance
Running time recording to the minute, independent of the machine type (with optional IoT Hardware)
Integration of your existing IoT hardware is possible (hardware-agnostic)
Rules Engine to flexibly set alarms and rules
Integration into any ERP system using the ToolSense GraphQL / REST API
"Self-Assignment" of an account by end customers
Perfect in combination with: