Ditch Your Excel Sheets for State-Of-The-Art Asset Management
Managing your assets or equipment shouldn't be hard. That's why Excel, WhatsApp or Pen & Paper are not the right tools to efficiently manage your asset operations. No matter the manufacturer or type—with ToolSense you are good to go.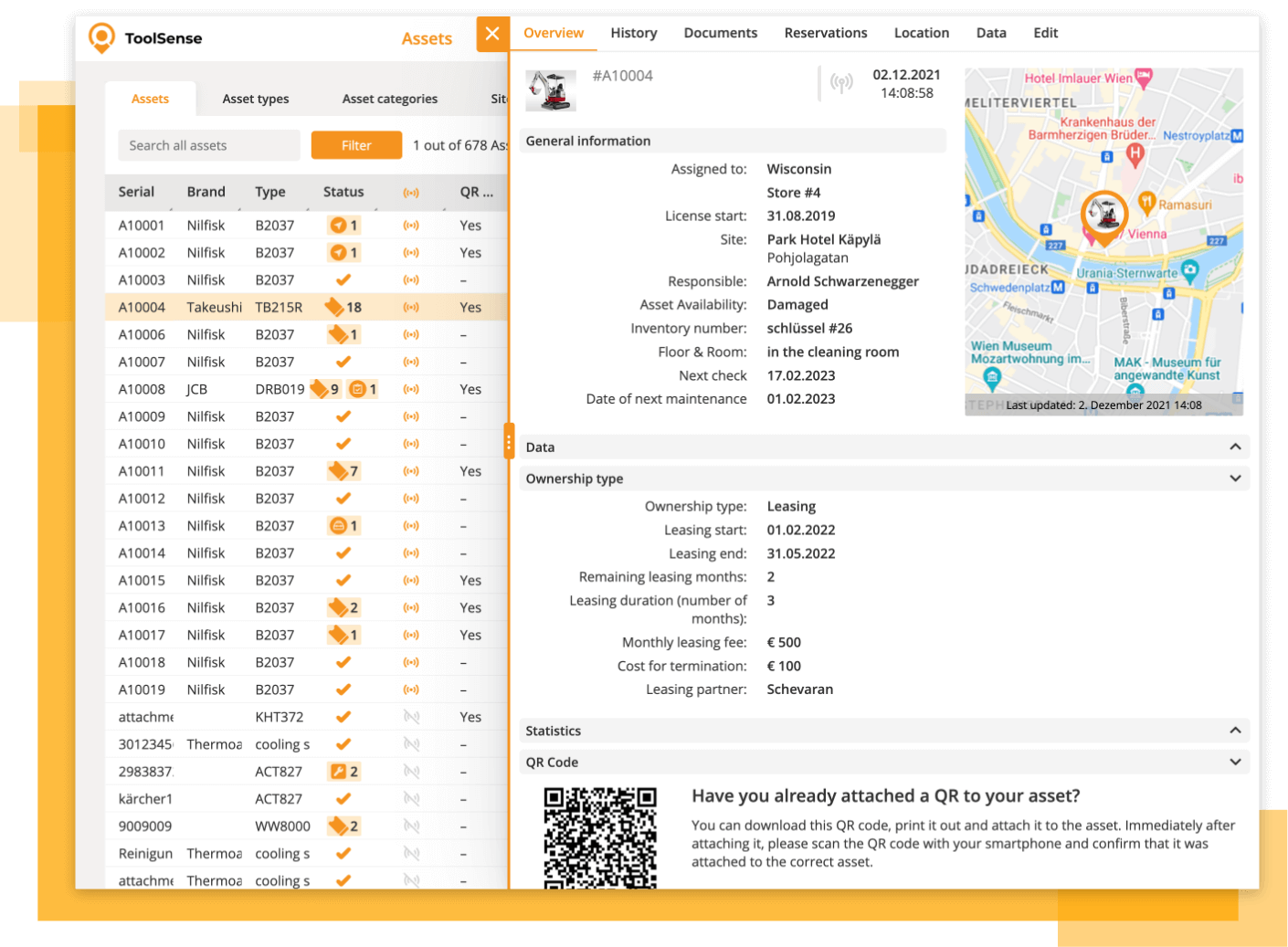 Manage all your assets on one single platform
Set up your entire fleet of machines and equipment on ToolSense within a few minutes using a simple Excel import or synchronizing with your ERP. ToolSense generates a unique QR code for each machine. Just print it out and attach it to the asset. This allows you and your employees to identify the machine and trigger processes at any time.
See the asset's history with just a glimpse of the eye
Every asset or piece of equipment has a central life cycle folder on the ToolSense Asset Operations Platform. The asset's location has changed? Someone created a service ticket? A maintenance is due? We store all events and protocols automatically. Thus, making it easy for you to keep track of your assets, and it's costs at all times.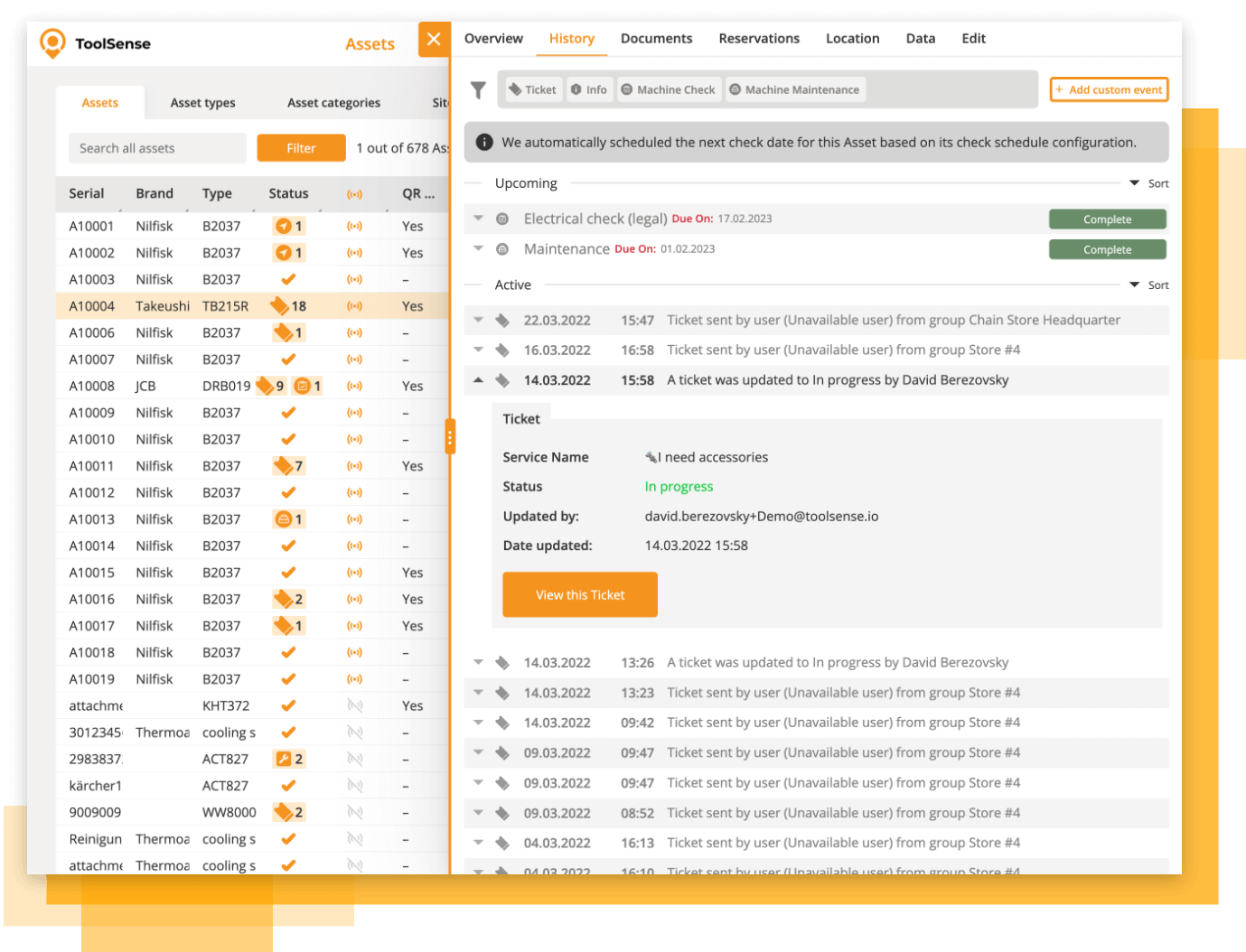 Keep all documents organized and accessible at all times
Remember the last time you have been searching for a manual or spare parts list? At ToolSense we store all documents and even videos for each machine type centrally, so they are accessible at all times. And if the information changes, they are easily updated with one click. Additionally, you can upload custom documents for specific assets, for example reports, damage photos and more.
Alexander Manafi (CEO) gives you a private tour
Our CEO, Alexander Manafi, gives you a quick private tour. See the actual product and how it is used to improve your asset operations. If the video embed isn't working as expected, please find the full video here.
Get up to 875% ROI With ToolSense
Reduction in time of operational staff spent managing assets, handling inspections and locating asset information
Reduction of annual asset costs (buying, repair & parts)
Example: For FM company with 3K employees this results in €150K asset cost reduction / year
Reduction of unplanned downtime
Example: For FM company with 3K employees this results in €200K cleaner personnel cost reduction / year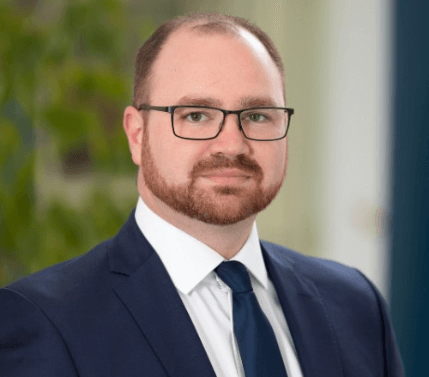 Director Operations Performance

ISS Austria
We wanted to have a solution that does not only track expensive assets but also cheap ones. In Austria, ISS operates over 6,500 cleaning machines alone, without even counting vacuum cleaners and other pieces of equipment. With ToolSense we bring them together on a single platform, leveraging data from IoT hardware and improving maintenance and inspection processes.
Start your digital transformation now
Join Hundreds of Asset-Intensive Companies Operating on ToolSense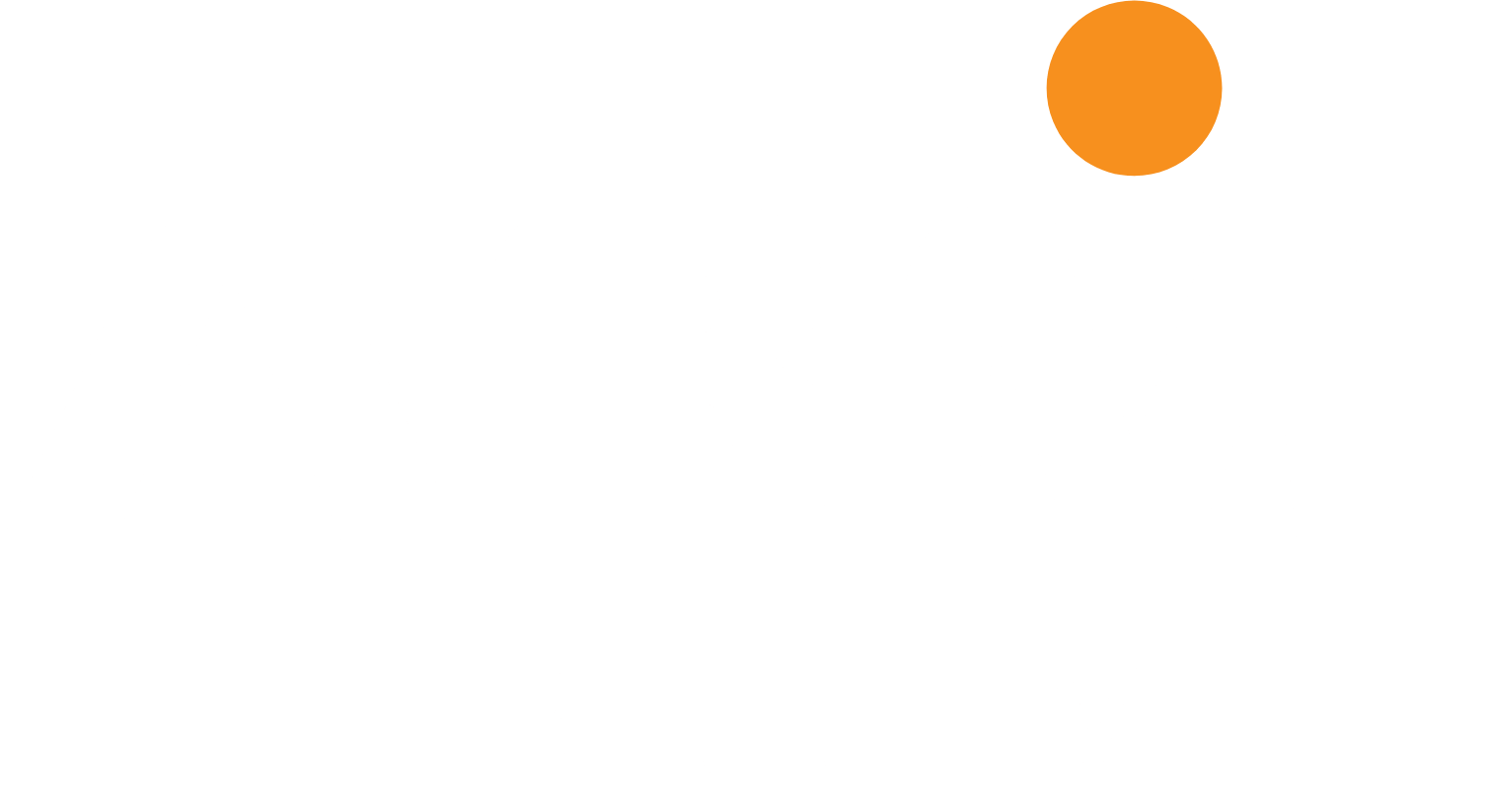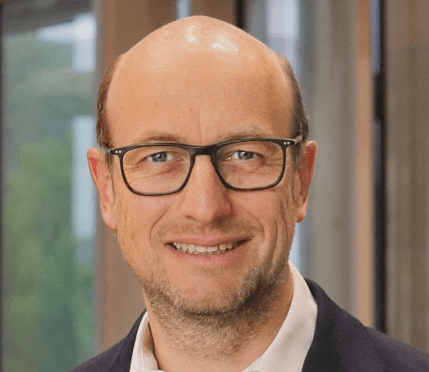 Head of Machine Technology

Leonhard Weiss
With ToolSense we no longer have duplicated data stored in Excel sheets but a central and synchronized system that contains all relevant information and documentation. We save a lot of time and therefore I have an immediate positive economic impact. In addition to that we wanted to stay in charge of our own data which required a manufacturer-independent solution.