According to a study conducted by Standford's Law School, 90% of all car accidents are caused by human error. While these make up the vast majority of auto accidents, they still leave a remaining 10% for other causes – one of which is mechanical failure. The UK government has made regular vehicle checks a legal requirement to increase road safety and decrease traffic accidents due to mechanical failure. You will learn more about the so-called MOT vehicle check, when it is due, and what parts of a car are checked in the following article.
Key Facts
MOT is short for Ministry of Transport, but typically describes the annual vehicle MOT check.
The MOT test is a legal requirement for all vehicles older than three years and is conducted once a year.
The MOT test checks a vehicle for road safety and environmental guidelines.
These checks include a vehicle's lamps, steering, suspension, brakes, tyres, seat belts, body and structure, exhaust and emissions as well as the driver's view of the road.
ToolSense is trusted by 700+ companies
Keep Track of Your Vehicle MOT Checks with ToolSense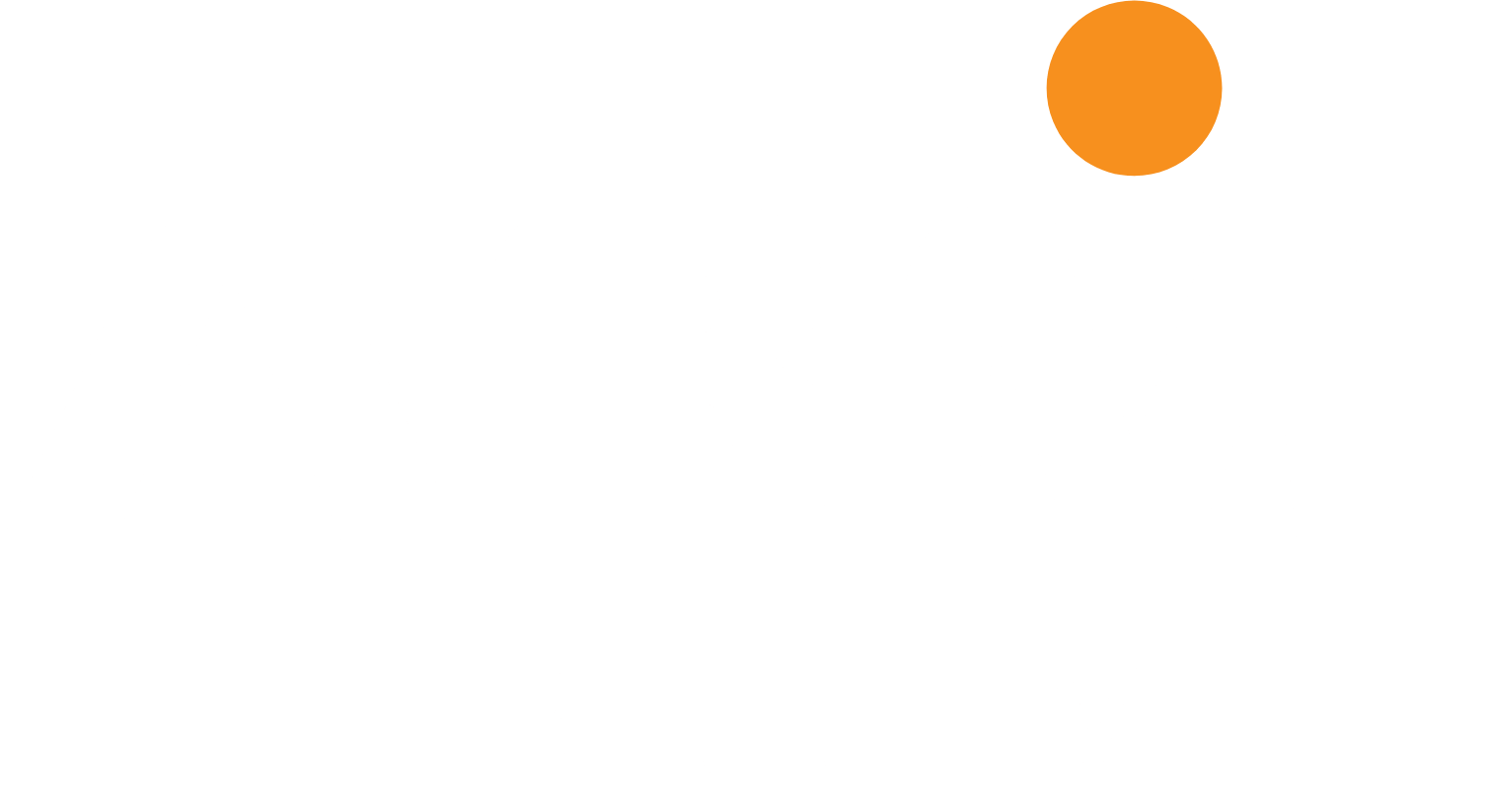 What Is a Vehicle MOT Check?
The vehicle check (MOT) is an annual inspection and a legal requirement for all cars that are older than three years. This MOT inspection looks at various parts of the car to make sure they meet the legal minimum requirements for road safety. Additionally, parts – such as the exhaust and engine – are checked according to environmental guidelines.
If you miss your vehicle MOT date, you risk hefty fines and points on your licence. A missed MOT date also invalidates your car insurance, which means your insurance provider might not cover the costs in case you get into an accident. That is why it is vital to renew your MOT test certificate and keep your MOT expiry date in mind, as it is your responsibility and MOT centres will most likely not remind you.
What Does MOT Stand for?
MOT is an abbreviation that stands for Ministry of Transport in the United Kingdom. The Ministry of Transport is a defunct office that developed into the Department of Transport.
What Are the Procedures Followed in an MOT Test?
What can you expect during an MOT test? Luckily, GOV UK vehicle MOT follows a set of specific guidelines that make it easy for everyone to prepare for the upcoming exam and get the best MOT test results possible. The MOT inspection manuals can be found online on the website of the government of the United Kingdom. These items on our MOT checklist are included in general vehicle MOT checks:
MOT Checklist
Lamps, Reflectors and Electrical Equipment
Create Custom Forms and Checklists
Visibility is a huge factor when it comes to road safety, which is why the UK GOV vehicle MOT check makes sure that all lamps, reflectors and the corresponding electrical equipment are in working order. This includes the headlights, brake lights, and the small lights illuminating the number plate. Even one broken bulb can cause MOT failures.
Steering and Suspension
Steering and suspension are also vital when it comes to car safety. In case of failure, these could result in tragic accidents because they directly impact a vehicle's ability to steer and manoeuvre.
Brakes
For obvious reasons, brakes are one of the most important parts of a car when it comes to road safety. During your MOT test, the mechanic will check the physical components of your brakes and test your brake efficiency.
Tyres and Road Wheels
Damaged or worn tyres can lead to accidents because they provide less grip and lead to a longer stopping distance. Especially in wet or snowy conditions, driving with faulty and worn tyres becomes a great hazard. That is why each MOT test includes checking tyres and wheels for damage, punctures, and tread depth.
Seat Belts
Wearing a seat belt can save lives because it keeps the driver and passengers from coming into contact with the interior or being ejected from the vehicle in case of an accident. It also distributes the force of impact over a larger area of the body – but only if the seat belts function as they should. That is why they are included in the MOT inspection manual.
Body, Structure, and General Items
The car's entire body and structure are examined during the vehicle MOT check. This includes checking for corrosion and damages that could compromise a car's safety. Additionally, general items and attachments are also examined.
Exhaust, Fuel, and Emissions
As mentioned above, the environmental impact also plays a major role if you want to receive your MOT test certificate. During the MOT test, emissions are measured to ensure your car meets the minimum requirements for pollution control.
Driver's View of the Road
To make sure a vehicle meets the legal requirements for road safety, it is also vital that the driver can see the other road users, traffic signs, and potentially dangerous situations. During your car's MOT, the windscreen is checked for damages that could obstruct a driver's view. As part of this exam, the windscreen wipers are checked, too, to ensure the driver's unimpeded view in all weather conditions.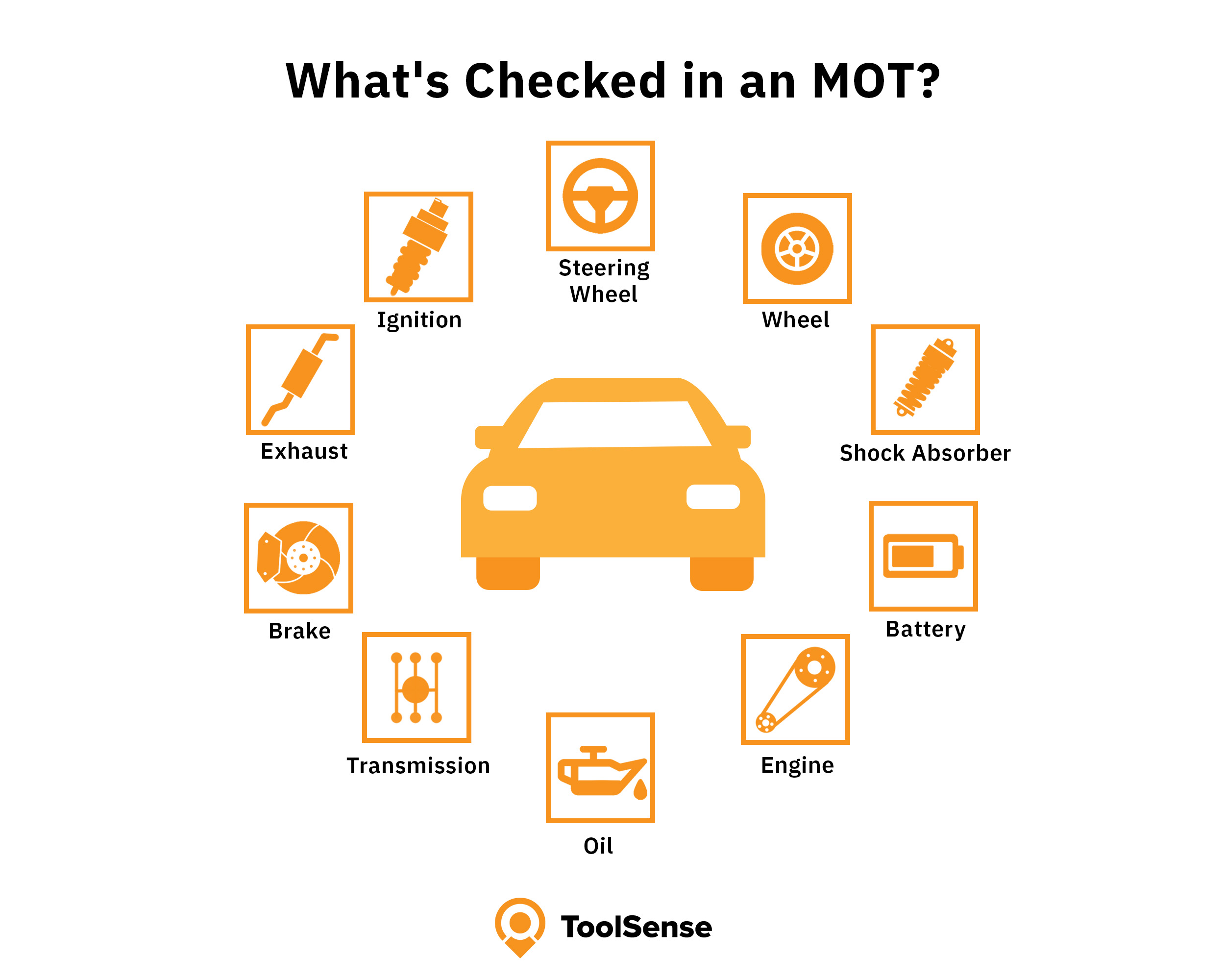 Why You Should Check the MOT History of Your Car
Purchasing a brand-new vehicle from a dealership is not the only way to buy a car. Many opt for a used model instead, or buy from a private individual. If that is the case, checking a vehicle's MOT history is a good course of action. All you need is the vehicle registration number to check your vehicle's MOT status on the website of the UK government. If you want to see your vehicle's MOT test locations, you also need the 11-digit number from your car's logbook.
Why is checking your vehicle's MOT history relevant? Firstly, the website will reliably tell you when the next MOT test is due so that you can keep your MOT expiry date in mind. It will also show the car's complete MOT history, including the mileage at the point of the test and where the test was conducted. You will learn whether the vehicle passed all MOT tests, which parts failed, and whether some parts already showed minor flaws that were not relevant or deemed insecure at that point – but could potentially cause your car to fail in the future.
How Long Does an MOT Take, and How Much Does It Cost?
Reduce Your Costs With Automated Checks
On average, a vehicle MOT check takes between 45 and 60 minutes. In case of MOT failures, however, you should be prepared for the test and repairs to take longer as you are not allowed to drive your car unless it still has a valid MOT certificate, or you are taking the vehicle elsewhere to get fixed. Some MOT test centres will require you to drop your car off and call you once your MOT test is done, while others let you wait for the test to finish, so you should plan to be without your car for the day.
The maximum fee an MOT centre can charge for a car is currently £54.85, £29.65 for a motorcycle with an engine size of up to 200cc, and £58.60 for goods vehicles of over 3000 kg. A full list of prices for various types of vehicles can be found on the government website, though MOT centres will often charge less than the maximum fee.
Are Any Vehicles Exempt from the MOT Test?
Historical vehicles are exempt from having to pass a regular MOT test. This includes vehicles that were built or first registered more than 40 years ago or vehicles that have not gone through substantial changes in the past 30 years, including the general way the vehicle works, engine, chassis, or axis. An annual MOT test is also not required for cars newer than 3 years.
Taxing an Exempt Vehicle
Older vehicles are also exempt from taxes, which means that if your car or vehicle was built or first registered before 1982, you no longer need to pay vehicle tax from April 2022.
When to Apply for an MOT?
When you are nearing your vehicle's MOT expiry date, you can book an MOT test appointment up to one month in advance so as not to run the risk of having your valid MOT certificate expire. It is not possible to book an appointment earlier than four weeks in advance.
What Are the Most Common MOT Failures?
1. Lights
Something as simple as a blown bulb can cause your car to fail, and it is the most common issue, making up 18.9% of all MOT failures. It is recommended to check your vehicle's head, rear, and brake lights, turn signals, and number plate lights regularly to avoid failing your MOT because of this easy-to-fix issue. If your light covers are made of plastic, they can become blunt and misty over time, which can also affect visibility and the outcome of your MOT test results.
2. Suspension
Problems with the suspension make up 13% of all MOT failures, but these, too, can be avoided and discovered in advance. Potholes or road bumps can easily damage shock absorbers or springs, so watch out for unusual sounds, leaks, or a car that doesn't quite sit level when parked, as this can indicate a problem with your vehicle's suspension.
3. Brakes
10% of failures are caused by problems with the brakes. To increase the likelihood of your vehicle passing the upcoming MOT test, you can test the brakes (and handbrakes, too) for functionality. If the brake path is longer than anticipated or the car drifts to one side while braking, this can hint at a problem. You can also look at the physical state of your brakes and listen for any unusual sounds.
4. Tyres
Tyres are among the most important parts of your vehicle – and also cause 7.7% of all MOT failures. This can be due to damages, like punctures, or lack of tread. According to the law, tyres must have a tread of at least 1.6 mm, which can be easily checked with a tread depth gauge or even a 20p coin before your appointment. You can also check for visual damages beforehand.
5. Driver's View of the Road
Problems with the driver's view of the road cause 7.2% of MOT failures. This could include a range of problems: cracks in the windscreen that impede the driver's view, inconveniently placed items, such as navigation systems, air fresheners, or other items, or worn windscreen wipers. It is recommended to check your windscreen and windscreen wipers and remove unnecessary items before your MOT appointment.
How ToolSense Can Help
Not just private individuals have to worry about their upcoming MOT appointments, but companies, as well, especially if they operate a large fleet of vehicles. ToolSense, a clever asset management solution, can help you keep track of all important maintenance and audit dates. Simply import your assets, equipment, and vehicles into the ToolSense database and set up automated MOT appointment reminders for every vehicle. The software can also store your fleet's complete maintenance and repair history, so you always know when which repair was conducted and what parts were already replaced. That way, the fleet management solution makes sure you never forget an important appointment, and you are kept up-to-date on the state of all your vehicles – anywhere, at all times.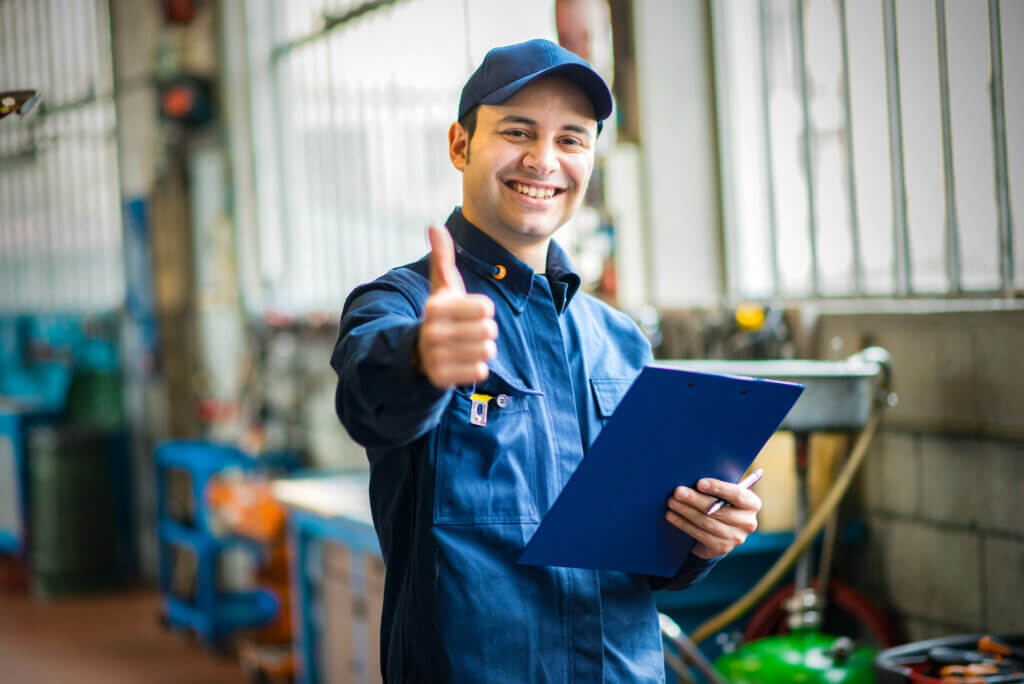 Conclusion
The MOT is not just a legal requirement, but also an important part of owning a vehicle. It ensures that the car is safe for public roads and meets environmental requirements. Taking care of your vehicle, checking a vehicle's MOT history, and resolving uncovered problems also keep the driver and passengers safe and your car in the best shape possible for a long time.
FAQ
When Is My Vehicle MOT Due?
If you are unsure when your next vehicle MOT is due, you can look up your next MOT date on the website of the UK government. All you need for that is your vehicle registration number.
Can You Tax a Vehicle Without MOT?
No. A valid MOT certificate is required to tax your vehicle, except for cars that are older than 40 years or haven't been substantially altered in the last 30 years.
When Is a Vehicle MOT Exempt?
A vehicle is MOT exempt when it is older than 40 years or hasn't been substantially altered in at least 30 years. That includes alterations to how the car works in general, the engine, axis, chassis, or body. Cars newer than 3 years are also exempt from annual checks.
How Much Does an MOT Test Cost?
The maximum fee for an MOT check for a car is £54.85, although many MOT centres will charge less than that. The fees for motorcycles, goods vehicles, and camper vans can be found on the website of the UK government.