Design and development of homes, roads, and bridges – all of these require construction work. Because the construction industry is responsible for creating vital infrastructure for countries, cities, and towns, and because it holds a vast number of construction and engineering jobs, it is the largest and also the most important industry.
According to the latest construction market data, the construction industry size amounted to $8.2 trillion in 2022 (Statista) and is expected to reach $17 trillion by 2029 with a compound annual growth rate (CAGR) of 7.3% (Exactitude Consultancy). Read on for more of the latest construction industry statistics 2022, employment rates, supply chain problems, and the effect the pandemic had on global construction industry statistics.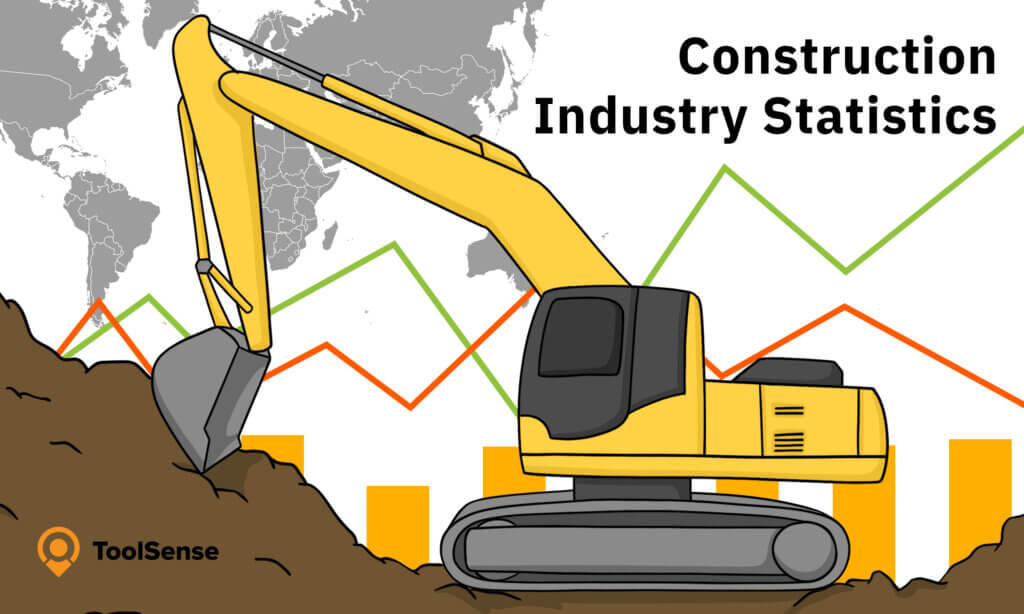 US Construction Industry Statistics
While the construction industry is the largest and most important in the world, construction firms have faced serval challenges over the years, most recently the Covid-19 pandemic, labour shortages, and supply chain problems. Here are the latest US statistics (Zippia) from recent years: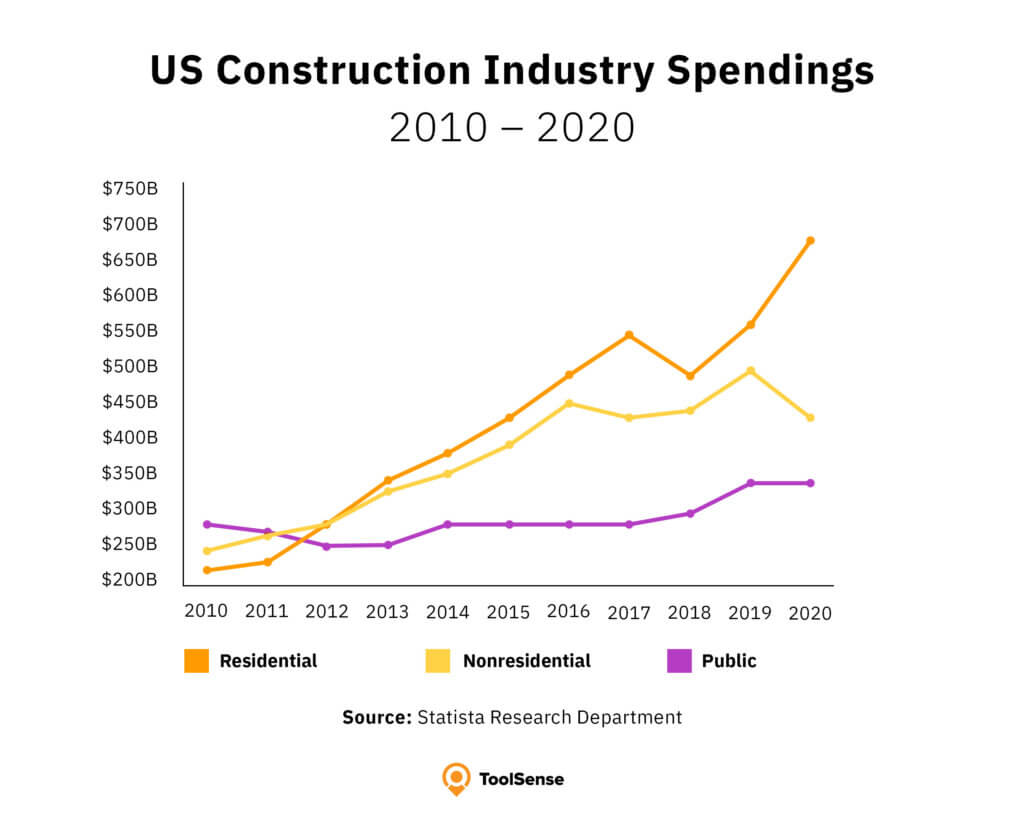 General Construction Industry Statistics
Construction projects undertaken in the US in 2021 are valued at approximately $1.6 trillion.
4.3% of the entire US GDP comes from the construction industry.
In 2021, 1,337,800 housing units were built, which constitutes an increase of 4% compared to 2020.
In 2020, the construction industry had a $1.36 trillion market size, approximately.
In 2020, the construction industry had an annual turnover rate of 68%.
A 3-year study uncovered that only about 31% of all projects stayed within 10% of their construction budget.
Among the biggest construction companies, Bechtel is the largest in the US. It had a revenue of $21.8 billion in 2019.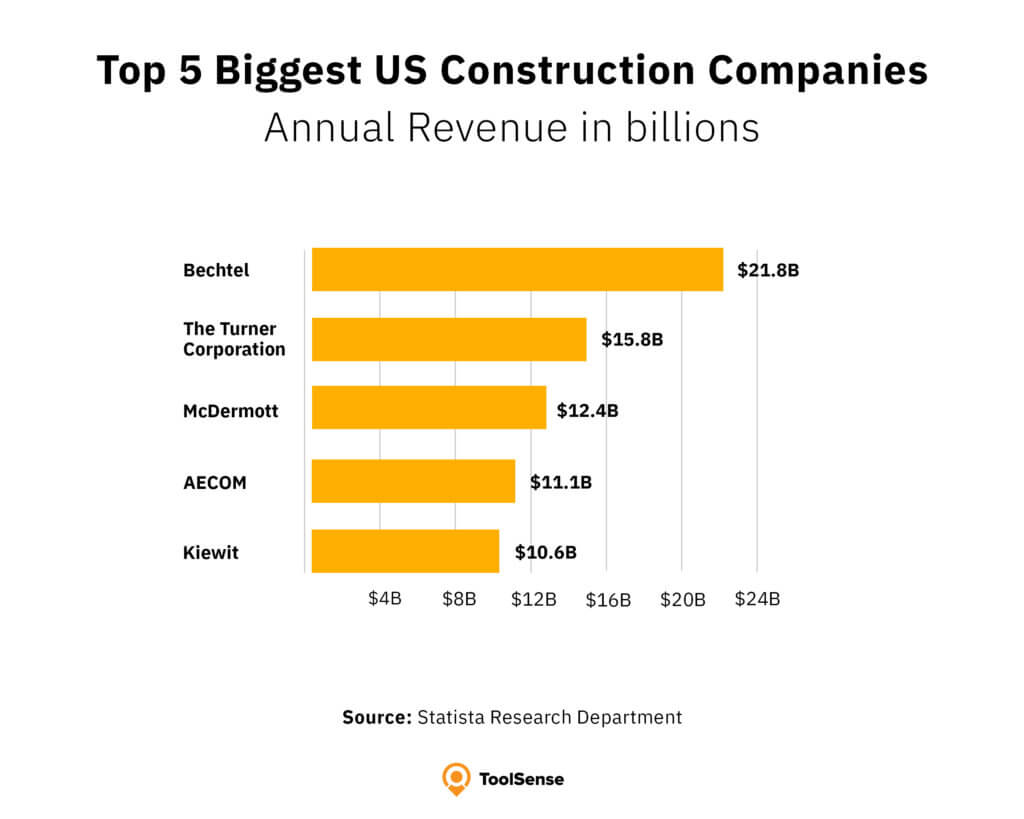 Construction Industry Employment Statistics 2022
In 2019, approximately 157.54 million jobs existed in the United States.
Roughly 4.8% of the US workforce was employed in the construction sector in January 2022, which equals 7.5 million construction workers.
10 years before, in 2009, there were 143 million jobs in existence, among them 6 million – or 4.2% – in the construction industry.
In April 2020, the construction industry had an unemployment rate of 16.6%, a number that has steadily declined since.
In December 2021, the construction industry had an unemployment rate of 5%
That is slightly higher than the overall national unemployment rate of 4% in January 2022.
About 10.9% of US construction workers are women, according to construction industry diversity statistics.
Overall, the US workforce consists of 57.4% women.
$31.44 is the average hourly salary in the construction industry.
Construction labourers earn $20.92 and construction managers $51.02 on average, respectively.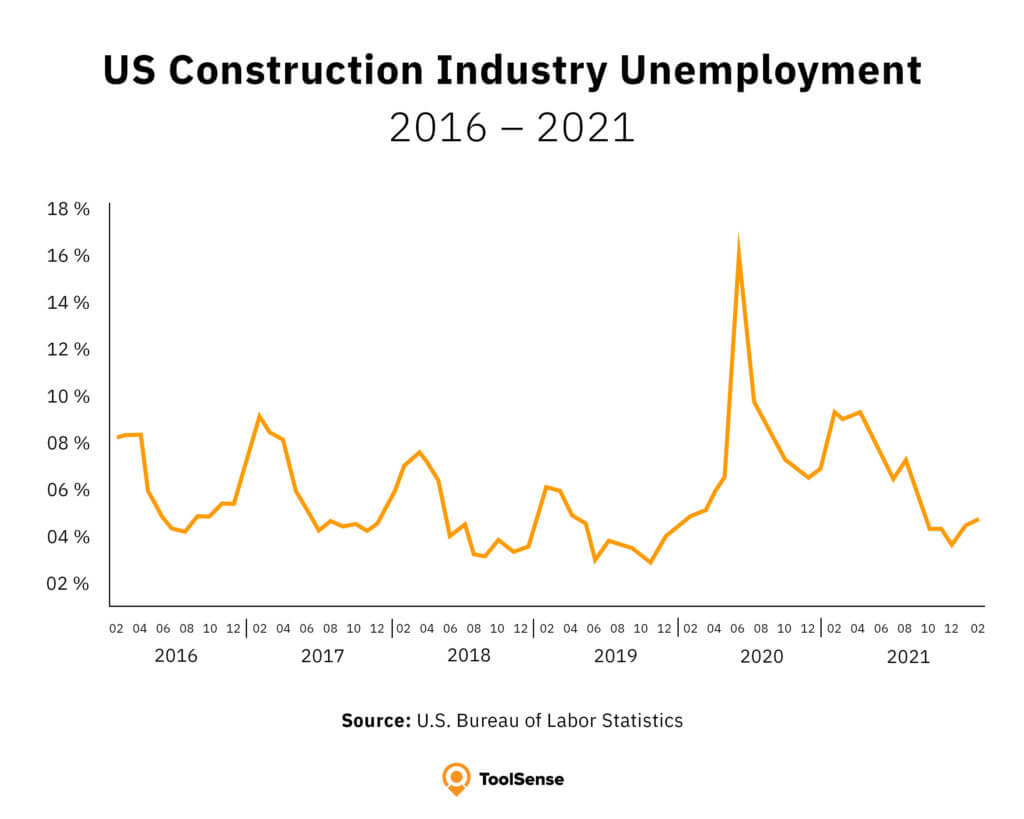 | | | | | |
| --- | --- | --- | --- | --- |
| Job | Median (Hourly) | Mean (Hourly) | Median (Annual) | Mean (Annual) |
| Carpenters | $23.91 | $26.19 | $49,730 | $54,470 |
| Construction Labourers | $18.38 | $20.92 | $38,220 | $43,520 |
| Construction Managers | $46.09 | $51.02 | $95,870 | $106,120 |
| Electricians | $26.62 | $29.23 | $55,360 | $60,800 |
| Operating Engineers and Equipment Operators | $25.04 | $28.11 | $52,090 | $58,470 |
Construction Industry Statistics and the Pandemic
Between 2019 and 2020, spending increased by 4.8%.
$1.43 trillion was spent on construction in 2020, of which $813.9 billion went into residential buildings.
That is a 12% increase from 2019 to 2020.
Non-residential construction spending saw a decline of 0.4% between 2019 and 2020, with non-residential construction projects declining by 27%.
August was the month with the highest spending in 2020 when $132 million went into construction projects.
1.1 million jobs were lost in March and April 2020. This is due to lockdowns and delayed or halted projects.
931,000 jobs have been added since May 2020.
Residential construction increased by 275% between March and July 2020. This is also due to lockdowns and homeowners beginning renovations and home improvements.
Coincidentally, rates for fence installations went up by 144% and demand for landscapers by 238%.
ToolSense is trusted by 700+ companies
Overcome Challenges in the Construction Industry With Modern Equipment Management Software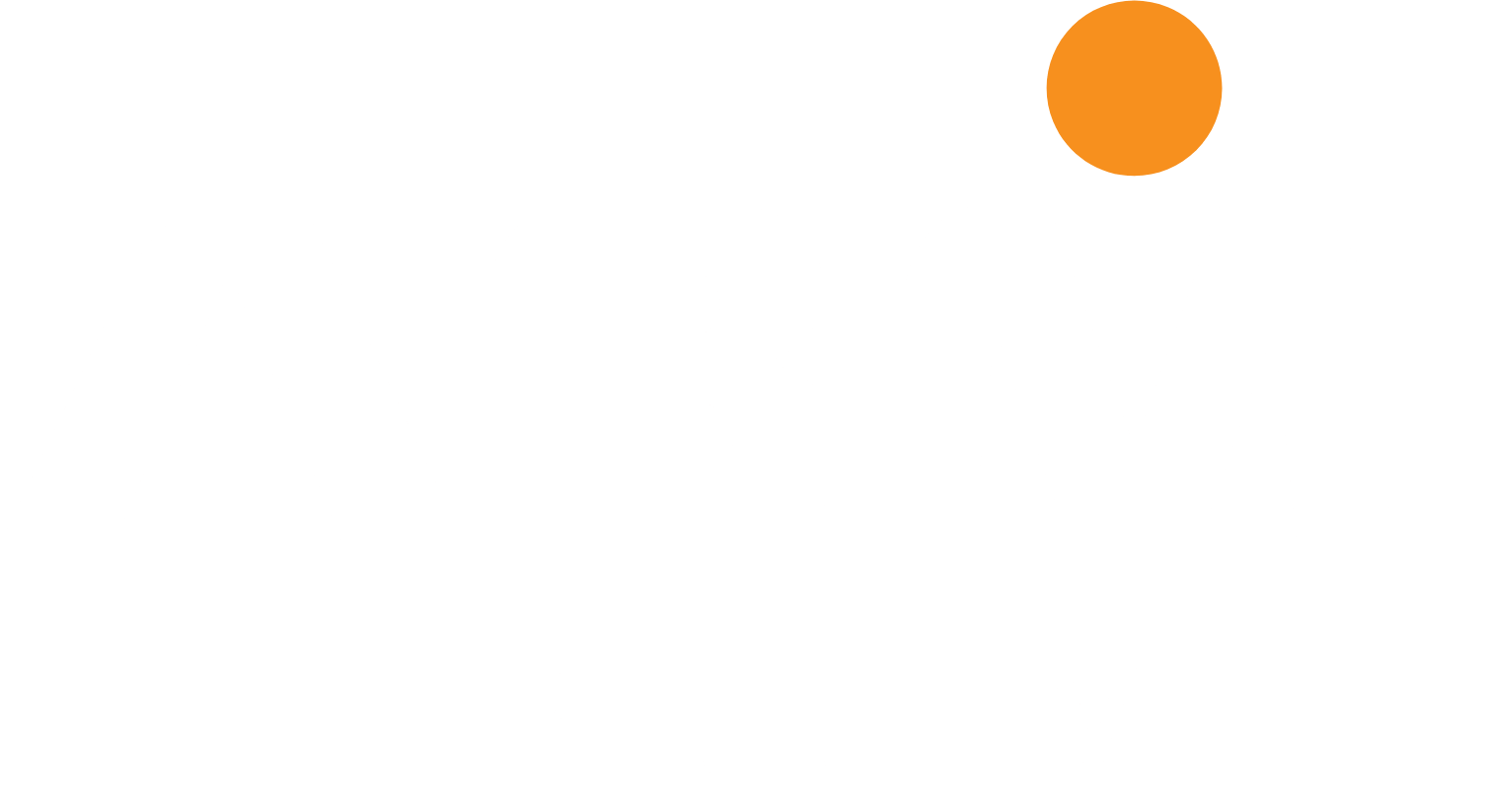 Construction Industry Statistics and Trends 2022
In 2020, 978,000 building permits were issued for single-family housing.
Issued permits declined between 2005 and 2011, but numbers grew to 862,000 in 2019.
2005 showed the highest number of issued permits, counting 1.682 million.
In 2020, 991,000 single-family homes and 390,000 multifamily homes started their construction.
Between 2019 and 2020, single-family home construction numbers rose by 11.6%, whereas multifamily home construction declined by 3%.
In 2024, new construction projects are expected to be valued at $1.23 trillion. These numbers still take the 2020 Covid-19 pandemic into account.
This includes residential buildings with approximately $483 billion, non-residential buildings with about $473 billion, and other types of construction with around $273 billion.
According to predictions, about 300,200 more jobs are expected to be available in construction by 2029 – compared to 2019.
This constitutes a compound annual growth rate of 0.4% and is consistent with the predicted growth rate of 0.4% for all types of US jobs.
When construction executives were interviewed, 60% of them expected industry expansion in 2023, with 8% expecting significant expansion and 52% expecting moderate expansion.
15% of interviewed construction executives, however, predicted a moderate contraction and 5% predicted a significant contraction.
20% expected neither contraction nor expansion.
The percentage of construction executives that anticipate expansion rose from 54% in 2020 and 52% in 2019.
In contrast to prior years, optimism has declined, as 84% expected expansion in 2017 and 76% in 2018.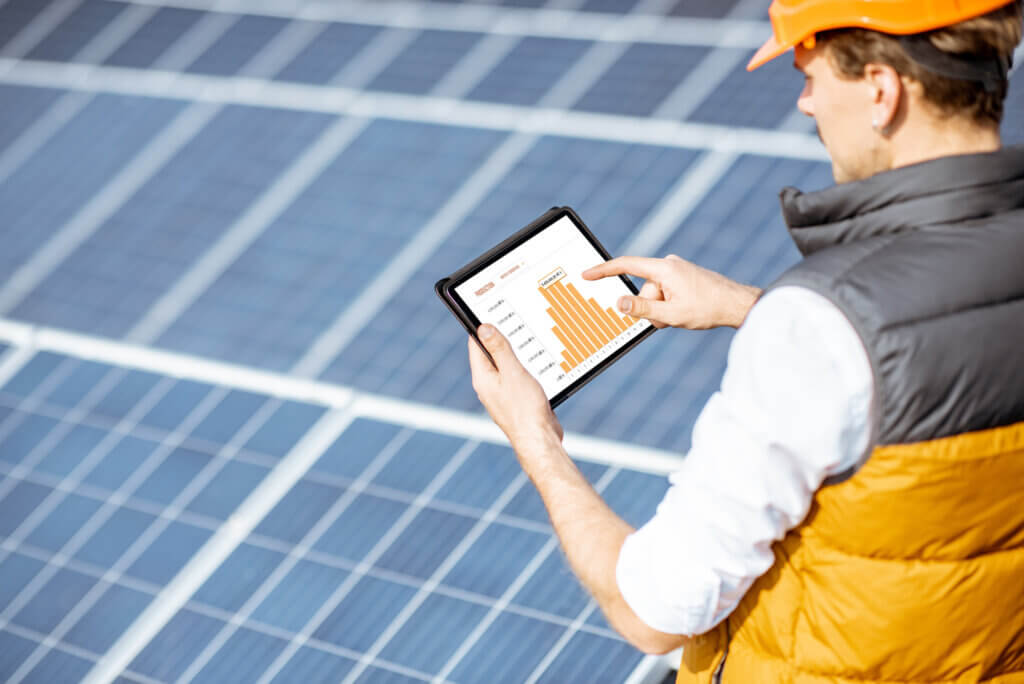 Construction Industry Statistics by Challenges
Labour shortage affects construction contractors, with 88% struggling to find skilled workers.
About 50% of contractors struggle to find plumbers, electricians, carpenters, HVAC technicians, and masons.
Consequences are increased expenses for wages, more work for employed skilled workers, the struggle to meet deadlines, and turned-down projects.
Among studied projects between 2012 and 2015, only 25% came within 10% of their deadline. It is common for building projects to have a 10% margin of error as a contingency to account for things not going according to plan.
However, the 10% margin is often not sufficient for budgets and deadlines.
The separation rate for the construction industry was 4.5% in May 2021, meaning that 4.5% of construction workers quit, were fired or were laid off.
The separation rate in June 2020 was 4.8% and 4.9% in June 2021.
That means the separation rate is slightly higher than the US average across industries, which was 3.8% in June 2020, 3.7% in May 2021, and 3.8% in June 2021.
The prices for plywood and lumber have seen an 85.7% rise between 2020 and 2021.
Other material prices have risen, as well, with copper and brass mill shapes prices having risen by 49% or steel pipe and tube prices by 24.4%.
These increases have their root in supply chain issues due to the Covid-19 pandemic, among others. The supply chain is supposed to begin to recover in 2022.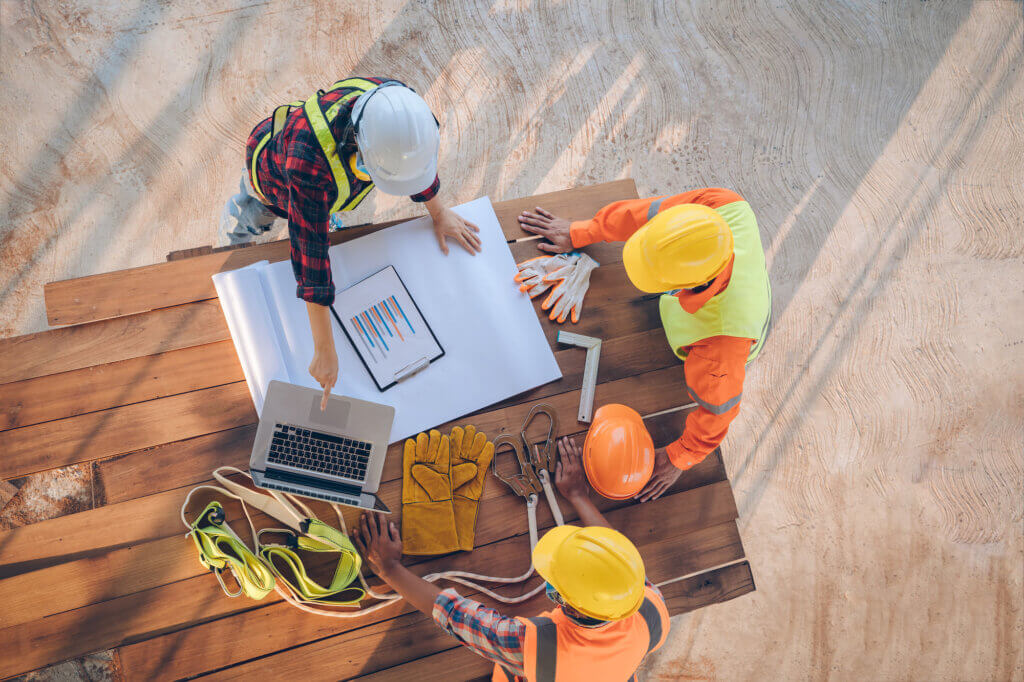 Global Construction Industry Outlook
The construction industry faces a lot of challenges in 2022 and the upcoming years, including the aftermath of the Covid-19 pandemic, inflation, continuing supply chain problems, and labour shortage. As reported by construction statistics (RSM), however, the outlook for the industry also shows a lot of growth opportunities.
Labour shortage and rising material costs are set to be the greatest challenges, according to construction industry trends.
Because of infrastructure expansions, the industry expects a rise in demand for construction work.
Some producers might even benefit from inflation and rising material prices.
Growth Opportunities
Due to investments in infrastructure, the construction industry expects growth rates of 20.1% and 10.9% in 2022 and 2023 for projects like transportation, streets, sewage, and water supply.
Even with consistent inflation rates, infrastructure projects such as these are immune to rising inflation and interest rates – in contrast to residential and non-residential construction projects.
After a brief decline, manufacturing, communication, commercial, and healthcare businesses have been largely untouched by the effects of the Covid-19 pandemic.
It is expected that construction work in these sectors will continue to be in high demand.
Other sectors more affected by the Covid-19 pandemic, such as education, lodging, and offices, are expected slowly to recover to pre-pandemic levels but will likely hold off on larger investments in construction work until long-term trends are clearer.
Materials Statistics
Most suppliers suffer a decline in profits due to inflation and rising construction material costs, but some even profit in the current economic environment, such as steel and forestry industries or cement producers.
The steel industry is the inflation's greatest beneficiary since finished steel products are required in most construction projects, including important and funded undertakings, such as the construction of wind turbines or the expansion of electrical grids.
Contractors, however, can suffer from rising inflation if they don't already have larger quantities of needed materials in stock, as it can be difficult to compensate for rising prices or renegotiate with customers.
Labour Statistics
As labour statistics show, the construction industry experiences a staff and labour shortage, with 381,000 job openings in February 2022.
Before the pandemic, the construction industry had about 60,000 vacancies.
The trend towards skilled labor shortage started with the Great Recession in 2007 and is, in part, due to younger generations choosing less physically demanding jobs.
Managers remain hopeful, however, as 5% more young people chose to enter the trade between 2019 and 2021.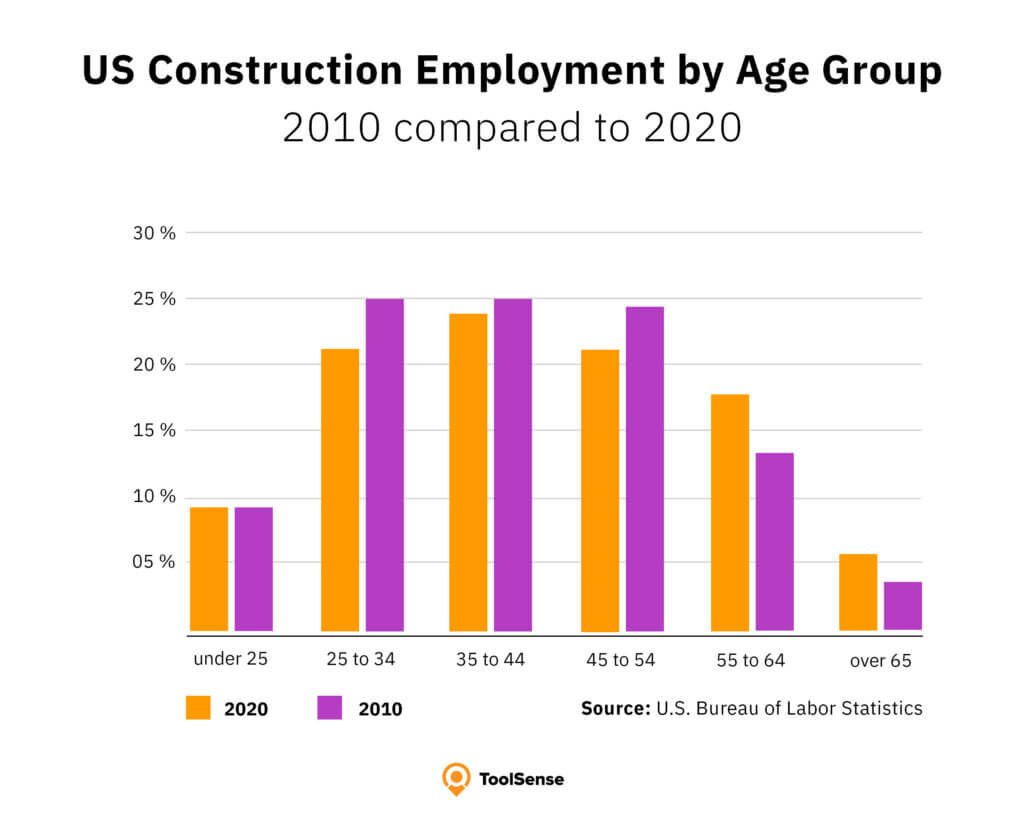 Construction Industry in the United States: Forecast
Regardless of the challenges that the construction industry faces in the United States and other countries around the world, the US construction industry is expected to grow by 8.8% in 2022, reaching $1.355.097 million. According to construction statistics (Research and Markets), this is the forecast for 2022 and the following years:
Construction industry revenue statistics expect a CAGR of 8.8%, with a total worth of $1.355.097 million, despite the construction inflation forecast in 2022.
Between 2022 and 2026, a CAGR of 5% is expected, with a market value of $1,650,159.2 million reached by 2026.
These numbers imply that the construction industry in the US is expected to remain stable.
This market growth is supported by government investments in infrastructure and development, which contribute to the industry's stability.
This includes a $1 trillion infrastructure spending bill passed in 2021.
Because of the ongoing e-commerce boom, industrial spaces, such as warehouses, are in high demand and attract investments.
Infrastructure expansions to support growing industries are already underway and will continue to boost the construction industry.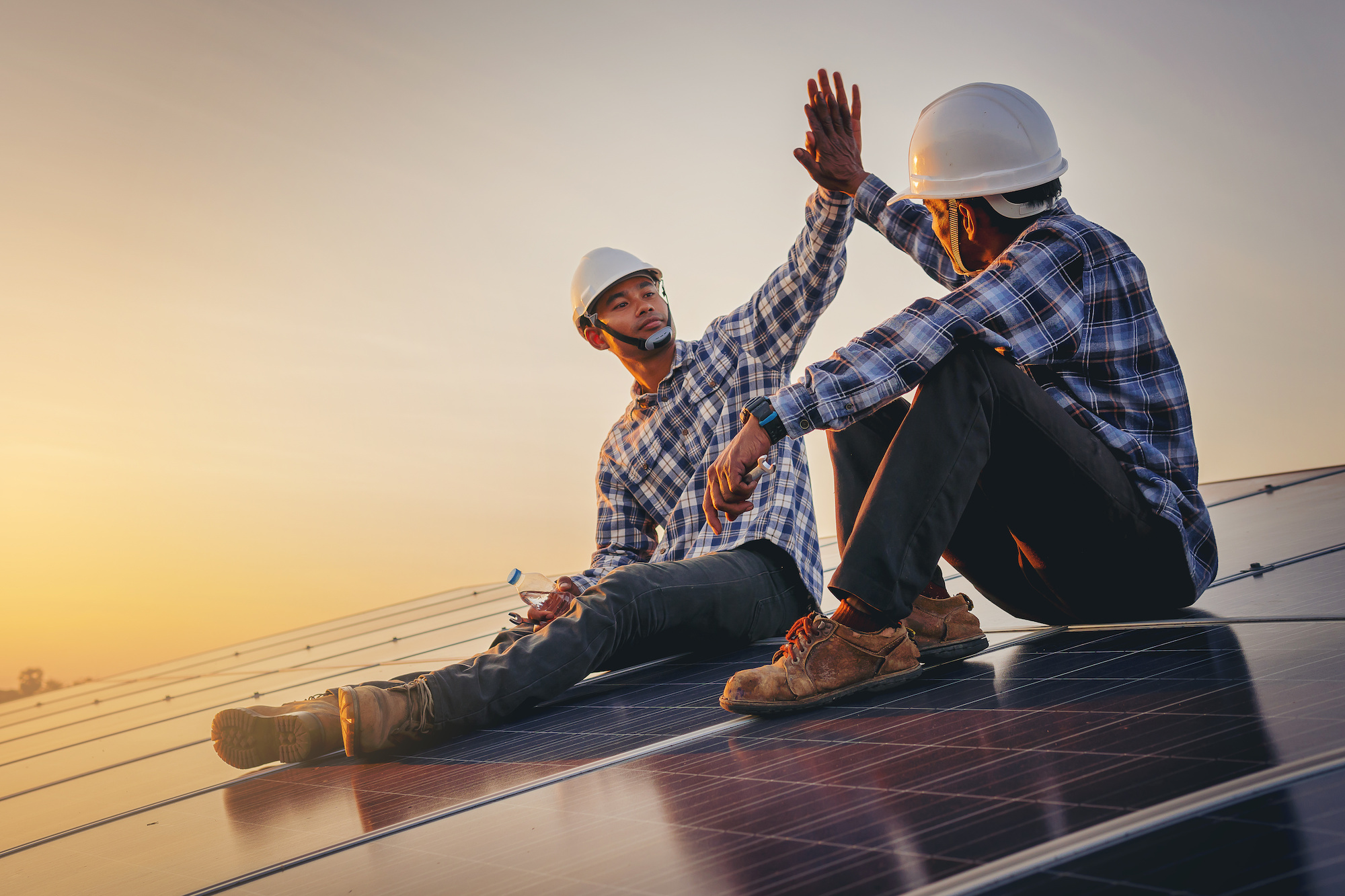 6 Engineering and Construction Industry Trends
Industry Growth
Despite its challenges, the construction industry is expected to grow in the following years. Due to rising demand in multiple sectors, such as e-commerce, and government funding for infrastructure, a compound annual growth rate of approximately 5% is expected between 2022 and 2026.
Connected Construction and Tech
Construction work has always involved physical labour and will continue to do so in the future. However, technology and technological advances have found their way into the construction industry, such as IoT tools, augmented reality, robotics, and 3D printing. While these create more vacancies to be filled, modern technology also attracts younger generations to work in the industry.
Operate With IoT Tools and Sensors
Talent Challenges
As mentioned before, construction labour statistics show a shortage of workers which has its roots in the 2017 Great Recession and the fact that construction work has a reputation for being dirty, boring, and dangerous. On top of the labour shortage, the industry also suffers from a talent and skill shortage caused by a lack of investment in skill development and advanced training. The outlook isn't entirely hopeless, however, as there has been a 5% increase in young people choosing this trade between 2019 and 2021.
Higher Material Costs & Supply Chain Issues
As construction industry statistics show, a rise in material costs and supply chain issues haven't gone unnoticed in the industry. The US isn't the only country affected by this because global and European construction industry statistics show the same trend. Even before the Covid-19 pandemic, the supply chain was pushed to the limit, with lockdowns and restrictions only amplifying its problems. It is expected that the supply chain will begin to recover in 2022 and continue to do so during 2023 and beyond. While prices for some materials have already gone down, the construction industry suspects that there will be a continued period of ups and downs.
Efficient Asset Lifecycle Processes Make Your Site Manager's Life Easier
There are numerous processes that happen during an asset's lifecycle like requesting new machines, moving locations and more. Managing all of them in a single platform dramatically improves your operations' efficiency.
Focus on Safety
Workplace safety is especially important because construction industry accident statistics show the highest rate of deaths across all industries. For example, the fatal injury rate was 10.2% in 2020 and 9.7% in 2019. The best way to improve the construction industry safety statistics (Construct Connect) is to put a greater focus on workplace safety, which, in turn, could help solve the labour shortage problems, too. By making construction work a safe field to work in, the industry will become more attractive to young people when choosing a trade.
Sustainability in the "Smart City"
According to predictions, approximately 66% of the global population will live in cities (Method), which is why construction work should aim to make cities "smarter" and more sustainable. This includes the use of IoT tools and sensors, for example, to measure traffic flow, energy consumption, or traffic flow. Additionally, public transportation is a priority for city dwellers that want to live a sustainable life. For those still reliant on cars, "smart roads" can cut emissions and reduce fuel costs through reduced vibrations. Proper waste disposal systems in cities can increase efficiency and cut the need for fossil fuels.
See the Full Picture and Act Proactively With Cutting-Edge IoT Hardware
The ToolSense IoT hardware bridges the gap between physical assets and modern software solutions. With our IoT modules, you gain a much more in-depth understanding of your asset's performance.