The Maintenance Management Software and CMMS That Saves You Time and Money
Managing maintenance across an entire fleet is quite a challenge. Build custom workflows in our simple CMMS and asset operations platform to easily manage maintenance processes for thousands of assets.
The Benefits of Maintenance Management With ToolSense
Make the Most of Your Assets
Working assets are essential if you want your company to succeed. That means unexpected downtime and repairs can really affect your business's profitability, as does not knowing where your assets are and when they're in use. With the right repair and machine maintenance software, you can keep track of your assets' location and activity to get the most out of your machines and vehicles.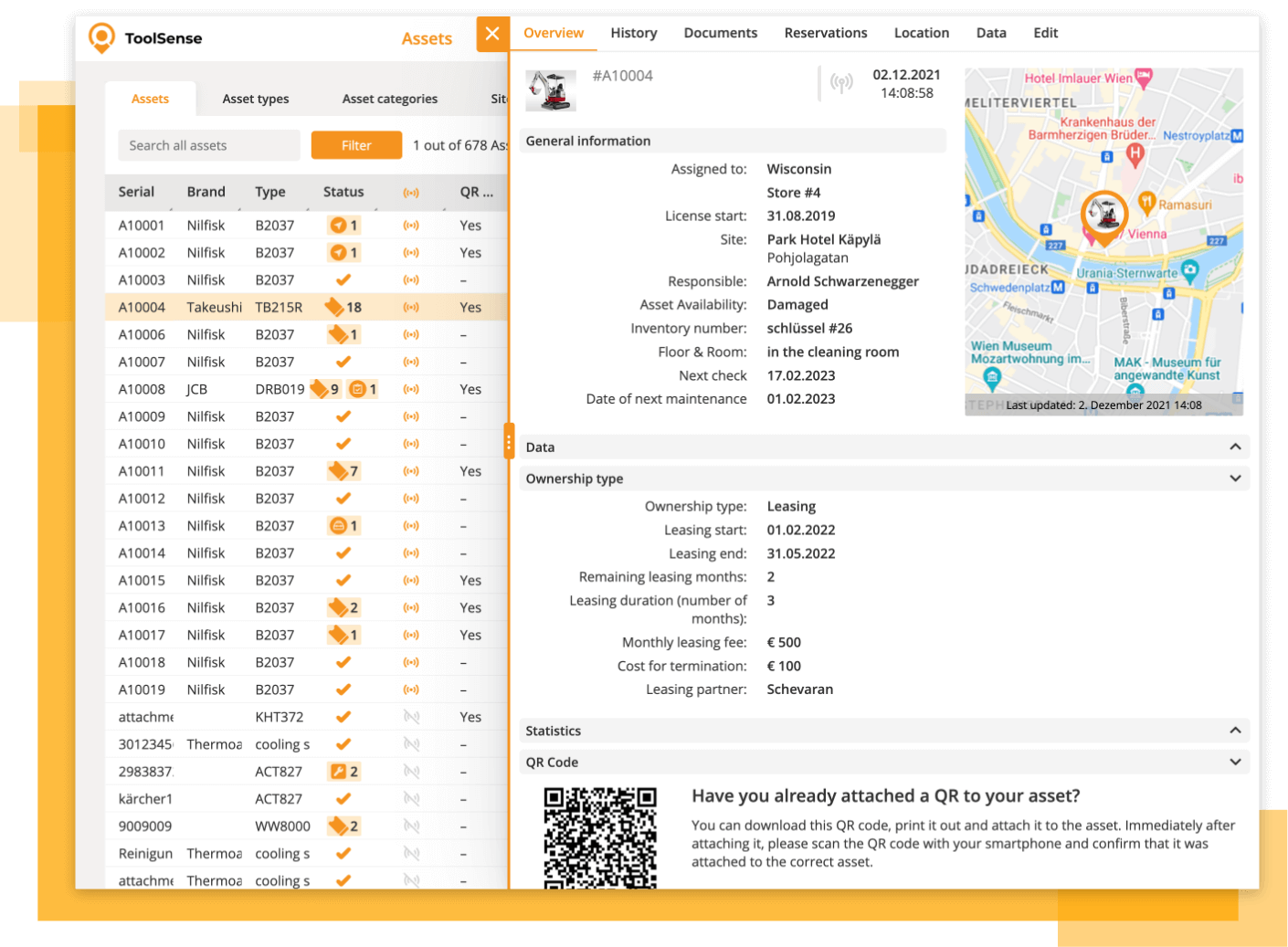 A simple CMMS and machine maintenance software like ToolSense can help with your inventory, too. Since your equipment is already in the system, you never lose sight of how many assets you own and where they are. Once the inventory date draws near, you can use all available data in your maintenance management software to make the inventory management process as easy as possible.
Gather Data to Empower Decision-Making
IoT data from the ToolSense hardware enables even more powerful and data-driven workflows. Access parameters like an asset's runtime or its battery level directly from the ToolSense rules engine. Supercharge your maintenance management and maximise the efficiency of your assets.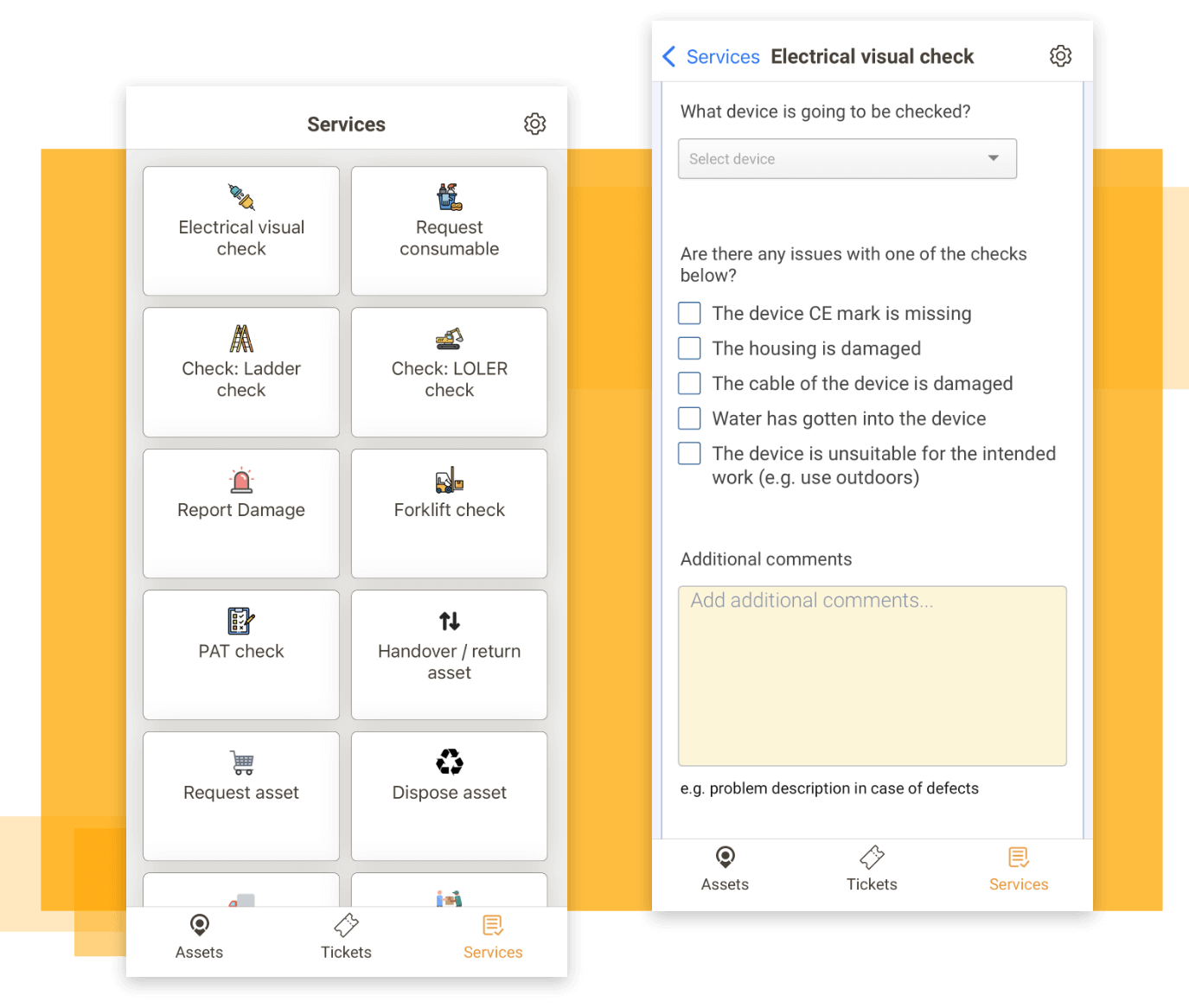 Create Healthy and Safe Work Environments
Maintenance management services could also be called health and safety software because they directly contribute to a safer and healthier work environment. Regular preventive maintenance not only keeps equipment running, but also safe to operate. Flaws that might lead to accidents or injury can be uncovered before they can cause issues. Especially when it comes to electrical maintenance, the right machine maintenance software can help save lives.
Never Miss Inspections and Audits
If your company operates a lot of assets, keeping track of all important inspection and audit dates can soon turn into a nightmare. Once your equipment has been added to the system, the right machine maintenance management software will remember these dates for you. Additionally, you can attach warranty information and other files to an asset's lifecycle folder where they are easily accessible at all times.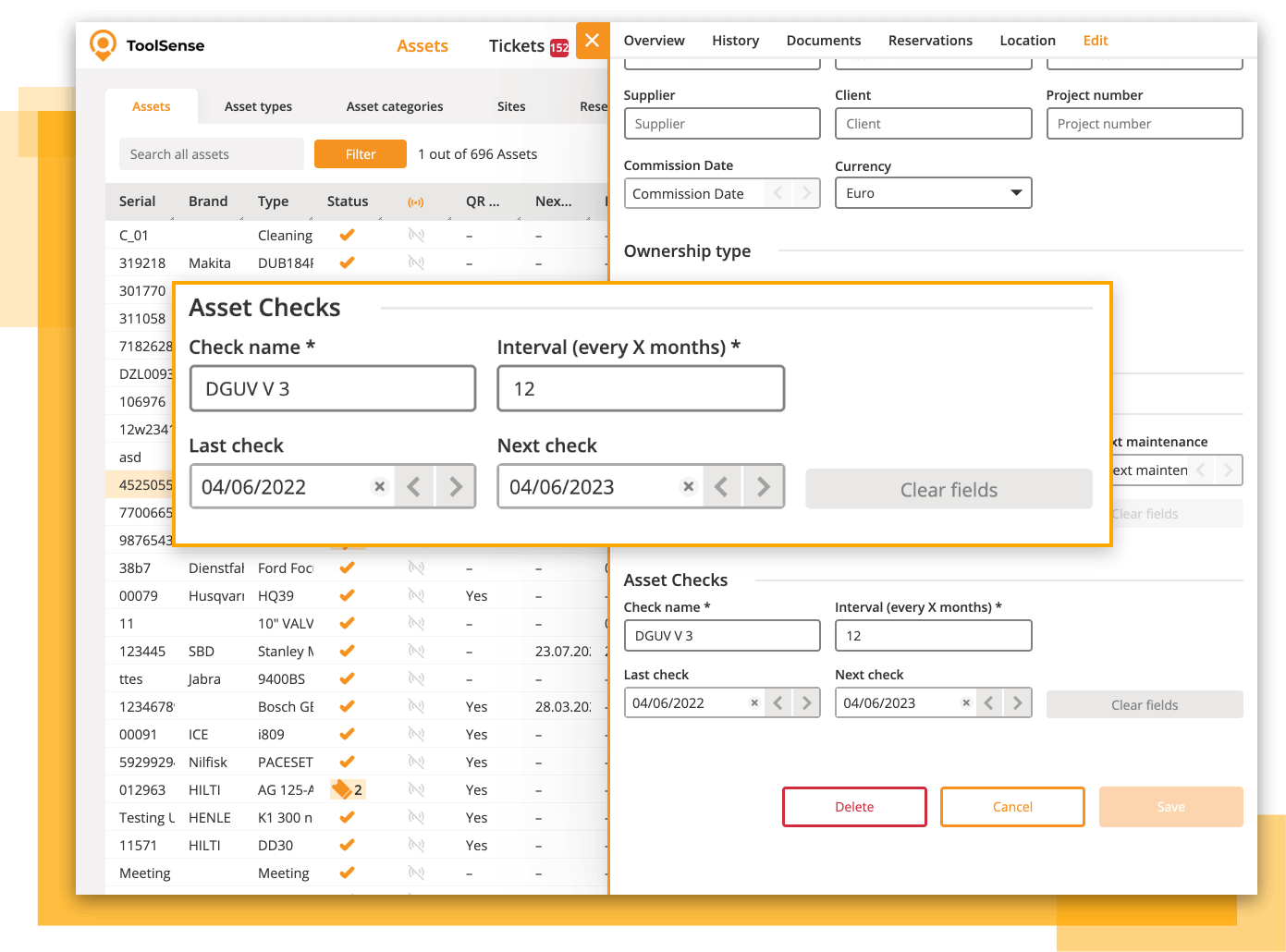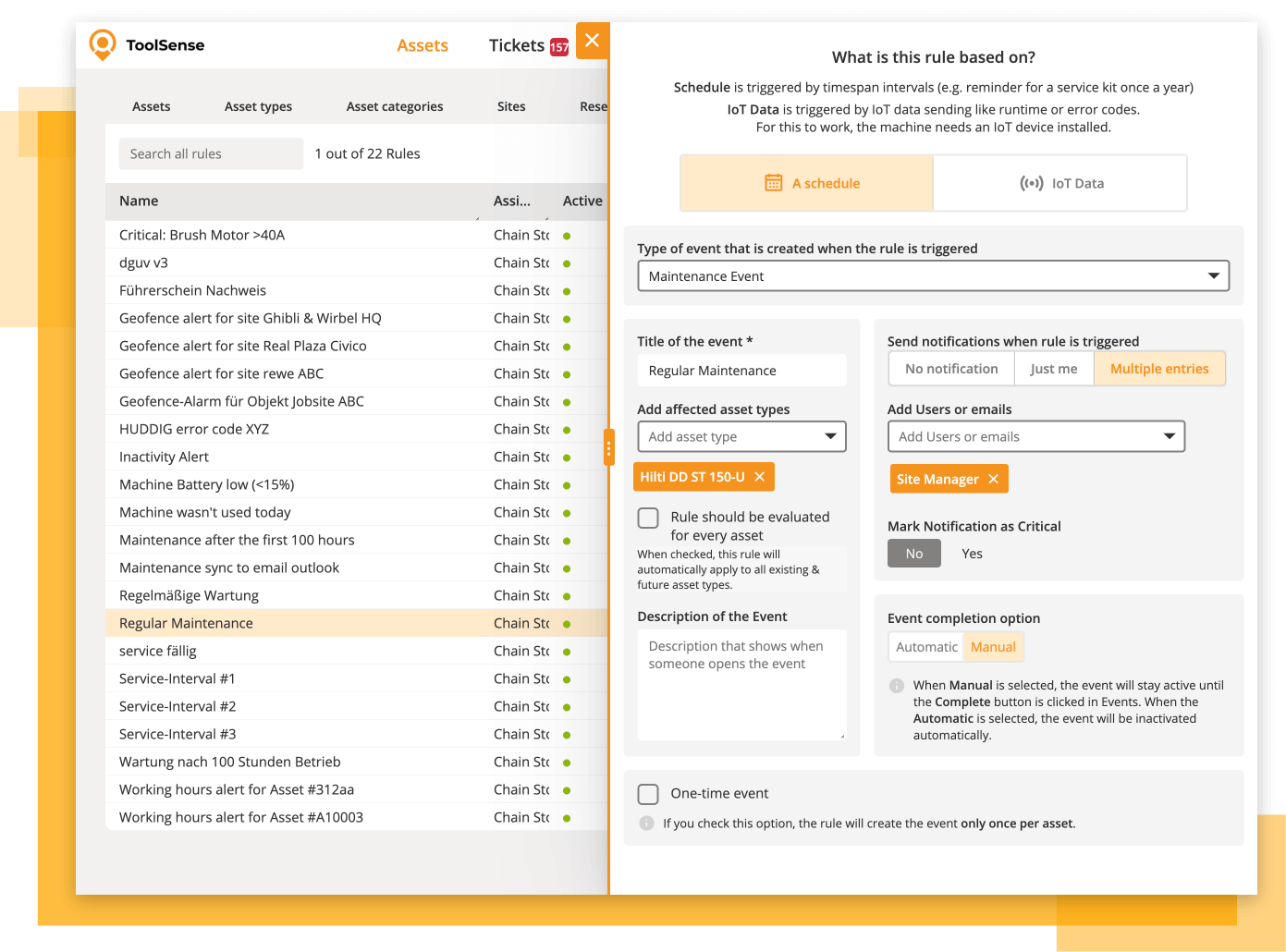 Unexpected downtime is one of the worst productivity killers that a business can imagine, but a preventive repair and maintenance software can help and live up to its name. By reminding maintenance managers of upcoming audits and service dates, downtime can be avoided through predictive maintenance. Equipment maintenance management software can also keep track of spare part inventory so that your company will never run out of frequently used tools and parts.
Alexander Manafi (CEO) Gives You a Private Tour
Our CEO, Alexander Manafi, gives you a quick private tour. See the actual product and how it is used to improve your asset operations. If the video embed isn't working as expected, please find the full video here
ROI
Total Savings w/ ToolSense
Total Savings with ToolSense
Business case of a German cleaning company after 1 year of using ToolSense
The company has 1.5k employees, 20 site managers, €300k asset costs per year, 350 service cases per year & average downtime / service case of 2 weeks
20 Site managers work-time cost per year (administrative tasks)
Saved € 60K

(2.000 hours)
Additional work-time for cleaners because of downtime per year
Saved € 105K

(10.500 hours)
Key Machine Maintenance Software Features and Solutions
Enterprise Preventive Maintenance
Building and facility management and asset management have a lot in common: With many different maintenance tasks to bear in mind, it can be easy to lose track of details. A machine maintenance software like ToolSense will remember the important dates, numbers, and details for you and send out scheduled reminders so your facility and assets are always in top condition. This can help you save both time and money.
How much do you really know about your machines? ToolSense's operation and maintenance management software provides a whole new level of insight. Track locations, equipment downtime, runtime, maintenance costs and all repairs and spare part orders, every ticket and work order while keeping all important files related to your assets in one place. The cloud-based maintenance management software creates in-depth reporting and analytics you can use to gain a better understanding of your machines and make more economic decisions in the future.
Easy-to-Use QR Code & Ticket System
With a cloud-based maintenance management software like ToolSense, you can assign a unique QR code to each of your assets that doesn't take up space and can be scanned with a regular smartphone or tablet. This creates a ticket where the worker reports an issue and requests spare parts or repairs. This ticket is then forwarded to the responsible employee and can be processed without detours.
Maintenance & Repair Tracking & Planning
Tired of scanning paper forms or searching for the latest documentation of a completed maintenance? After a check is done, ToolSense automatically creates the respective document and stores it in the asset's lifecycle folder. Furthermore, the ToolSense platform schedules the next check instantly, so manual planning becomes obsolete.
Create Powerful Maintenance Workflows
ToolSense comes with an easy-to-use and powerful rules engine to create maintenance workflows for multiple assets at once. Most commonly, you would create a scheduled workflow for a certain asset type, automatically notify your site manager, and you are good to go.
Independence from Manufacturers
Often times, a CMMS and machine maintenance software is tied to a manufacturer. If your business operates many different assets and machines from multiple brands, however, this could create a problem or leave you unable to use the same maintenance software on your entire fleet. ToolSense is completely independent and works with all types of equipment, machines, vehicles, and assets by providing a comprehensive maintenance management solution.
Who Benefits from CMMS and Machine Maintenance Software?
Almost any business can make use of a maintenance management app or software because almost everyone operates assets, tools, or buildings that need regular preventive or electrical maintenance. If you feel a little overwhelmed by all the upcoming maintenance tasks and fear losing track, a maintenance management system is the right choice for you. With a software like ToolSense, you can use a simple Excel import and set up your maintenance platform with little effort. From that point on, the software will track your assets, work orders, and important maintenance appointments and tasks.
Frequently Asked Questions About Maintenance Management Software