What Is Test and Tagging?
Test and Tag is a professional term that refers to the standard procedure of inspecting portable electrical appliances to ensure that they are in good condition for better performance and safety purposes.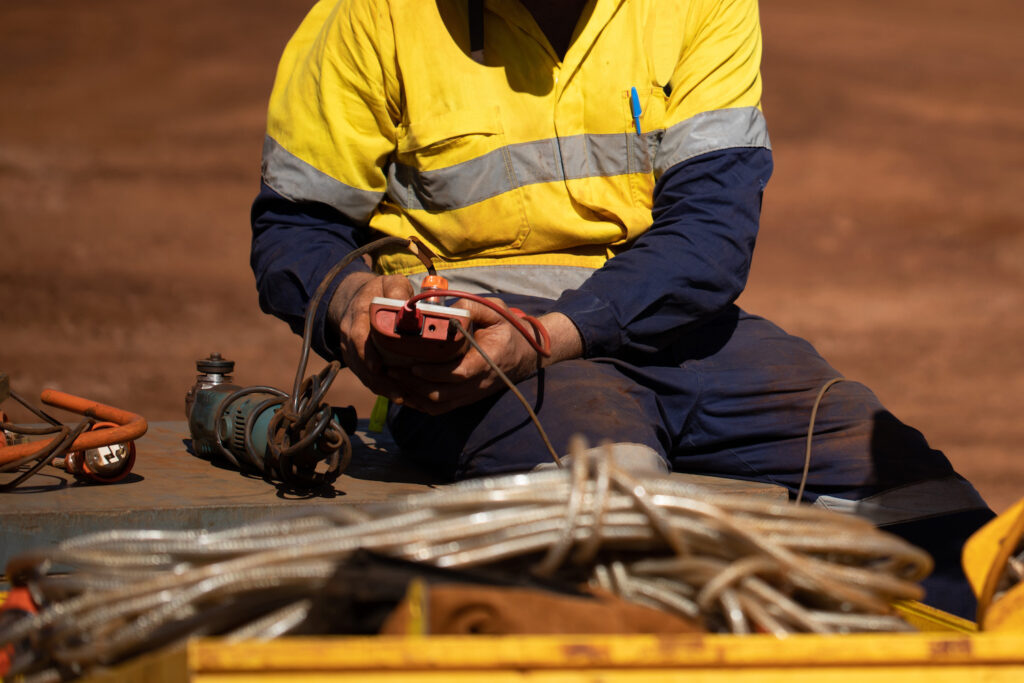 KEY TAKEAWAYS
Testing and tagging involves a competent technician carefully inspecting each unit for damage to cables, connectors, guards, covers, and plugs.
Test and tag is a method of ensuring compliance with Australian WHS and electrical safety regulations and workplace safety.
Testing and tagging has been implemented in Australia, New Zealand and the United Kingdom as a strategy to ensure the safety of portable electrical equipment in the workplace.
How to Test and Tag?
There are two steps involved in this standard procedure. To begin, check if the electronic device has any defect. Secondly, using a portable appliance tester generates electricity to try it out. To attest that the item has been tested, a label indicating the person who tested it, the day the item was tested and the due time for the next test is put on it.
The main objective is to ensure the protection of people. In addition, the welfare at work is not affected by the item by caring out a test and tagging. Lastly, tagging and testing the item will reduce the chances of electronic danger. Otherwise, this would lead to greater overall damage. The importance of these procedures is to confirm that the appliance is well maintained for the present and thereafter use.
ToolSense is trusted by 700+ companies
Optimize Your Test and Tagging With Smart Asset Management Software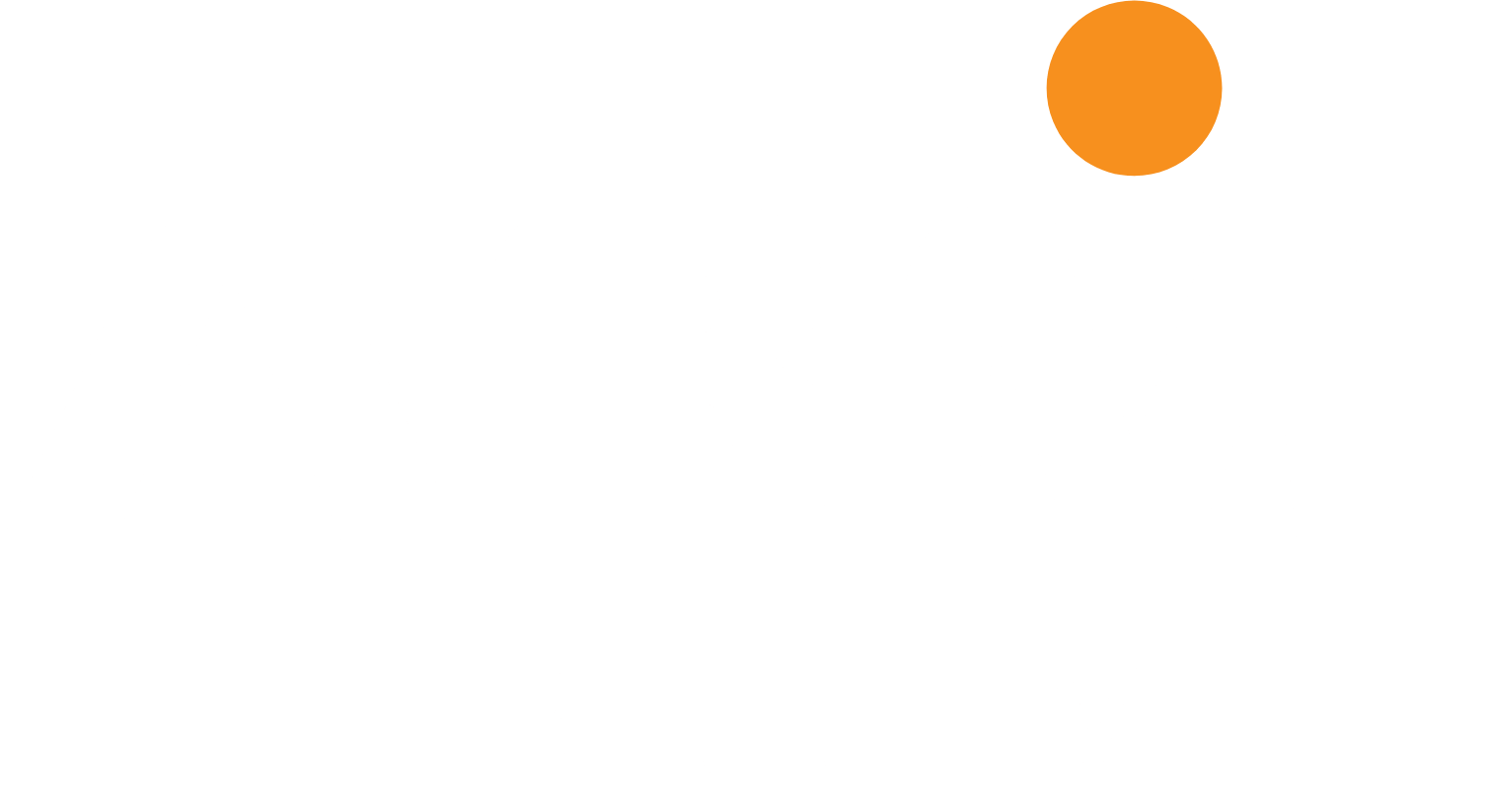 Who Needs to Test and Tag?
After every 3 months, standard regulations relating to the industries for building and mining need to test and tag their electronic devices. The need for tagging and testing the appliances is due to the unfavourable conditions from the industries that can cause defects on the electric devices. The test and tag colours change after every three months. Conforming with the dissimilar length of time annually, this helps in classifying the tags according to the similar months that they fall in.
Tests and tags are not a necessity to other firms like how it is a necessity to the above-mentioned industries. However, the company owner must ensure that the devices do not cause harm to employees. In case of any injury caused by the appliances on the employee, the owner will be legally answerable. Therefore, it is the employer's obligation to ensure that all portable electronic devices are well attested. In example, before an item is leased out, the hirer requires to vividly scrutinize the device being rented out. Furthermore, the hire requires carrying out 3 months of testing of the device to ensure that it is well maintained.
Who Is Qualified to Test and Tag the Electrical Equipment?
The majority of people believe that an electronic device needs to be tested and tagged only by an electrician. This is a misunderstood belief. In Australia, any competent person is considered by AS/NZS 3760:2010 to have the capability to carry out testing and tagging.
Through learning to use PAT testing an individual is able to gain the required skill that will help him or her to pass the test and tag course. There will be no need of retaking the course after passing. For you to stay informed, you will need to keep up with new data from the AS 3760 Standard. With this, you can learn the new data that will be displayed.
A restricted electrical contractors license is needed by people staying in QLD to offer services on tagging and testing.
Portable Appliance Tester
Use Cutting-Edge IoT Hardware
The main appliance is the portable device tester, well-designed with features that enable someone to service the equipment for maintenance purposes. This tool ensures that the safety of the equipment has been achieved by testing it. Before purchasing a portable appliance tester (PAT), different considerations should be looked up upon.
For example, whether the device is affordable. Meaning, if the price corresponds to the range and its quality is appropriate for the purpose. Reasonably, the higher the expenditure, the better the quality of the appliance you acquire. It is easy to acquire the best-featured appliance by reading the reviews written by people who have already bought the appliances from different companies at different prices. An important point to note is that most damage is usually discovered in the first stage, even before the test equipment is used.
What Type of Equipment is Tested and Tagged?
Simply put, any electronic device that has a voltage of less than 50V and has a detachable plug (portable). Also, plug in appliances are subjected to the inspection, test, and tag requirement. This may include any type of extension cord or harness found in the workplace or industry, provided it is up to 2.5 m in height.
Electrical Appliances Classification:
| | |
| --- | --- |
| Class I | These are appliances such as kettles, washing machines, and toasters. They offer protection in two levels; earth wire and basic insulation. |
| Class II | These include appliances with two insulation layers. Such appliances are referred to as double insulated appliances. Symbolized with a double square shape (a square embedded in another square) which is found next to the volt and power positions. Examples include dryers, lawnmowers, and drills. |
Note, testing of new equipment is not necessary. You only need to inspect the item without the tester and tag it for future references. You can still conduct the test if you wish to be on the safer side.
How Frequently Should You Conduct the Test and Tag Process?
According to the Australian Standards and regulations relating to the maintenance and management of these appliances, the frequencies are determined by their location and use. This stipulation is presented in the AS 3760 Standard, which better explicates the requirements.
Navigate to the fourth table to get better insight. Occasionally, this might vary, depending on the risk evaluation of the workplace in question. For more information and guidance on the test and tag industry, apparatus or perhaps have a query concerning the Australian Standards, visit the Test and Tag Training Website.
Benefits of Test and Tagging
Test and tagging maintains a safe work environment.
The test and tag process is entirely aimed to scrutinize the electrical appliances. As well as other equipment that are at a company or industry for any malfunctions or abnormalities.
Testing will discover whether the items are working correctly without any signs of electrical malfunctions or issues for optimum productivity.
Tagging is a way to document the results to inform employees about how to use the items correctly and safely.
In addition, the process brings the company into compliance with present safety regulations, avoiding problems with the regulators.
Lowers the Risk of Fines
In situations where companies fail to incorporate the testing and tagging to ensure their safety, they can face fines. This happens, when the electrical equipment malfunctions and causes a dangerous situation in some cases. Electrical safety laws are stipulated to protect everyone in the vicinity of electrical devices, appliances and other equipment as well as the equipment itself. Be smart and protect your profitability by avoiding setbacks such as these fines at your company.
Increases Maintenance Efficiency
Improve Your Maintenance Management
Testing and tagging help to improve the efficiency of the maintenance procedures on your electrical equipment due to the fact that this process can detect minor problems before they call for major and costly repairs. As a result, your equipment will perform in an optimal manner without delaying your normal business activities, ensuring complete productivity. Since this helps you catch issues when they are quick and inexpensive to repair, this process saves you money. And can also increase the lifespan of your electrical equipment as a bonus.
What Will Happen If You Fail to Test and Tag?
When you think about it, it may seem strange or unnecessary to test and tag some items as a kettle or toaster. This is a good instance of why some people don't take the risk of not testing and tagging seriously enough until the damage is done.
Look at the situation in this perspective, a simple electric kettle has electrical energy flowing into it from a wire plugged into the domestic electricity supply. There is a likely risk of causing an electric shock. It can be deadly if electrical energy drains to the outside through a faulty or wet cable. Any faulty electrical equipment poses the danger of electrical shock, that's why testing and tagging is such a critical step in workplace safety measures.
Is It Expensive to Conduct Testing and Tagging In-House?
There is a misconception that completing the testing and tagging yourself or in-house is cheaper than hiring a specialist contractor. In fact, it is quite the contrary. You not only have to consider the cost but the time taken to carry out the service. It is more costly considering the time it takes to learn, write a report and manage the training program.
Test and Tagging With ToolSense
Staying ahead of the requirements for all safety inspections can be quite a challenge. In the ToolSense Asset Operations Platform, we have all kinds of safety inspections – like PAT checks, LOLER checks and more—pre-configured. Additionally, you can easily build your own safety inspections with our custom form editor. Our equipment inspection software also allows you to report on equipment with impending recertification requirements to allocate inspections to engineers.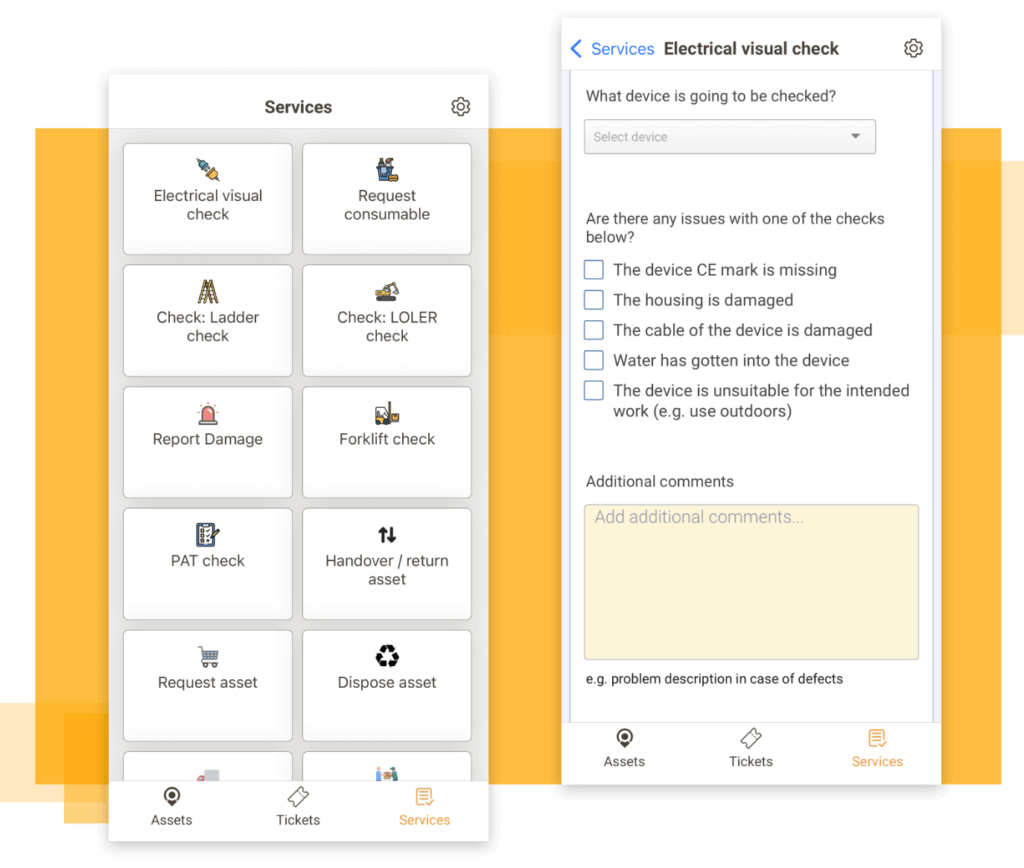 Conclusion
Doing electrical test and tag procedures is very critical. Because it significantly protects your home or business from any potential fire hazards due to defects in electrical appliances. An equipment management software can support you here.
Detecting the electronic condition of equipment minimizes hazards that could cause serious damage to your property and jeopardize employee safety.
FAQ
What Is Test and Tagging?
Test and Tag is a process to ensure the safety of appliances in compliance with regulations of electrical safety in the workplace.
How to Test and Tag?
Test and Tag is done in several steps: a visual inspection, an electrical inspection, as well as the tagging process to indicate results.
How Often Should I Test and Tag?
Testing and Tagging should be done regularly. The specific time frame depends on factors such as the environment the appliance is used in. In extreme circumstances, Test and Tag might be required every three months, in others a span of five years is acceptable.
Who Is Qualified to Test and Tag Electrical Equipment?
Electrical equipment should only be tested and tagged by a competent person. This may be an electrician or technician but might also be somebody who underwent training to Test and Tag.
Is Test and Tag a Legal Requirement?
Whether Test and Tag is a legal requirement depends on the country and the industry. For example, it is required for companies in construction, demolition, and mining in Australia, the UK, or New Zealand.