Imagine you're overseeing a sprawling facility, where every detail from lighting to asset management is crucial. How do you ensure everything runs smoothly? This is where Computer Aided Facility Management (CAFM) software steps in. This article dives into the best CAFM software, offering insights, buyer's tips, and a look at the top 5 solutions. Whether you're a seasoned facilities manager or just starting, discover how CAFM software can revolutionize your approach to facility management, making complex tasks seem like a breeze.
Key Takeaways
Comprehensive Understanding of CAFM: CAFM software is essential for efficient facility management, encompassing a wide range of functionalities including asset and equipment management, space planning, and maintenance management.
Importance of Choosing the Right Software: Selecting a CAFM solution requires careful consideration of specific organizational needs, integration capabilities, ease of use, and support provided by the software.
Top CAFM Solutions Overview: The article provides a detailed comparison of the top 5 CAFM software solutions, highlighting their unique features, pros, cons, and pricing to aid in making an informed decision.
Our Top Picks
Comprehensive maintenance management

Focus on space optimization
Key Features of Computer Aided Facility Management Software
CAFM systems offer numerous features to meet organizational needs. These include space management, asset management, maintenance management, move management, capital project management, lease administration, real estate portfolio management, and environmental sustainability analysis. However, the relevance of each feature depends on the organization's specific requirements. Let's explore each feature:
Space Management: This is one such feature, which includes tools for optimizing space utilization, tracking vacancies, and planning for future space needs. While this can be crucial for companies with large physical footprints or those undergoing rapid growth, for most organizations, it may not be the game-changer they are looking for.
Asset and Equipment Management: CAFM software offers a centralized platform for tracking and managing all assets and equipment within your organization. It allows facility managers to monitor these assets' condition, location, and value in real-time. This feature helps optimize the usage and maintenance of these assets, extending their lifespan and reducing costs.
Maintenance Management: Maintenance management is also a key component of CAFM software. This includes tools for scheduling routine repairs, preventative maintenance, and managing work orders. Maintenance management features ensure that assets and equipment operate at optimal efficiency, reducing downtime and saving on maintenance costs.
Move Management: Move management is another common feature found in CAFM systems. It helps streamline and manage the entire process of moving assets and people within an organization. This includes planning, scheduling, and executing moves to ensure minimal disruption to business operations.
Capital Project Management: Capital project management is another feature in CAFM software. It helps in the planning, execution, and management of large-scale projects within the organization. This includes budgeting, scheduling, tracking progress, and managing resources.
Lease Administration and Real Estate Portfolio Management: Lease administration and real estate portfolio management are other features in CAFM systems. They provide tools to manage leases, track costs, manage property portfolios, and ensure compliance with lease agreements.
Environmental Sustainability and Energy Performance Analysis: Lastly, environmental sustainability and energy performance analysis are becoming increasingly important in CAFM systems. These features help organizations track and reduce their environmental impact, monitor energy consumption, and implement sustainable practices in their facilities.
Buyers Guide: Crucial Factors to Consider When Choosing CAFM Software
When choosing the appropriate CAFM software for your organization, several factors come into play. Foremost, examining the features offered by the software to ensure they align with your organization's specific needs is a must. These features may include:
Space management (if needed)
Asset management
Maintenance management
Integration with other systems, such as ERP software.
Ease of use (user-friendliness of the interface)
Mobile compatability
Another important consideration is the deployment options available for the CAFM software. Some solutions may be deployed on-premise, while others may be web or cloud-based, or even a hybrid of these configurations. Understanding your organization's infrastructure and preferences will help you determine the most suitable deployment option.
Integration with other applications is also a critical factor to consider when choosing CAFM software. Ensuring that the software can seamlessly integrate with your existing systems, such as ERP, CAD (computer aided design), or accounting software, will help streamline business processes and improve overall efficiency.
Finally, assessing the support available, customer reviews, and overall satisfaction with the CAFM software provider is important. This will help you make an informed decision and choose a solution that not only meets your organization's needs but also provides reliable and efficient support.
Introducing the Top CAFM Software Solutions
In the following sections, we delve into a comprehensive analysis of some of the top CAFM software solutions available in the market today. Each of these software solutions brings unique features and functionalities to the table, aiming to optimize facility management processes. Let's explore each of these solutions in detail.
ToolSense: Your Comprehensive Computer Aided Facilities Management System
ToolSense is a user-friendly CAFM software that offers real-time tracking of assets, inventory, and facilities, along with beneficial analytics tools, and digitization and automation of asset-related workflows. It provides a comprehensive solution for managing equipment and assets, improving communication, and automating routine processes, making the entire facility management process more efficient.
One of the key strengths of ToolSense is its ability to seamlessly integrate with existing systems, which adds to its appeal for organizations looking to streamline their operations without disrupting their current workflows. ToolSense stands out as an all-rounder in the realm of CAFM software. With its robust features, ease of use, and exceptional customer support, it is well-equipped to meet the diverse needs of modern facilities management. Its security features are also commendable, ensuring that your data is always protected. Whether you're a seasoned facility manager or new to the field, ToolSense is a reliable partner that can help streamline your operations, enhance productivity, and drive informed decision-making.
Features:
Real-Time Asset and Inventory Tracking
Advanced Analytics Dashboard and Reporting Tools
Automated Workflows for Asset and Maintenance Management
Mobile Accessibility for On-the-Go Management
Customizable Reports for In-depth Analysis
Vendor Management for Streamlined Operations
Comprehensive Asset Lifecycle Management
Inventory Management
Document Storage and Safety Compliance Features
Seamless Integrations and Data Import/Export Automation
See How ToolSense Can Help You in Just 90 Seconds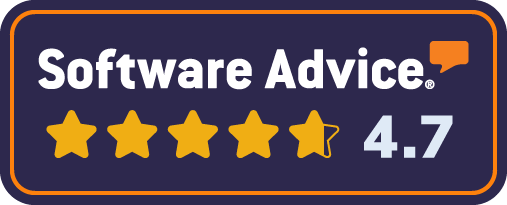 Pro's
Extensive tracking and management functionalities
Facility management and maintenance processes are greatly enhanced
Real-time data insights and analytics for informed decision-making
Desktop and Mobile Compatibility
Seamless Integration with Existing Systems
Data Security and Compliance
User-friendly Interface for Easy Navigation
Available in 100+ languages
Con`s
While the software is highly customizable, it may be overwhelming for users who prefer a more straightforward, out-of-the-box solution.
Overall Rating:

Features: 4.5/5
Ease of Use: 5/5
Customer Support: 4.5/5
Security: 4.5/5
---
eMaint CMMS
eMaint Computerized Maintenance Management System (CMMS) is a robust CAFM software solution that primarily focuses on maintenance management. With a suite of features such as inventory management, asset management, and maintenance scheduling, eMaint CMMS is designed to streamline your maintenance operations and enhance the longevity of your assets. The software's capabilities extend to automating work orders, tracking asset maintenance history, and assigning task priority, making it an optimal choice for organizations aiming to optimize their maintenance operations.
Key Features:
Comprehensive Maintenance Management
Automated Work Orders
Asset Tracking and Maintenance History
Inventory Management
Lease Management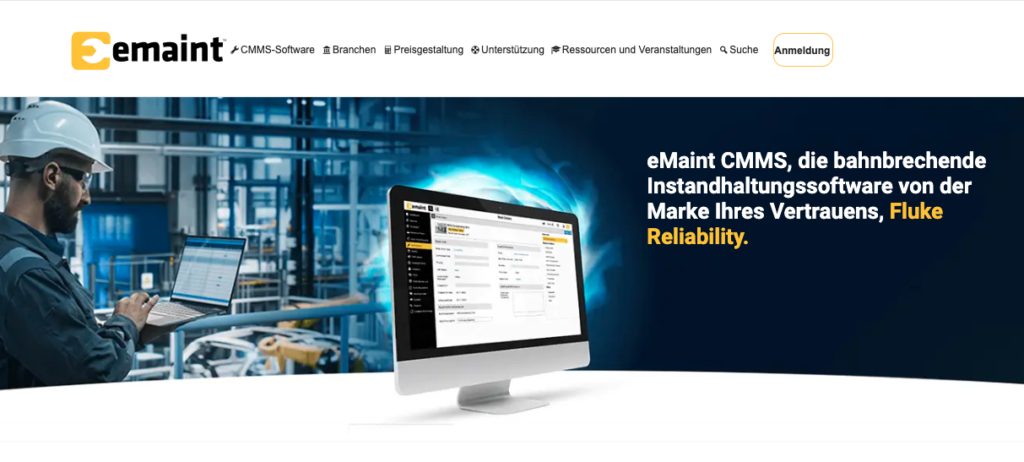 Pros:
Comprehensive suite of maintenance management features
Capability to automate work orders
Asset tracking and maintenance history for enhanced asset longevity
Pros:
Comprehensive suite of maintenance management features
Capability to automate work orders
Asset tracking and maintenance history for enhanced asset longevity
Pricing:

eMaint CMMS offers a free demo for prospective users to explore its features and capabilities. Offers several pricing tiers: Team (starting at $69 per user, per month), Professional (starting at $85 per user per month), Enterprise (custom quote, contact for pricing​).

Overall Rating:

Features: 4/5
Ease of Use: 3.5/5
Customer Support: 4/5
Security: 4.5/5
---
POC System
POC System is a CAFM software that offers a visual solution for managing office spaces and real estate. This software is particularly known for its integrated workplace management system and its ability to streamline facility management processes. With a focus on optimizing space utilization, POC System is an ideal choice for managing commercial spaces.
Key features:
Interactive space management system
Efficient seating allocation
Streamlined facility management processes
Visual space management software
Customizable reports
Pros:
Streamlines facilities' operations: Simplify and automate processes for more efficient management.
Combines space management, maintenance management, and data analysis: Get a comprehensive solution for all your facility management needs.
Customizable reports: Tailor your reports to your specific needs for in-depth analysis.
Cons:
Limited customization options: While POC System offers customizable reports, other aspects of the software may have limited customization options.
Requires frequent updates: To ensure optimal performance, regular software updates may be necessary.
Pricing:

POC System is available at a competitive price of $1.00 per month. For a hands-on experience of the software and its features, POC System offers a free demo upon request.

Overall Rating:

Features: 3.5/5
Ease of Use: 4/5
Customer Support: 3.5/5
Security: Not rated
---
Fiix
Fiix is a cloud-based Computerized Maintenance Management System (CMMS) that offers a complete package for managing your facilities. This software stands out for its easy implementation process and its mobile accessibility feature, making it a valuable tool for facility managers. With Fiix, you get a comprehensive suite of features that streamline service processes and enhance the lifespan of assets, making it an excellent solution for maintenance and repair work in buildings and facilities.
Key Features:
Asset Management
Work Orders
Automated PMsInventory Management
Lease Management
CAD Integration
Pros:
Comprehensive range of features: Fiix offers a wide array of features to cater to all your facility management needs.
User-friendly interface: The software's interface is intuitive and easy to navigate, even for those who are not tech-savvy.
Mobile app: Fiix's mobile app allows you to manage your facilities on the go, offering flexibility and convenience.
Cons:
Limited customization options: While Fiix offers a range of features, there may be limitations in terms of customization.
Requires frequent updates: To ensure optimal performance and take advantage of new features, regular software updates may be necessary.
Pricing:

A free demo is available upon request. Offers multiple plans: Free (Limited users), Basic ($45 per user, per month), Professional ($75 per user, per month), Enterprise (Custom pricing, schedule a custom demo).

Overall Rating:

Features: 4/5
Ease of Use: 4/5
Customer Support: 4/5
Security: 4.5/5
---
GoAudits
GoAudits is a comprehensive inspection platform that simplifies the auditing process. It allows businesses to create custom checklists, use digital tools for data capture, and generate detailed reports with real-time insights. Its user-friendly mobile app makes audits and inspections accessible on the go.
Key Features:
Custom checklists for audits
Real-time reports
Asset Tracking and Management
Maintenance Scheduling
Inventory Management
QR Code Scanning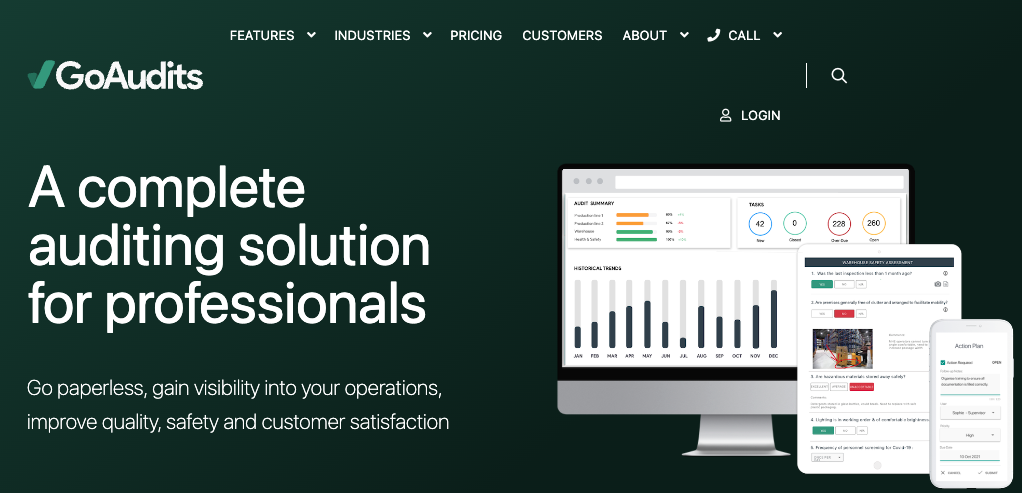 Pros:
Streamlines audit processes: Simplifies and automates processes for more efficient management
User-friendly mobile app: Allows for convenient and accessible audits and inspections
Real-time inspection insights: Provides comprehensive reports with real-time insights for improved decision-making
Cons:
Limited customization options
Requires frequent updates: To ensure optimal performance, regular software updates may be necessary
Lack of software usage tracking
Absence of automated detection of assets
No internal device visibility
No uptime monitoring or notification
Priceing:

After a 14-day free trial. GoAudits pricing details are not publicly available.

Rating:

Features: 3,5/5
Ease of Use: 4/5
Customer Support: 3/5
Security: 4/5
What is CAFM?
Computer Aided Facility Management (CAFM) is a comprehensive tool to aid in managing various administrative operations within a facility. However, when it comes to computer aided facilities management, it encompasses a broader scope, including:
Building infrastructure such as lighting and HVAC
Facilities maintenance management
Services management
Vendor Management
Space planning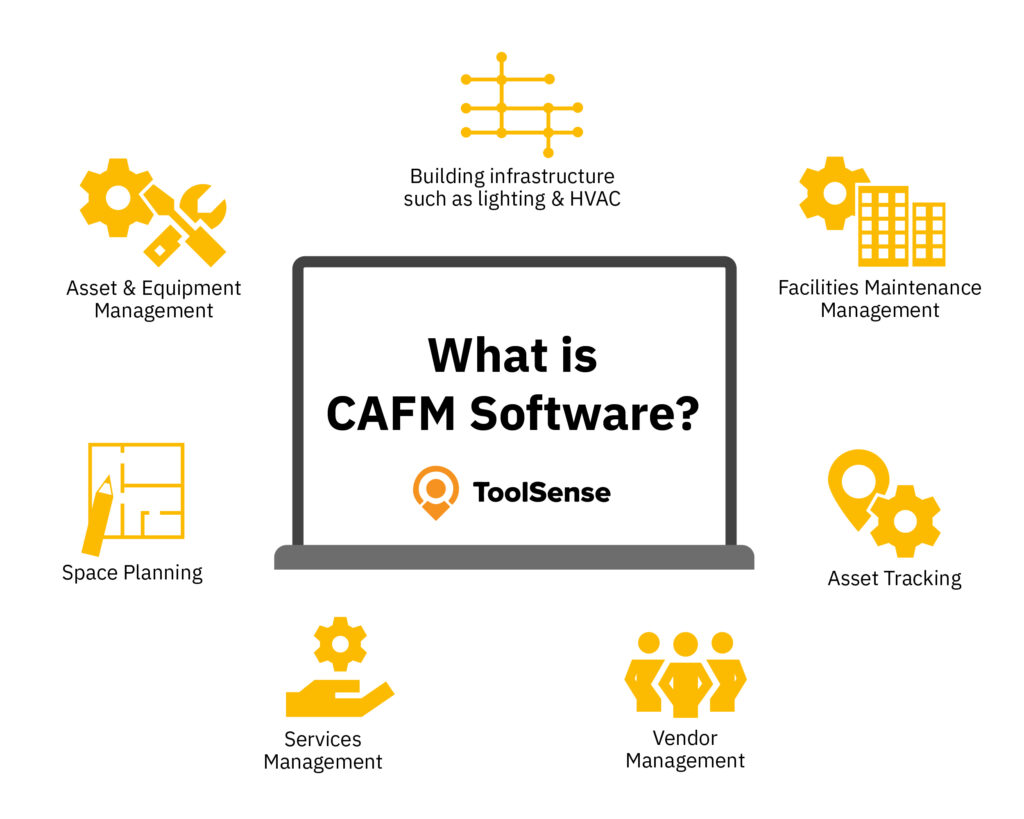 The goal of CAFM software is to streamline planning of various aspects to align with business needs, making it a crucial tool for facilities managers. Often confused with CMMS, IWMS, and EAM software, CAFM has its unique functions. While it streamlines administrative duties and infrastructure management, EAM focuses on managing physical assets, and CMMS emphasizes maintenance activities.
However, it's common for one software to function as CAFM, EAM, and CMMS due to the interconnected nature of facility management. Integrated solutions provide a holistic view of all assets, improve workflow efficiency, and facilitate strategic decision-making. This makes them attractive to organizations aiming to optimize their operations.
The Impact of CAFM Software: Top Benefits
From managing infrastructure to planning budgets or maintaining facilities, CAFM software is a vital asset. Let's explore the top benefits of implementing CAFM software in your facility management strategy.
11 Facility Management Best Practices
Improved Organizational Communication: With CAFM software, communication across different departments and teams becomes a breeze. The software can automate routine tasks such as scheduling maintenance or room reservations, reducing the potential for errors and miscommunication. It also provides a central hub for all facility-related information, making it easier for all employees to access the resources they need.
Data-Driven Decision Making: One of the most powerful advantages of CAFM software is its ability to provide actionable insights based on real-time data. This can help facility managers monitor key performance indicators (KPIs), optimize maintenance operations, track energy consumption, and plan for future space needs. By making decisions based on data, organizations can improve their operations, save costs, and enhance the overall management of their facilities.
Enhanced Productivity: By automating routine tasks and processes, CAFM software frees up time for facility managers to focus on strategic planning and decision making. This not only improves productivity but also allows for a more proactive approach to facility management.
Cost Savings: By providing a clear overview of all assets and their condition, CAFM software can help organizations identify areas where costs can be reduced. This could be through more efficient use of space, reducing energy consumption, or prolonging the lifespan of equipment through timely maintenance.
Risk Management: CAFM software can also play a crucial role in risk management. By providing real-time data on all assets and their condition, it can help identify potential issues before they become serious problems, allowing for timely intervention and preventing costly downtime.
Sustainability: With features that help monitor and reduce energy consumption, CAFM software can also contribute to an organization's sustainability goals. By using resources more efficiently and reducing waste, organizations can reduce their environmental impact while also saving costs.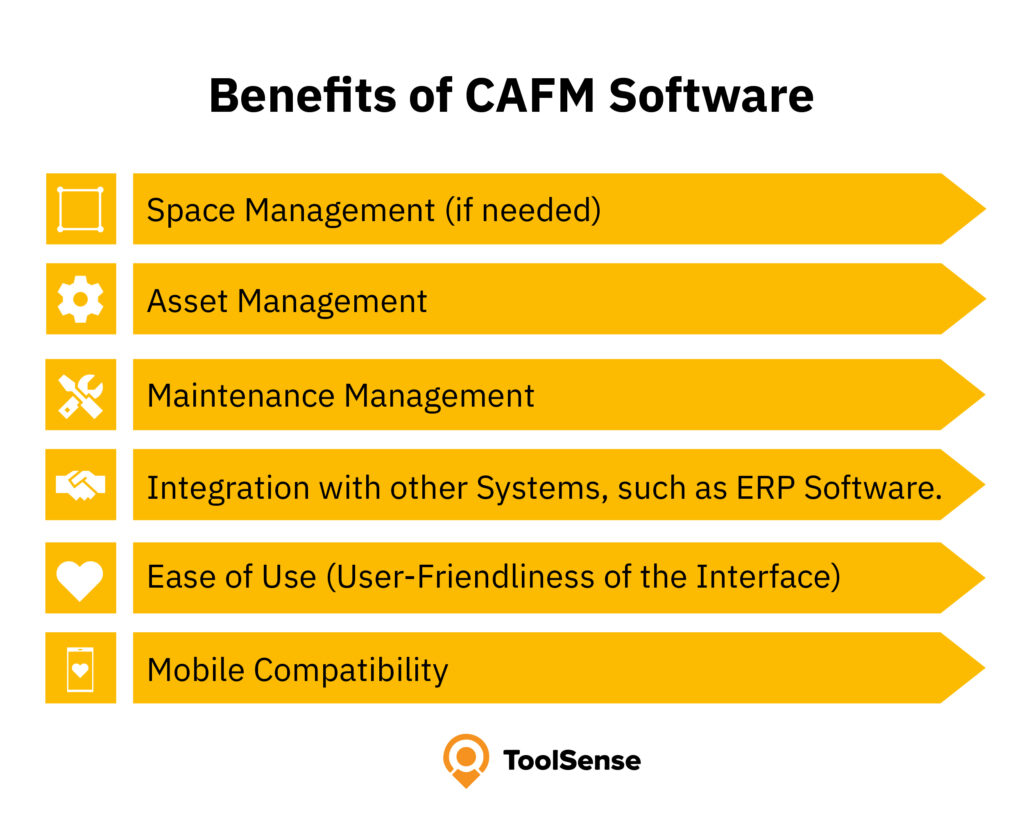 Implementing CAFM software can bring about a significant transformation in the way your organization manages its facilities, leading to improved efficiency, better communication, and cost savings.
Comparison and Conclusion
When it comes to Computer Aided Facility Management (CAFM) software, there are several top-notch options to consider, each with their unique strengths:
ToolSense, known for its real-time tracking capabilities, is a strong contender in the mix.
eMaint CMMS is notable for its focus on maintenance management.
POC System makes its mark with its focus on space optimization.
Fiix is appreciated for its user-friendly interface.
GoAudits stands out as an efficient inspection platform.
CAFM software is an integral component for efficient facility management in today's rapidly evolving business landscape. By offering a comprehensive solution for managing assets, optimizing space utilization, and streamlining maintenance tasks, CAFM software aids organizations in saving time, reducing costs, and enhancing overall efficiency.
Given the plethora of options available in the market, it becomes crucial to meticulously evaluate each software's features, deployment options, integrations, and support to ensure the selection of the best solution tailored to your organization's unique needs.
In essence, CAFM software serves as a powerful asset for facilities managers, offering a wide array of features that aid in the optimization of operations, time saving, and cost reduction. With options like ToolSense, eMaint CMMS, POC System, Fiix, and GoAudits available, you can find the perfect CAFM solution that fits your organization's distinct requirements. Don't hesitate to transition towards a more efficient and effective facility management system today.
The software solutions and the respective rankings presented in this article reflect both our opinion and that of our customers. While we can't claim to have looked at them with complete objectivity, we do believe we offer a top-notch solution. Not convinced yet? We warmly invite you to form your view during our complimentary 30-day trial period.
ToolSense is trusted by 700+ companies
Maximize Uptime, Minimize Cost & Stay Compliant With ToolSense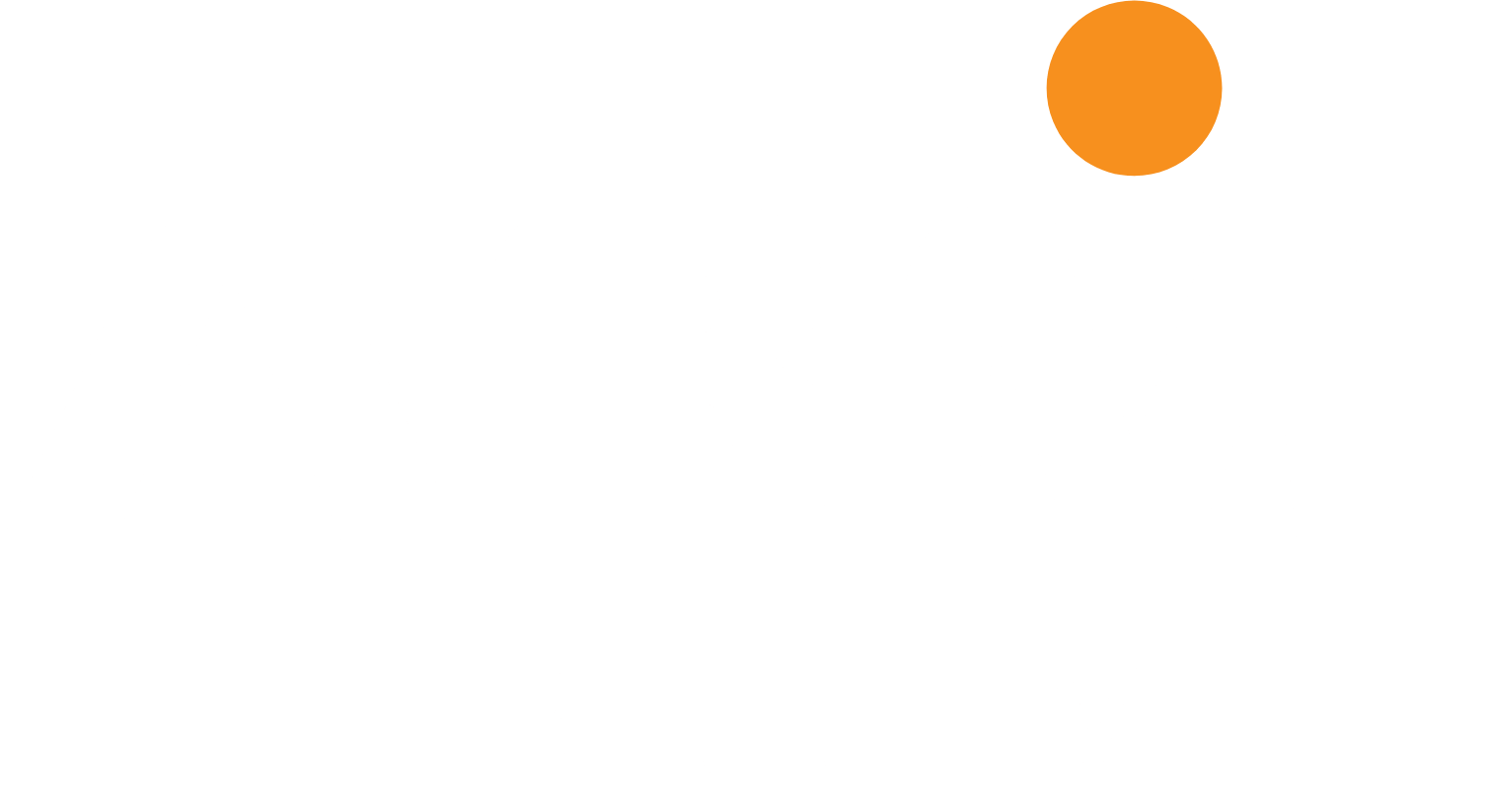 Frequently Asked Questions
What is CAFM software used for?
Computer Aided Facility Management (CAFM) software is used to plan, execute and monitor activities related to space and workplace management, asset management, reactive and preventative maintenance, operational facility services, room reservations and customer service requests. It allows businesses to take control of their enterprise asset management, optimize internal space management and floor plans, as well as improve their productivity and efficiency.
What is the most popular CAFM software?
The most popular CAFM software is FM:Systems, followed by HippoFM, iOFFICE, ARCHIBUS, and Planon Universe.
What are the tasks of CAFM?
CAFM enables businesses and facility managers to store and access asset, utilization, maintenance, and work order information in a central database. It provides real-time data for informed decision making from any location.
What is the difference between CAFM and CMMS?
CAFM software provides automation of several aspects of facility management, while CMMS software focuses specifically on the maintenance operations and is usually included in the CAFM package.
How does CAFM software integrate with CAD drawings?
CAFM software integrates with CAD drawings to facilitate space management, scenario planning, layout plans, flexible workplaces, moves and technical management.