Educational institutions, such as schools or universities, can accumulate numerous assets. Furniture, maintenance equipment, computers, software, or modern teaching equipment, such as smart boards and tablets, are incredibly important when it comes to the daily workflow at schools today. For everything to run smoothly, education asset tracking management is often necessary. That means tracking an asset's location, runtime, or usage with the help of a GPS tracker or QR code system. In this article, you will learn why improving your asset tracking management is important and how schools and universities can profit from it.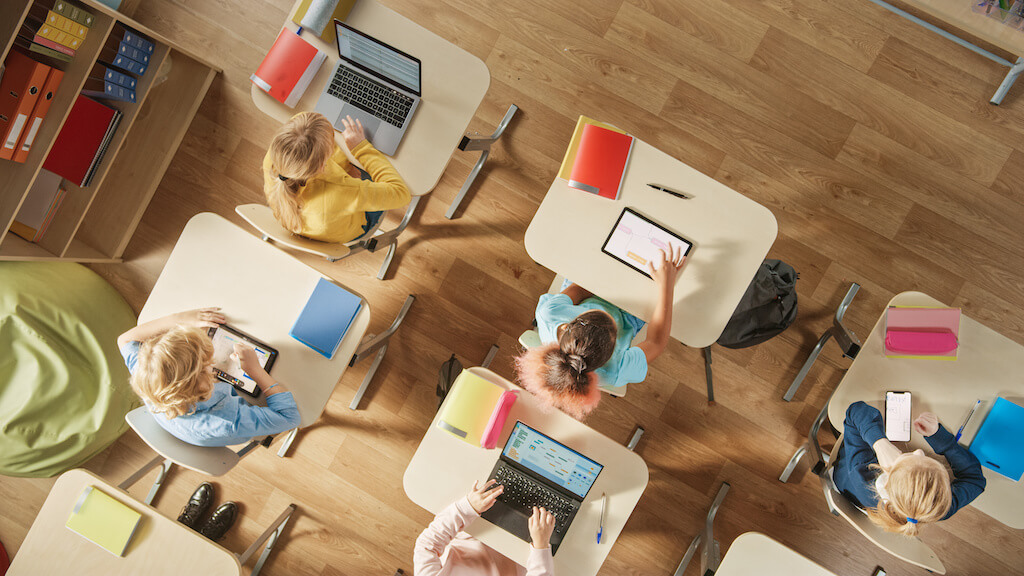 Key Facts
Education asset tracking management involves tracking your most important equipment, such as laptops or tablets, but also smart boards and other assets.
With the right school asset tracking software, you can also gather information about usage, condition, maintenance, and work order history.
This can prolong your assets' lifespan, prevent theft, improve availability, and save money.
ToolSense is an asset management and work order software for schools that combines modern tracking, maintenance and work order management in an easy-to-use cloud-based platform.
Main Reasons to Improve Your Education Asset Tracking Management
The Number of Assets Is Growing
A couple of decades ago, schools and other educational institutions didn't have to worry about a lot of technical equipment beyond a few overhead projectors and VHS or DVD players. With advancing digitisation, the types of new assets have changed, and their number has grown significantly. This holds true for hardware as well as software, so old-fashioned school asset tracking methods, such as pen and paper or even an Excel spreadsheet, have lost their reliability. The number of assets in schools requires advanced asset tracking where outdated methods fail.
ToolSense is trusted by 700+ companies
Improve Your Education Asset Tracking Management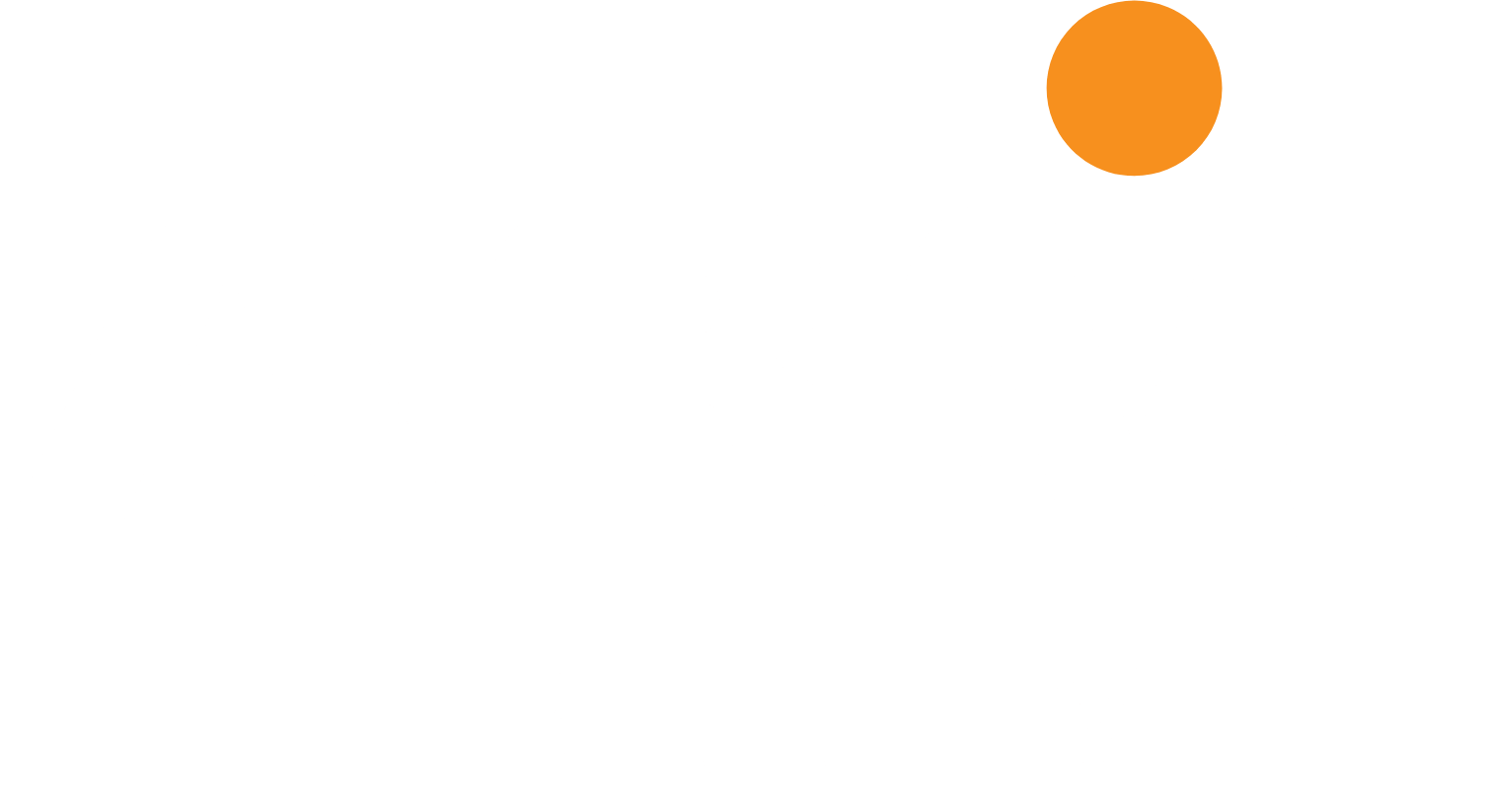 Restricted Budgets and Staff Shortages
It's not a secret, that many schools and universities suffer from restricted budgets and staff shortages. While it might seem counter-intuitive to invest in a school asset tracking software, it can alleviate some of the problems that schools face regarding complete asset management. School software can support staff members, such as teachers and school asset managers, by simplifying the asset tracking process and freeing up time for other tasks. Additionally, school asset management software can help you make the most out of your assets and save money.
Information Accuracy
One of the greatest challenges any school or university faces is the accuracy of their asset records, especially when outdated methods are used instead of asset management software for schools. With written records or Excel sheets, it is easier to overlook important maintenance dates, which can either shorten your assets' lifespan or result in higher repair costs. It is also easier to lose track of your assets entirely, which is time-consuming and costs money. Digital asset tracking management in education decreases the time spent on asset management, but increases reliability and efficiency at the same time.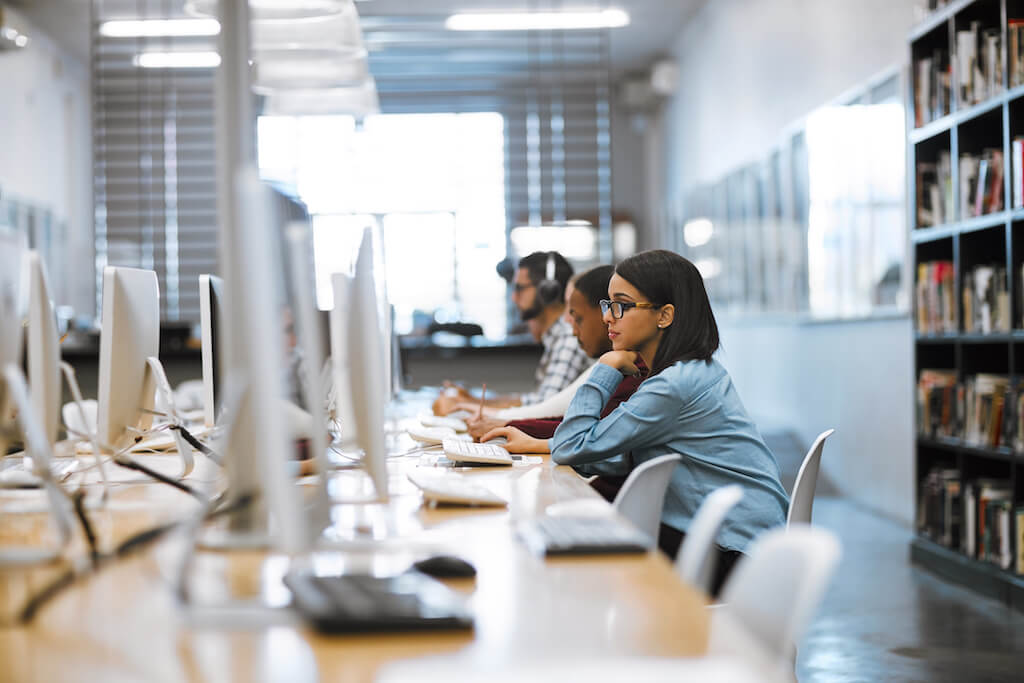 Benefits of Using an Asset Management Software for Schools
Eliminate Paper Use
Paper and Excel sheets are outdated methods that can no longer reliably track large numbers of assets. Losing files or working with different versions of a spreadsheet can be ruled out entirely by switching to facility management software for schools. In addition, saving paper can have a positive influence on your school's sustainability.
Make the Most of Your Equipment
School asset management systems don't just track your equipment, they also provide useful insights and analytics, such as work order or maintenance history. This can help you identify assets that cost a lot of money to maintain and repair and find more cost-effective alternatives.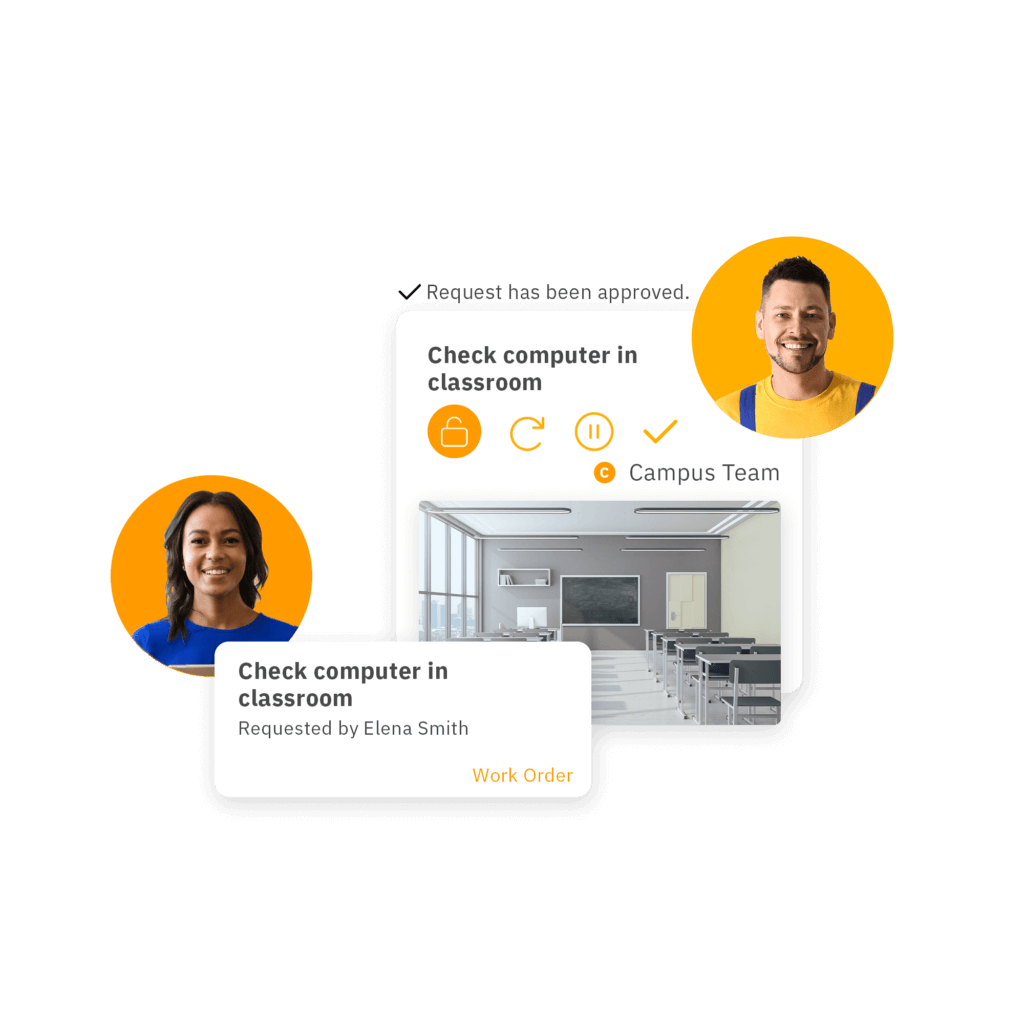 Optimise Asset Usage
At the same time, the insights and analytics mentioned above can also help you pinpoint the equipment that is rarely used. You can decide to either sell the equipment, retire it, or put it to better use.
Improve Asset Maintenance
School maintenance software can help you take better care of the assets that you have by sticking to a maintenance and repair schedule. The facility management software for schools allows you to create maintenance and service reminders at specific intervals. Whenever a maintenance task is due, the system will send out a scheduled reminder. This can save your school a lot of money in the long run and avoid more costly repairs or breakdowns by keeping your equipment in top shape.
Keep Track of Availability
Excel sheets and paper trails are rarely up-to-date when it comes to the current usage and availability of certain assets. Digitally tracking school equipment, on the other hand, delivers real-time insights into the availability of laptops, TV sets, or other essential assets. It also makes it easier to schedule ahead and ensure the asset is available when needed.
Most Important Digital Asset Management Features in Education
Location
One of the most practical features of managing your equipment is the ability to track the location of your essential equipment. Whether you are looking for a teacher's laptop or a caretaker's lawn mower – the asset management system reliably tracks the current location thanks to a GPS sensor. Alternatively, you can apply a barcode or QR code solution without the need for a bulky tracker, which is especially handy for small equipment. That way, you will be able to know where everything is located throughout multiple sites within school districts, campuses, or individual school buildings.
Simplify Your Asset Tracking Process
Responsibilities
Combining asset management and work order software for schools in one platform makes it particularly easy to organise and track your equipment. With the right school software, you can assign work orders and responsibilities to the employee in charge, who will receive a notification. They can record and track their progress through the system so that no important task is forgotten or neglected.
Funds
Understanding how much money it takes to operate and maintain your assets is vital to managing your funds properly. That is where a school asset management solution will give you the perfect overview of all expenses and bills – neatly attached to your assets' lifecycle folders.
Compliance
Depending on the type of equipment, maintenance tasks or inspections might be due at regular intervals to comply with rules and regulations. If your educational institution operates numerous assets, it is easy to lose track of important dates. Instead of recording dates manually, you can save them in your school asset tracking software, which then reminds you whenever a certain task or inspection is due. This ensures compliance for all types of equipment.
The Asset's Lifecycle
Making the most of your assets implies tracking them throughout their entire lifecycle – from the moment of purchase until they are retired or sold. School maintenance software allows you to collect every piece of information in your asset's lifecycle folder, including locations, usage, maintenance history, work orders, invoices, and even images or videos. That way, you get the best possible overview of your asset in just a few clicks.
Accuracy
Excel sheets or handwritten notes are much more prone to human error than asset management systems used in education. Information might not be recorded accurately enough or get lost among other paperwork. Especially when multiple people work on a single Excel sheet, the risk of using multiple or outdated versions is great. In contrast, cloud-based school asset tracking software is always up-to-date and more secure than handwritten files.
4 Tips to Make Your School Asset Tracking a Success
1. Make Scanning Your Mobile Assets a Top Priority
Technological advances and the need for homeschooling equipment due to the Covid-19 pandemic have led to a wave of digitisation at schools. Laptops, iPads, or Android tablets have replaced pen and paper notes in many classroom settings. They come with plenty of advantages for students and teachers alike, but are more prone to theft than regular textbooks. That's why tracking them with the help of a QR code or barcode is essential to not lose your pricey mobile assets. Once you've established the best tracking options for your educational institution, you can profit from a conclusive history of your mobile assets.
See the Full Picture and Act Proactively With Cutting-Edge IoT Hardware
The ToolSense IoT hardware bridges the gap between physical assets and modern software solutions. With our IoT modules, you gain a much more in-depth understanding of your asset's performance.
2. Make it Central and Easy to Use
A centralised system is absolutely vital in education asset tracking management to ensure all employees have access to the same information whenever they need it. Excel sheets or paper trails can be inaccurate and difficult to access in everyday situations, which is why a central, cloud-based system is the best option for successful education asset tracking. The right software for schools is easy to use even without an extensive introduction so that staff members and teachers can start tracking assets and work orders straight away.
3. Establish Accountability
Teachers have many responsibilities, so why should they have to worry about asset tracking as well? Because asset tracking management is a team effort that can be easily incorporated into your staff's day to day operations. This can be done by scheduling reminders in your school maintenance software so that teachers and other staff members can take a moment to track the assets they are responsible for.
4. Give Roles for Every Employee
Successful asset management for schools requires a plan. That way, you can assign roles and responsibilities to individual staff members. By granting everyone access to the plan in your education asset tracking management, your employees gain a better overview of all responsibilities and their individual roles. This creates a transparent and advanced asset tracking strategy.
Software for Education from ToolSense
Asset tracking for education doesn't have to be difficult. ToolSense provides an easy-to-use solution for all schools, universities, and other educational institutions. The cloud-based school software can be accessed easily through desktop computers, tablets, and smartphones due to full mobile compatibility. That means teachers and other staff members can easily track equipment through the asset and work order software for schools from any location.
ToolSense's school asset management system creates a lifecycle folder for each asset where all the information and important documents surrounding your asset is stored. This includes location, usage, work orders, maintenance history, instructions, invoices, important files, videos, and photos. That way, all the information your employees need for successful asset tracking can be found in one place. Modern sensors and GPS trackers are fantastic options to track larger equipment, but they usually prove too bulky for small devices, such as laptops and tablets. That is why ToolSense offers a handy QR code solution that assigns a unique code to each asset, which allows you to easily scan all assets with a phone or tablet.
Join Thousands of Industry Professionals and Sign Up for Our Newsletter Today
Sign up now to access the latest market insights and improve your asset operations efficiency.
Conclusion
Education asset tracking management is becoming more and more important as digitisation at schools advances. Whereas educational facilities in the 1990s and early 2000s only had to keep track of a few overhead projectors and television sets, the use of laptops and tablets in everyday school settings has made complete asset management with the help of school software a top priority. While schools might hesitate at the initial implementation cost of a school asset management solution, the benefits far outweigh the consequences that come with letting your asset tracking slide. You will gain a better overview of your equipment, improve usage and availability, prevent theft, and even save money through an improved maintenance strategy.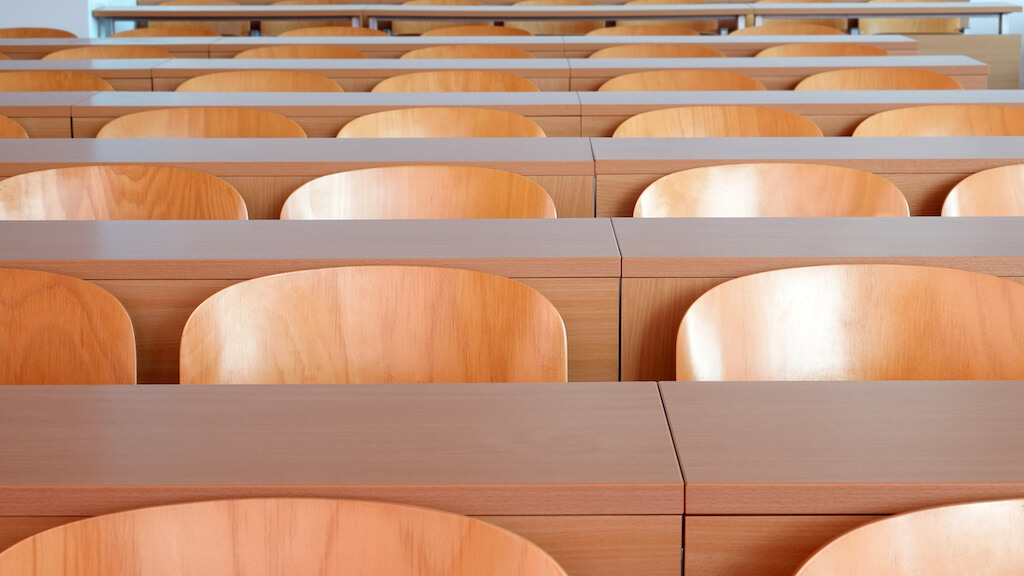 FAQ
​​What is asset management in education?
Education asset tracking includes knowing which assets an educational institution owns, how much they are worth, what condition they are in as well as how and when they are used.
What is asset tracking management?
Asset tracking management implies tracking your physical assets with the help of sensors, GPS trackers, or a QR code or barcode system.
What is the difference between asset tracking and asset management?
Asset tracking and asset management are often used interchangeably. However, asset tracking usually only involves tracking the location of your physical assets whereas asset management offers a broader spectrum, such as tracking runtimes, maintenance history, work orders, and other metrics, as well. These are then analysed to optimise your asset usage and condition.
How can schools save money?
One way for schools to save money is to improve their education asset tracking management. By keeping an eye on your equipment, you can improve maintenance, usage, and availability, thus saving money in the long run.