Most businesses rely on machines or equipment to either make a product or offer a service, which is why it's vital to them that assets function perfectly at all times. Machine failure, breakdowns, and unexpected repairs, usually result in a loss in revenue. Fortunately, there is a simple and easy way to reduce machine downtime or, in some cases, prevent it entirely, and that happens through regular equipment and machine maintenance.
Key Takeaways
Machine and equipment maintenance includes all measures a technician conducts to keep an asset running and functioning normally.
These measures can range from regular cleaning to the replacement of wearing parts.
There are different types of machine maintenance: Reactive, run-to-fail, corrective, preventive, predetermined, condition-based, predictive, and prescriptive.
Machinery maintenance can contribute to a safer workplace and help a company save money in the long run.
What Is Machine Maintenance?
Machine and equipment maintenance is easily explained. It involves all maintenance tasks that are performed on machinery or equipment with the purpose of keeping it running and functioning. Machinery maintenance aims to reduce downtime to a minimum, keep employees safe, and save money on more extensive and costly repairs.
Example of Machine and Equipment Maintenance
Some examples of industrial machine maintenance include regular or scheduled check-ups and emergency repairs in case of faults or breakdowns. It can also include the replacement of worn or broken machine parts, as well as the regular cleaning of a piece of equipment.
Top 15 Equipment Management Software Tools
Types of Machine Maintenance
Reactive Maintenance / Run-to-Fail Maintenance
Reactive maintenance implies that business owners only react when the machine failure has already occurred. When machines and equipment only receive maintenance, service, and repairs when they break, we speak of reactive maintenance. These breakdowns and repairs are mostly unexpected and unplanned. Run-to-fail maintenance is similar to reactive maintenance, but describes the deliberate choice to wait for equipment failure before action is taken.
Corrective Maintenance
Corrective maintenance describes all actions taken in machinery maintenance and repair to get a piece of equipment back into working order. Most often this implies smaller tasks, such as the replacement of a worn part, before major downtime occurs.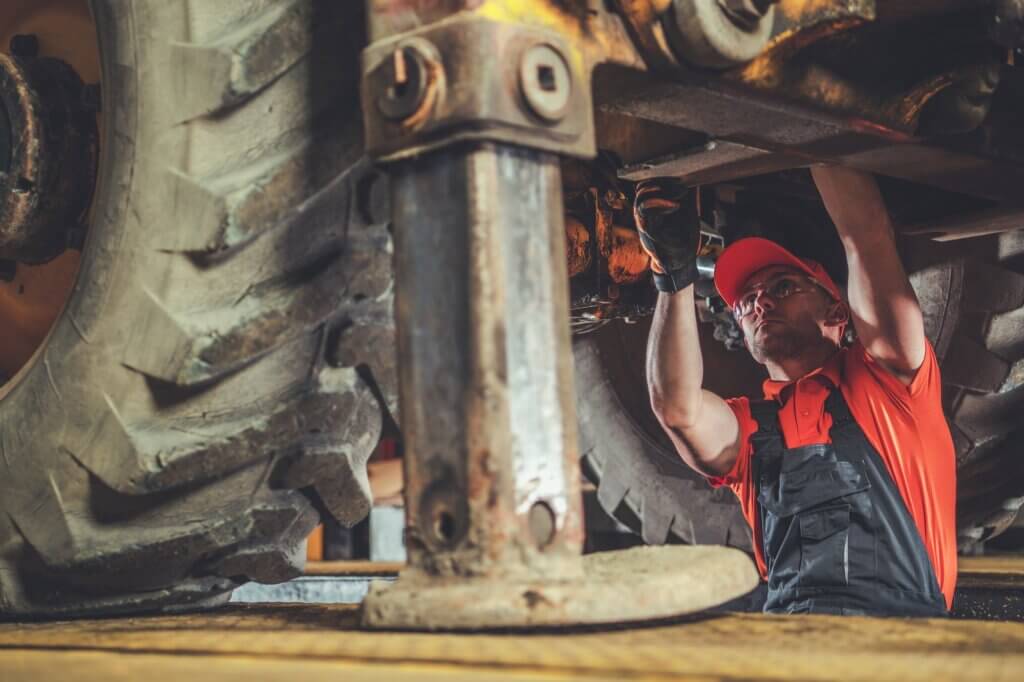 Preventive Maintenance
Scheduled routine maintenance tasks that are undertaken to uncover and fix flaws before they lead to bigger problems are called preventive maintenance, as their purpose is to prevent breakdowns. The maintenance schedule can be time-based and set at certain intervals – such as weekly, monthly, or yearly – or usage-based depending on the type of equipment – for example, every 1000 kilometres or 100 hours of runtime.
Predetermined Maintenance
Sometimes, a manufacturer will release a maintenance schedule for the equipment they sell. If a business sticks to this predetermined schedule, it is called predetermined maintenance. Depending on the type of asset, this can also be time-based or usage-based and determine when which part of the machine needs to be serviced.
Condition-Based Maintenance
When a company performs condition-based maintenance, they monitor an asset's performance and conduct maintenance tasks when the machine's performance decreases, or they notice an upcoming equipment failure.
Predictive Maintenance / Prescriptive Maintenance
Similar to condition-based maintenance, machine predictive maintenance also monitors machine performance in real-time to identify problems which might lead to downtime. This is done by utilising sensors and other IoT tools. Prescriptive maintenance takes automation one step further. With the help of AI and machine learning, artificial intelligence monitors machine performance and lets you know when maintenance operations are due.
How to Improve Machine Maintenance With ToolSense
Machine Maintenance Plan
Unless your company employs a corrective or run-to-fail maintenance strategy, your maintenance technicians will need a plan that tells them when they need to perform certain equipment maintenance tasks. ToolSense's clever asset management solution provides businesses with the option of developing machine maintenance checklists and schedule templates. This can be done for each individual asset and will send out automated reminders to your maintenance technicians whenever a certain task is due, ensuring that nothing is forgotten. Spare part replacements, MOT appointments, and other service tasks can be managed through the machine maintenance software. Additionally, workers can log and track their progress through the system to make maintenance operations transparent for everyone.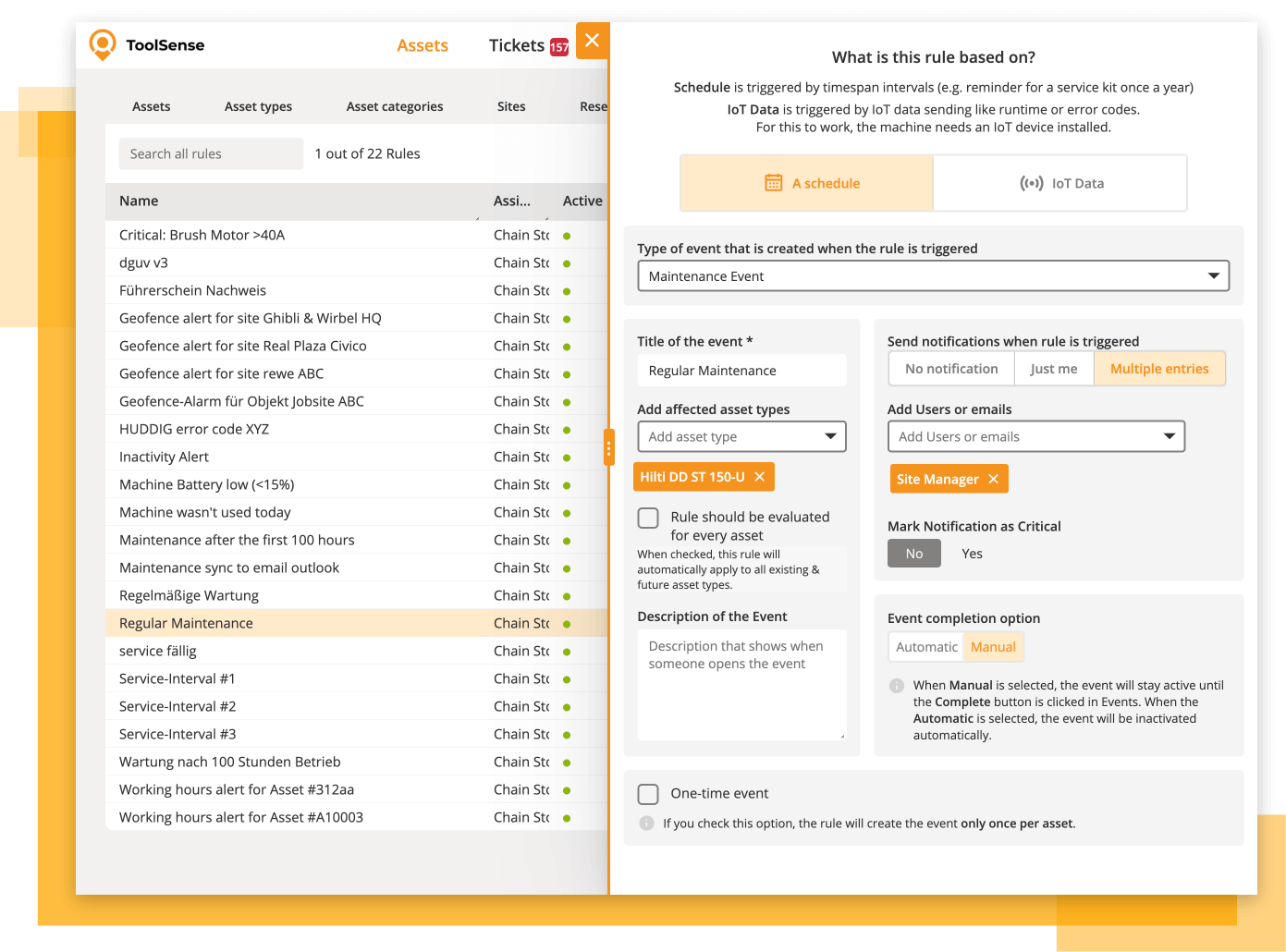 Precision Maintenance Strategy
Regular maintenance is key to reducing downtime and prolonging equipment life, but proper maintenance needs a strategy to be effective. No matter which type of equipment maintenance you choose to implement in your company, your strategy will be the backbone of maintenance in general. That means coming up with a maintenance plan, recording the progress and result, and using this information for analytics and planning. ToolSense's equipment maintenance software keeps you organised and stores all important information in the machine's lifecycle folder. It also offers fantastic insights and analytics tools you can use to improve your maintenance strategy in the long run.
Optimize Your Maintenance Startegy
Keeping Workers Safe
Keeping all your assets in the best shape through regular maintenance doesn't only reduce downtime, it can also prevent workplace accidents. Faulty parts and malfunctions can lead to accidents which might injure or even kill your employees, so it highlights the importance of maintenance of machines. Since ToolSense's machine maintenance app reminds you whenever a safety inspection is due and provides you with useful maintenance checklists, you never run the risk of missing an important audit, appointment, or task. This contributes to a safe work environment.
Measuring Asset Performance
Asset performance can be a useful indicator for potential machine breakdowns. If a machine performs at less than usual standards or a sudden shift in performance takes place, your maintenance technicians are called to investigate. This, however, requires your machine performance to be monitored and recorded at all times. With the help of ToolSense's IoT solution, you can track runtimes and other types of machine data to keep up with your asset performance analytics.
Why Is Machine Maintenance Important?
Factory machine maintenance serves an important purpose for businesses that rely on assets and equipment to make a product or offer a service. Regular maintenance can prevent unexpected downtime and hefty repair bills by fixing machines and replacing parts before bigger problems arise. You can save a lot of money by making small repairs instead of waiting for the machine to break, which usually results in hurried and expensive repairs. Waiting for a piece of equipment to break leads to prolonged downtime, which can cut into your company's revenue. Proper maintenance also contributes to a longer machine lifecycle.
When it comes to workplace safety, some companies only realise the importance of maintenance of machines when it's too late and a faulty machine leads to workplace accidents. By keeping your assets shipshape and conducting regular equipment maintenance and repair, you ensure that all machines are safe to operate. This prevents accidents and, in the case of electrical maintenance, even fires.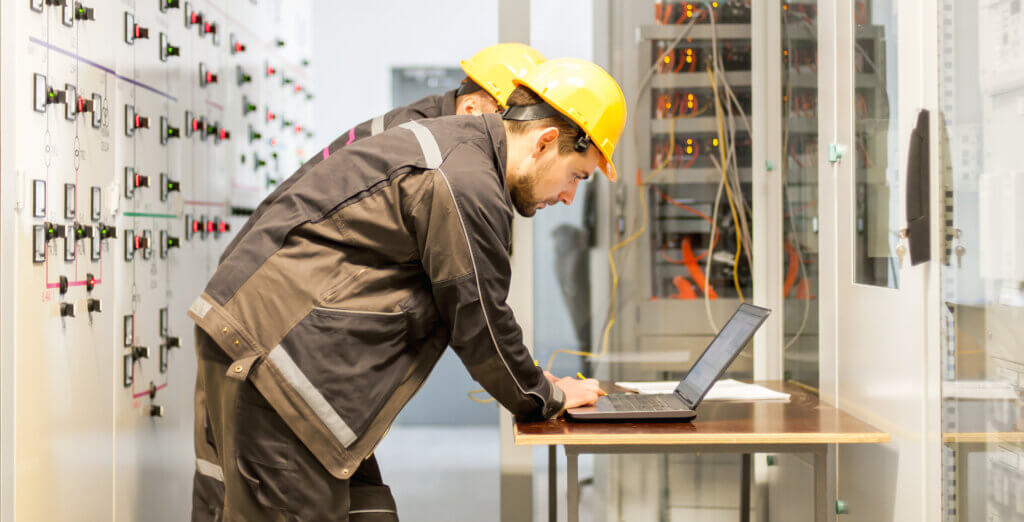 Which Industries Utilise Machine Maintenance?
Equipment maintenance becomes necessary whenever a company uses these types of assets to conduct their business. This is why maintenance operations can be found in almost all sectors, including production, construction, cleaning & facility, agriculture, logistics, and many more.
Conclusion
If you want to prolong your machine lifecycle, save money, and keep your employees safe at their workplace, regular machine and equipment maintenance is a must. That means servicing your machines and replacing worn and faulty parts at regular intervals to keep everything in working order. This requires a strategy and a machine maintenance schedule so that no important detail is left out. Especially if your company utilises a large number of machines and assets, an asset management solution like ToolSense can help you organise your equipment maintenance.
FAQ
How to Calculate the Maintenance Cost of Machines?
As a general rule of thumb, a machine will cost about 75% of its buying price in maintenance and repairs over the course of its lifecycle. You can calculate the hourly operating and maintenance cost of a machine by dividing the buying price by its expected life in hours and multiplying by 70-100%.
How to Implement Machine Learning for Predictive Maintenance?
By utilising sensors and other IoT tools, you can collect enough machine data over time so that artificial intelligence will be able to predict machine breakdowns and faults.
What Is Machine Maintenance?
Machine maintenance includes all actions taken to ensure that the equipment continues to function normally. This can mean cleaning, replacing parts, or repairs.
Why Is Machine Maintenance Important?
Machinery maintenance ensures that all pieces of equipment function perfectly, which reduces downtime and larger repair bills in case of unexpected faults. It also contributes to a longer machine lifecycle and workplace safety.
ToolSense is trusted by 700+ companies
Machine Maintenance Contributes to a Safer Workplace and Helps a Company Save Money in the Long Run