Electrical systems are essential for many businesses, and without proper electrical preventive maintenance, they can pose risks, as shown by UK fire statistics. In this article, we highlight the importance of maintenance in electrical systems and provide a detailed electrical PM checklist. We also guide readers on setting up an effective electrical service plan, explain the steps of an electrical preventive maintenance program, and discuss the benefits of organized electrical maintenance plans, all supported by user-friendly software solutions.
Key Takeaways
Electrical preventive maintenance is needed to keep the work environment safe and economic.
Unexpected repairs, outages, and failures can be prevented with regular maintenance.
A handy electric preventive maintenance software can help keep track of scheduled service appointments and collect important equipment data.
What Is Electrical Maintenance?
During electrical maintenance appointments, electrical systems are tested, monitored, fixed, and broken parts are replaced. These maintenance procedures involve all critical equipment – lighting and electrical distribution systems, generators, transformers, machines and digital communication tools, such as computers. These maintenance appointments can be conducted internally by a certified employee or externally.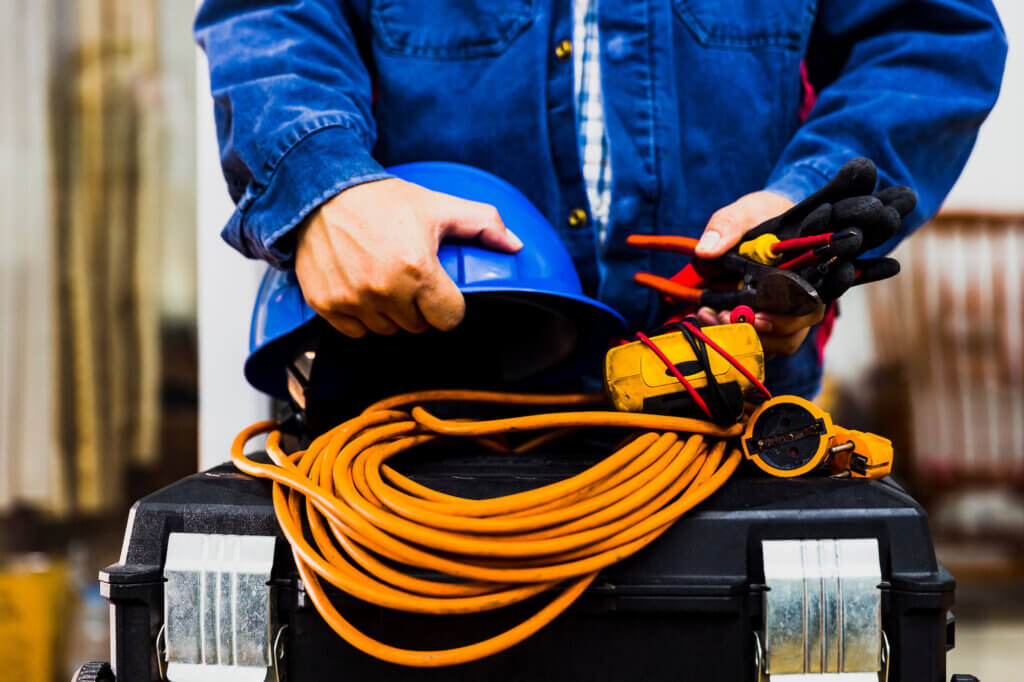 What Is Electrical Preventive Maintenance?
To make sure that every piece of electric equipment is in perfect working order and doesn't pose a hazard, regular preventive maintenance is a must. That means setting regular maintenance and service intervals before a problem occurs. Waiting for important equipment to break before taking steps to repair it is a recipe for disaster. In a best-case scenario, the machine will break and cause unexpected downtime, leading to decreased productivity and a loss of money. In a worst-case scenario, it could lead to an electrical fire that endangers the health and safety of your employees.
What Is a Preventive Electrical Maintenance Schedule?
An electrical preventive maintenance plan or schedule sets the base for regular maintenance and service appointments. Depending on the type of equipment that is being serviced, government regulations and guidelines might recommend or dictate a specific interval. Not only does it determine when certain machines need to be checked, but it also provides an electrical preventive maintenance checklist with all necessary steps that need to be taken to ensure your equipment runs smoothly.
If you are interested in creating a maintenance schedule yourself, you might want to check out this blog article about creating an effective preventive maintenance program in 8 steps.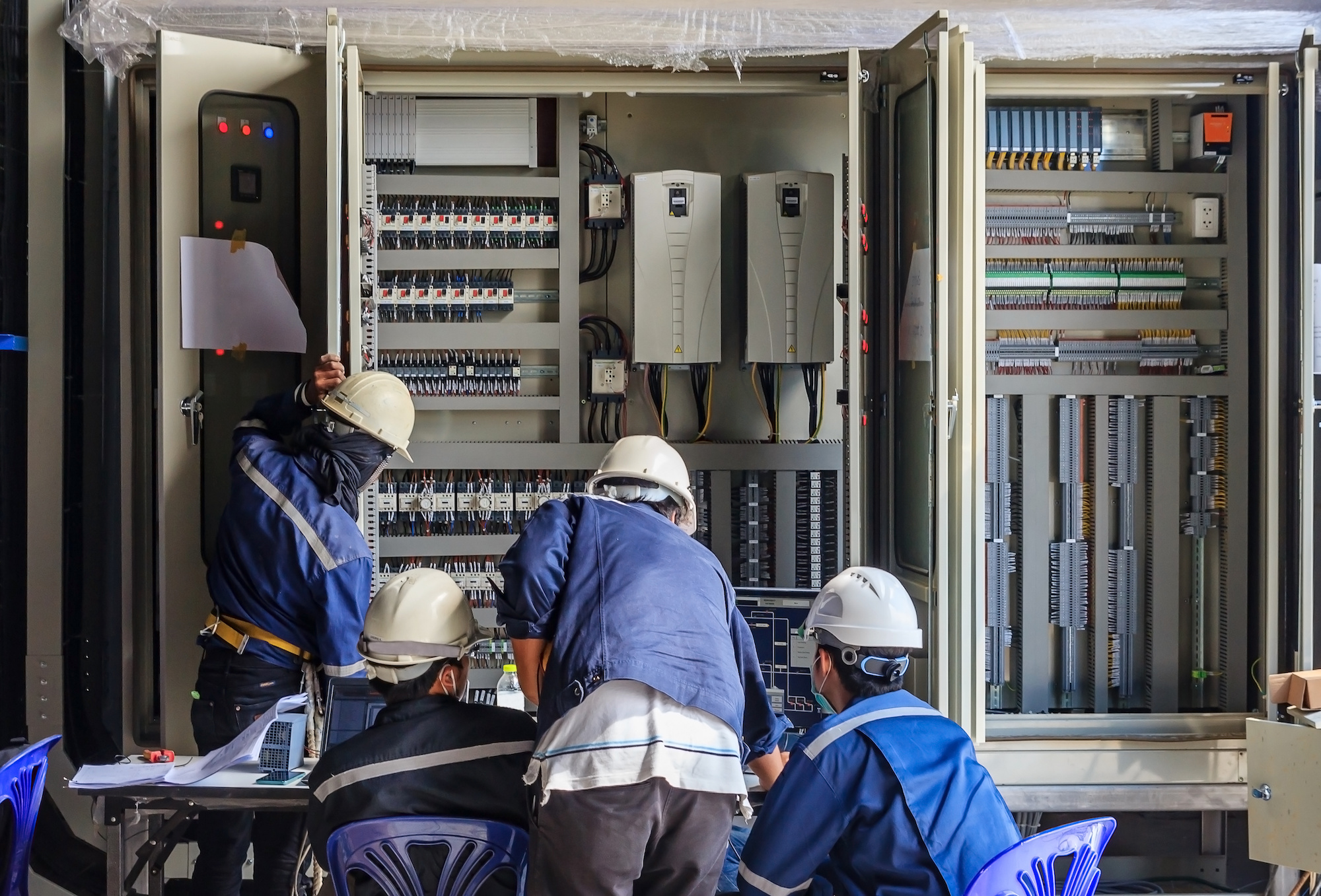 Where Is Electrical Maintenance Performed?
In Residential Locations
While preventive maintenance of electrical equipment is of extreme importance for businesses and public buildings, it also shouldn't be neglected for residential homes. As the above statistic mentioned, approximately 20,000 fires of electrical origin happen in UK dwellings each year. The risk for these types of accidents can be prevented with proper preventive maintenance.
In Industrial & Commercial Establishments
Factories and commercial establishments are just as likely to suffer from electrical fires due to the number of electrical devices they operate. Electric motor preventive maintenance can help keep machines running and avoid downtime. Business owners are not only responsible for the equipment and location, but have a responsibility to their workers as well. That means ensuring their safety when working around and with electrical equipment is a top priority.
Prevent Unexpected Downtime
In Healthcare
Hospitals, private practices, and nursing homes often work with a vast array of critical equipment that should receive electrical preventive maintenance on a regular basis. The health and safety of staff and patients depend on this type of medical equipment working perfectly at all times. Hospitals equipped with an emergency power supply also need to make sure this is serviced at regular intervals to still be able to treat patients in case of power outages or emergencies.
Electrical Preventive Maintenance Checklist:
Regular Inspections and Repairs
Every piece of electrical equipment that a household or company operates should be inspected regularly – be it an expensive forklift or something as insignificant as a kettle. Depending on the type of equipment, this can happen at varying intervals. Pre-emptive inspections can uncover flaws long before they lead to graver issues so that the device or machine can be repaired or replaced on time. This prevents damage and malfunctions to electrical connections and local networks.
Examine Electrical Distribution Systems
Not just electrical devices, but the entire electrical distribution system should be part of the electrical preventive maintenance. Faults and flaws that could potentially lead to electrical fires can be uncovered by a certified electrical inspector. Fixing or replacing faulty parts prevents power outages, fires, or even fatalities.
Remember Service Equipment
Service equipment that is vital to your company should also not be forgotten when an electrical preventive maintenance plan is made. Every piece of critical equipment that is needed for your business to function has to be included.
Check Lighting Systems
Lighting systems are a part of the electrical preventive maintenance schedule that can be easily overlooked. Electric light is an ingrained part of our day-to-day lives that we don't really think about until it's gone. To make sure that everything is in working order and to avoid outages, even the lighting system has to be checked on a regular basis.
Monitor Electrical Systems in Hazardous Locations
Hazardous locations can be a dangerous environment to work in – even more so if an electrical fault causes a fire. This is why it is especially important to stick to the electrical preventive maintenance schedule to avoid accidents, breakdowns, and potential fires.
Examine Special Occupancy Units
Not just residential homes or workplaces can be at risk for electrical malfunctions. Electrical systems at schools, prisons, hospitals, daycare centres and other public buildings also need regular maintenance to ensure the safety of the public.
Checking for Signs of Electrical Malfunction
Electrical malfunctions are one of the leading causes of electrical fires, so they need to be avoided at all costs. By conducting regular maintenance checks, a certified electrician can spot weaknesses and look out for signs of malfunction before they become a problem.
See How ISS Improved Their Asset and Maintenance Processes With ToolSense
How to Create an Electrical Preventive Maintenance Schedule
Prioritise Equipment by Maintenance Needs
Some machines and devices need service more often than others. According to government guidelines and manufacturer recommendations, you can set up service intervals and reminders using an electrical preventive maintenance software. That way, important service appointments will never be overlooked again.
Gather Equipment Data
The same electrical preventive maintenance software can help you gather important data about your assets. If service intervals are based on runtime, it is especially important to keep track of that with an asset management software. Spare part orders, repair requests and work orders are all stored in a handy platform like ToolSense.
Join Thousands of Industry Professionals and Sign Up for Our Newsletter Today
Sign up now to access the latest market insights and improve your asset operations efficiency.
Predict Maintenance Needs
Once you have collected the most important data with the help of the software and information about guidelines and manufacturer recommendations, you can assess the individual preventive maintenance needs of all your assets, machines, and electrical systems and predict when maintenance is most useful.
Put Together an Electric Preventive Maintenance Plan
With all this data, the asset or facility manager can set up the electrical preventive maintenance schedule that best suits the company and the individual assets. Another possibility is to use an electrical preventive maintenance schedule template that can be adjusted to a business's individual needs.
Verify Progress and Make Adjustments as Needed
Once the maintenance programme has been followed for a while, it is recommended to assess the success. This can also be done with an electrical preventive maintenance software to see which areas still need to be adjusted and improved. Did a piece of electrical equipment break despite regular maintenance? What was the cause? Could it have been avoided by adjusting the maintenance process or servicing the machine more often? Once these types of questions are answered, it is easier to improve the schedule.
Expand Your Electrical Preventive Maintenance Programme
If new equipment is added or downtime still occurred despite a proper schedule, it is recommended to expand the programme to include things that have been previously overlooked. Especially new equipment should be added to the schedule immediately after purchase.
ToolSense is trusted by 700+ companies worldwide
Reduce Your Downtime, Keep Electrical Assets Running & Increase Profitability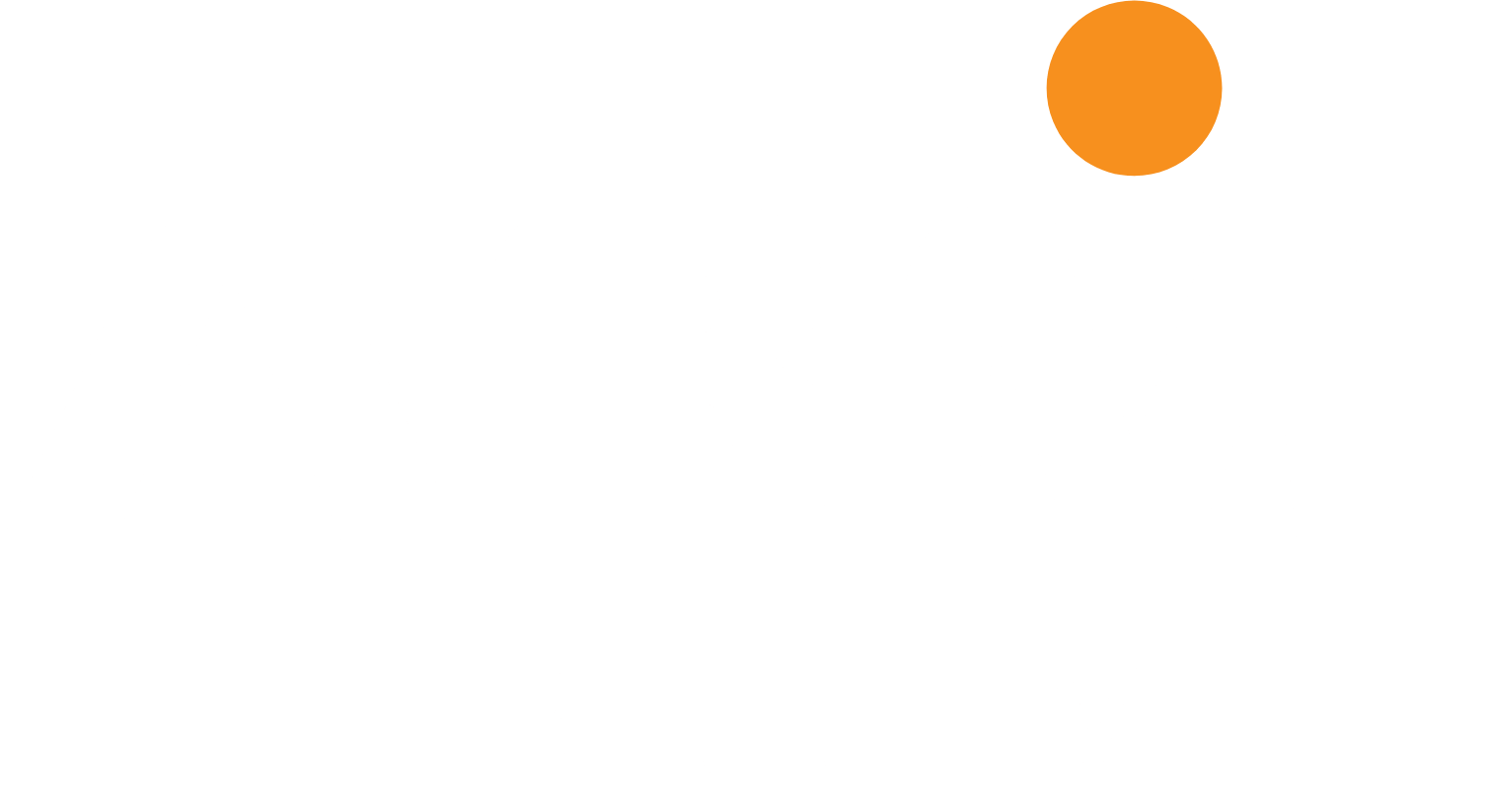 What to Consider When Developing an Electrical Preventive Maintenance Schedule
Individual Equipment Lifecycle
Every piece of electrical equipment has a different lifecycle. Larger, more expensive machines are more likely to be repaired with the help of spare parts. Smaller, inexpensive items are commonly replaced instead. When setting up a schedule for your electrical preventive maintenance, the individual asset lifecycle should be taken into consideration. Even for expensive machines that have been running for a long time, it can sometimes be more economic to replace them instead of continuously spending money on the repairs or risk breakdowns. There are numerous processes that happen during an asset's lifecycle like requesting new machines, moving locations and more. Managing all of them in a single platform like ToolSense dramatically improves your operations' efficiency.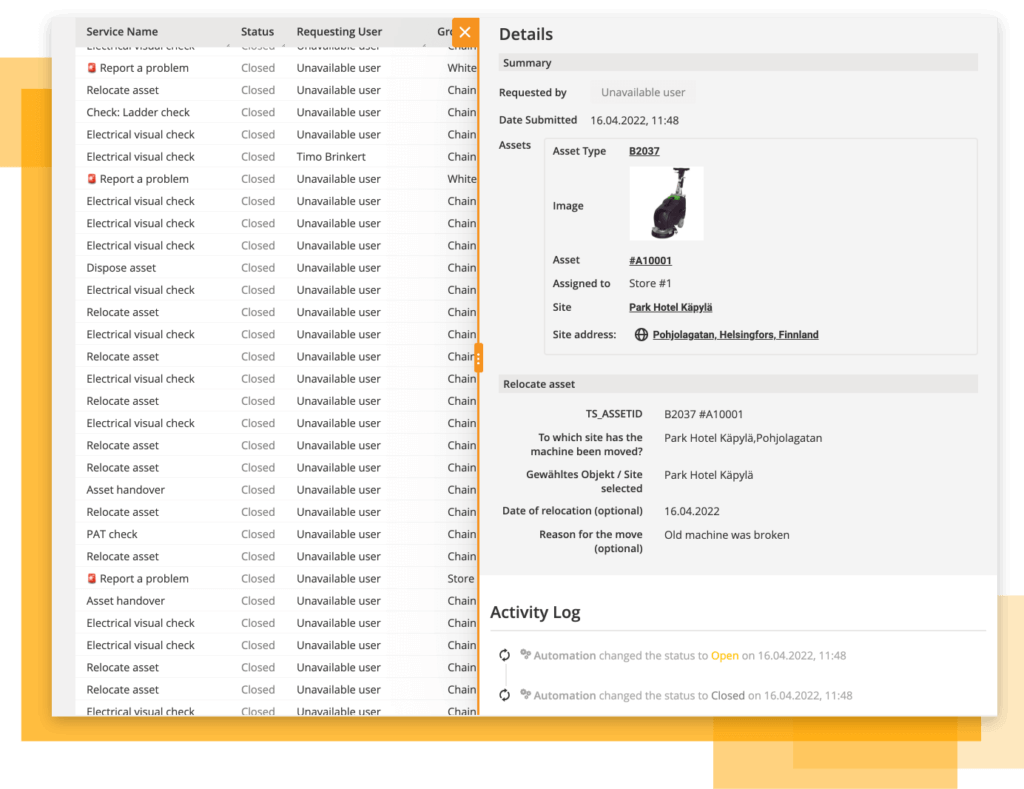 Maintenance Management Software
A clever asset and maintenance management software like ToolSense will greatly improve your workflow when it comes to maintenance and servicing. You can set service and maintenance intervals for each individual asset, and the software will remind you when the next appointment is due. You can also keep track of your equipment's location, runtime, downtime and much more. Repairs, spare part requests, and work orders are all stored in an asset's lifecycle folder along with photos, videos, and warranty information. Everything you need to know about your machines will be kept in one easily accessible place. Because the electrical preventive maintenance software is cloud-based, it can be accessed from any device and any location.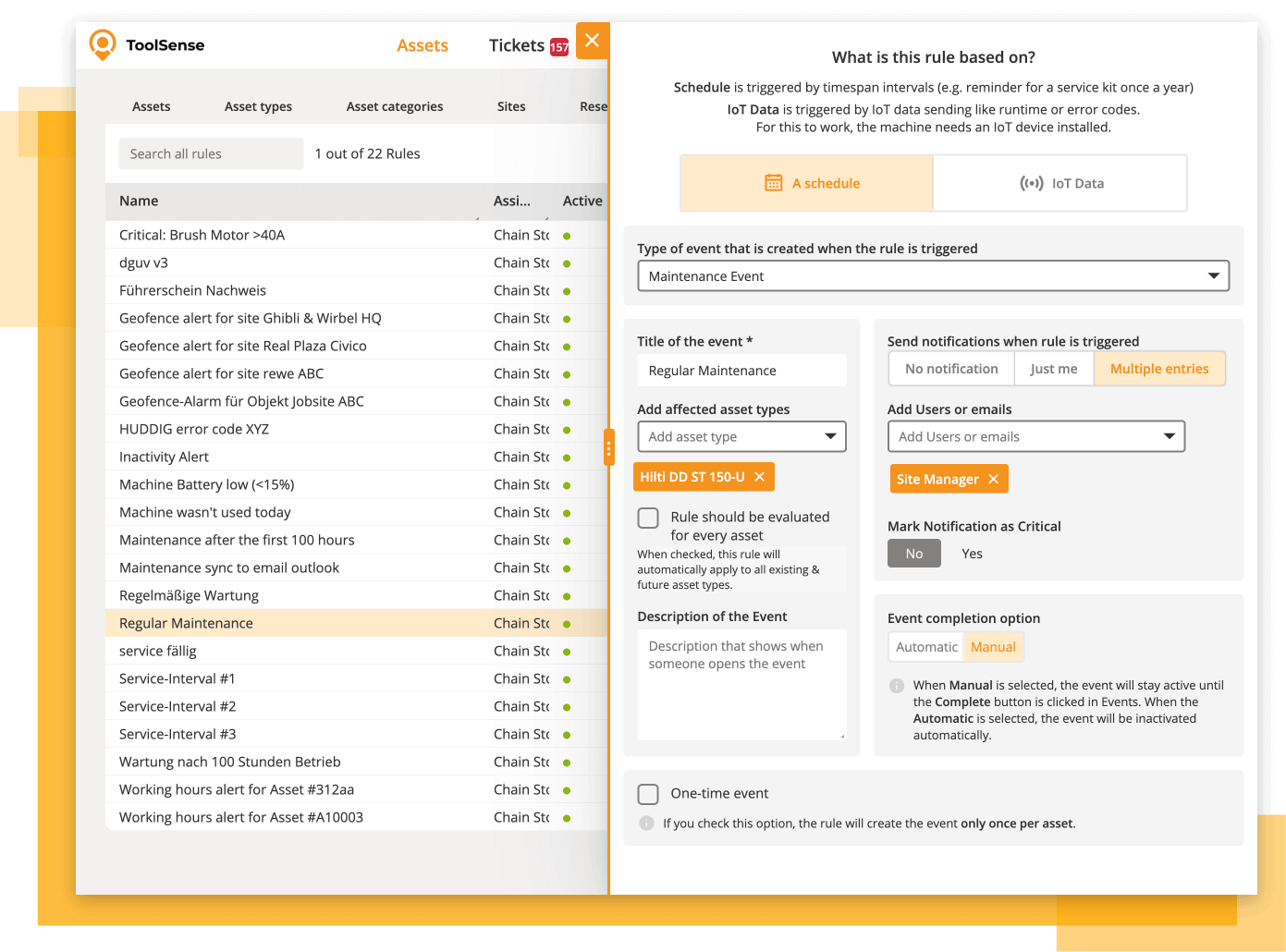 The Benefits of Electrical Preventive Maintenance
Financial: Unexpected repairs can cut into a company's productivity, especially when they are due to neglect. Preventive maintenance is used to find faults before they turn into costly spare part replacements and potentially cause downtime for your machine, thus saving your business a lot of money over time.
Safety: Electrical fires are more common than you might think, according to the statistics mentioned above. They often result in injuries and can even lead to fatalities. Protecting workers is a top priority. One of the main ways to ensure their safety is through regular electrical preventive maintenance so that the risk for electrical fires and accidents is minimised.
Operational: To make sure that your assets are running smoothly at all times, preventive maintenance is a must. During service appointments, small flaws are uncovered that could have led to downtime in the future. Regular intervals can help prevent electrical failure and equipment failure, saving you time and money.
How ToolSense Improves Your Maintenance Management
Conclusion
Electrical preventive maintenance is important for a number of reasons. An electrical preventive maintenance software can help ensure the safety of your staff, keep all your important equipment running, and save money on unexpected repairs. With ToolSense, you receive an easy-to-use and cloud-based asset management solution that all your employees can operate. With all the information around your equipment in one place, developing and sticking to an electrical preventive maintenance program is easy.
FAQ
What Is a Preventive Maintenance Plan?
A preventive maintenance plan determines service intervals and appointments to make sure a piece of equipment functions perfectly. It also specifies which parts need to be checked or replaced.
What Is Preventive Maintenance?
Preventive maintenance services a piece of equipment at regular intervals to make sure that it is in perfect working order. Faults can be determined and fixed before they cause larger issues.
What Is Electrical Preventative Maintenance?
During preventive maintenance appointments, electrical equipment is serviced to make sure that it functions correctly and is safe to use. Electrical maintenance encompasses all electrical components of the infrastructure.
How Do You Prepare a Preventive Maintenance Schedule?
With the help of equipment data, you can determine which machines to prioritise according to maintenance needs, set suitable intervals and specify which parts need to be checked. Once the schedule has been in use for a while, it is recommended to assess the success and make adjustments.