What Is ToolSense?
The Internet of Things, IoT for short, is taking over the workplace. Automated processes, interconnected devices, and ever-growing networks can contribute to a more efficient, flexible and productive work environment. However, not all businesses are using the IoT just yet. Especially asset-intensive industries like mining, agriculture, logistics, manufacturing or construction, which make up 30% of Global GDP, are falling behind when it comes to digitalisation. Instead, they still rely on pen, paper, and Excel spreadsheets and can often suffer from declining productivity as a result. Without an interconnected and automated workflow, it can be easy to lose track of important details, dates, or even machines. And that is where ToolSense comes in.
The Austrian IoT company offers an easy-to-use Asset Operations Platform that can be implemented in many different industries and companies all over the world. Especially, facility services companies and construction businesses that utilise a vast array of different machines and assets can profit from an end-to-end solution like ToolSense. It allows for effortless equipment, asset or vehicle tracking, gives an overview of important numbers in a single platform, and works on all types of machines regardless of their manufacturer. By digitising the workplace and utilising machine and resource management software and IoT hardware, companies can easily save both time and money through automation. If that process still seems daunting, ToolSense is here to make the leap into the digital workplace as easy as possible.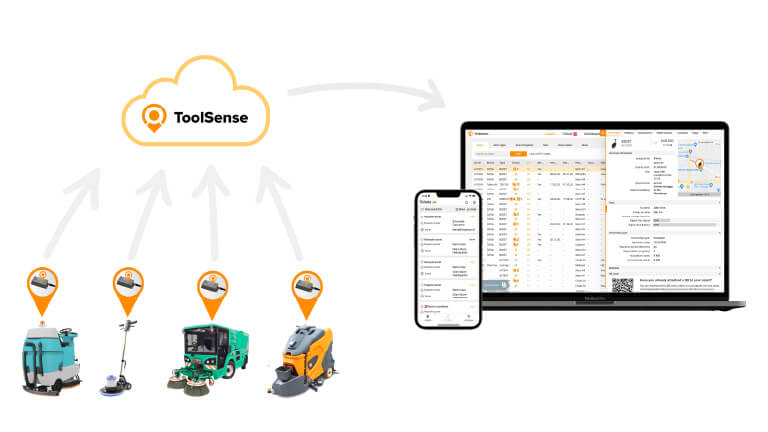 Key Takeaways
ToolSense is a practical, independent IoT solution that is suitable for all companies and businesses that manage a large number of machines or devices.
ToolSense allows companies to track equipment and see where and for how long it is used.
By implementing IoT hardware and software, businesses can save time and money.
ToolSense is trusted by 700+ companies
ToolSense Offers an Easy-to-use Asset Operations Platform That Can Be Implemented in Many Industries and Companies All Over the World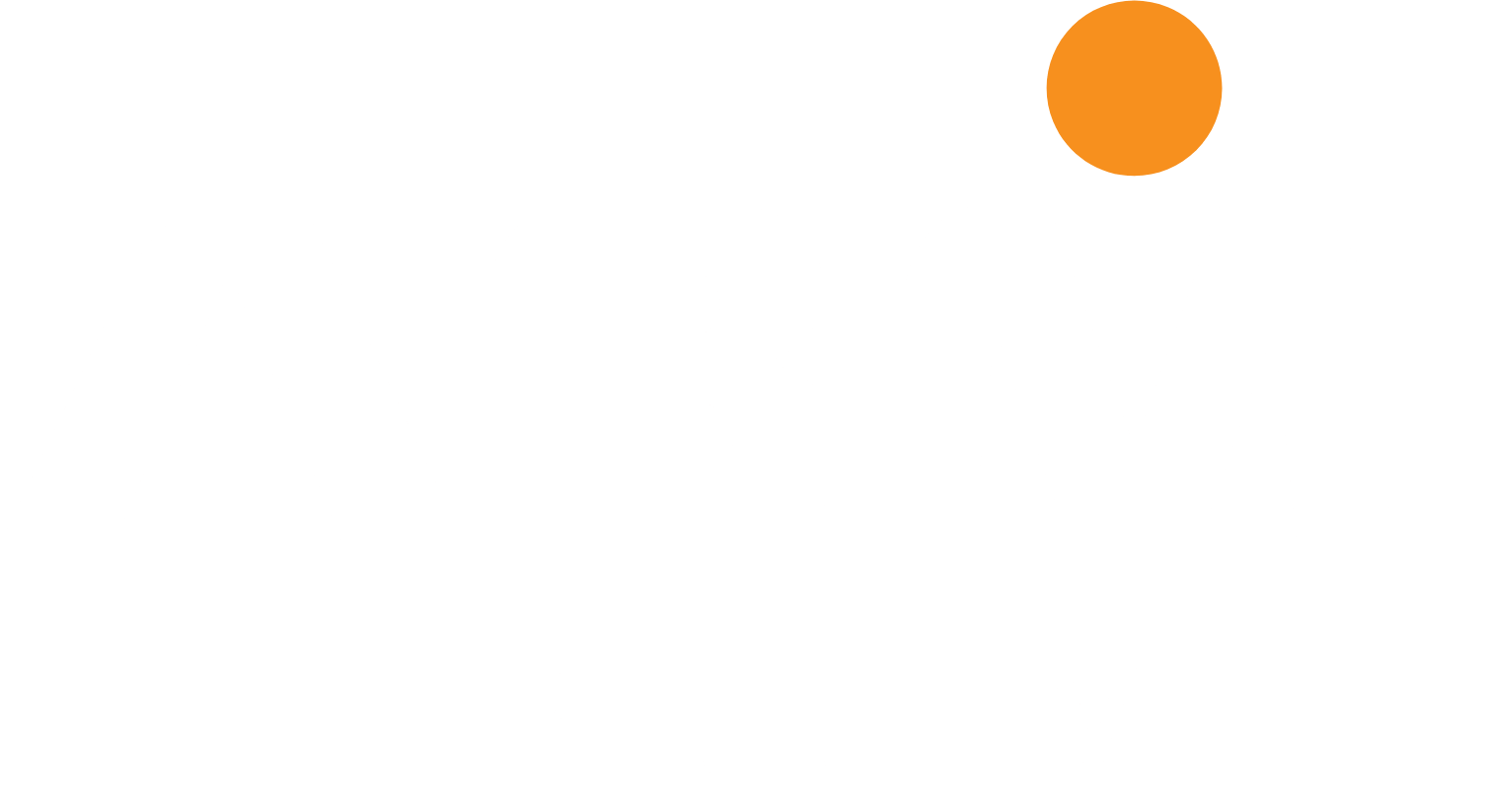 Why Use ToolSense? Here Are 5 Advantages
Small company or global business – digitalisation is important for an efficient and productive workflow. But with a broad spectrum of new technology popping up more and more often, it is understandable that companies look closely before investing in a product and consider how it could be applied to their workflow. As for ToolSense, there are 5 definite advantages the end-to-end solution for asset-operations can bring to a business:
Get real-time overviews – ToolSense Asset Operations Platform offers a real-time overview of all assets in a single platform. It can be used to track all types of equipment, machines, or vehicles, show reliable machine runtimes and send out automatic alerts. No matter where or when, companies will never lose sight of their equipment location or critical maintenance appointments. In case of misuse, ToolSense can help you save approximately 10-20% on equipment costs.
Save time through digitisation – Instead of entering numbers in various Excel sheets, ToolSense offers a clever solution that collects all important machine data in one place. By digitising processes around all machines with ToolSense – be it service, booking, or ordering spare parts – businesses can save 80-100 hours of work time per site manager.
Speed up your process – Time is money! By placing a QR code on equipment, field workers can quickly and easily report malfunctions to the ToolSense management platform. This digital solution to damage reports reduces downtime.
Automate your workflow – How much of a company's workflow can be automated? Equipment and vehicle checks can be automatically planned through ToolSense software, making sure the equipment is always in top condition.
Be independent – There are numerous providers for equipment and service management, but most are tied to a specific brand. With ToolSense, businesses have complete freedom over the equipment they choose and can integrate devices, machines, and vehicles regardless of their manufacturer.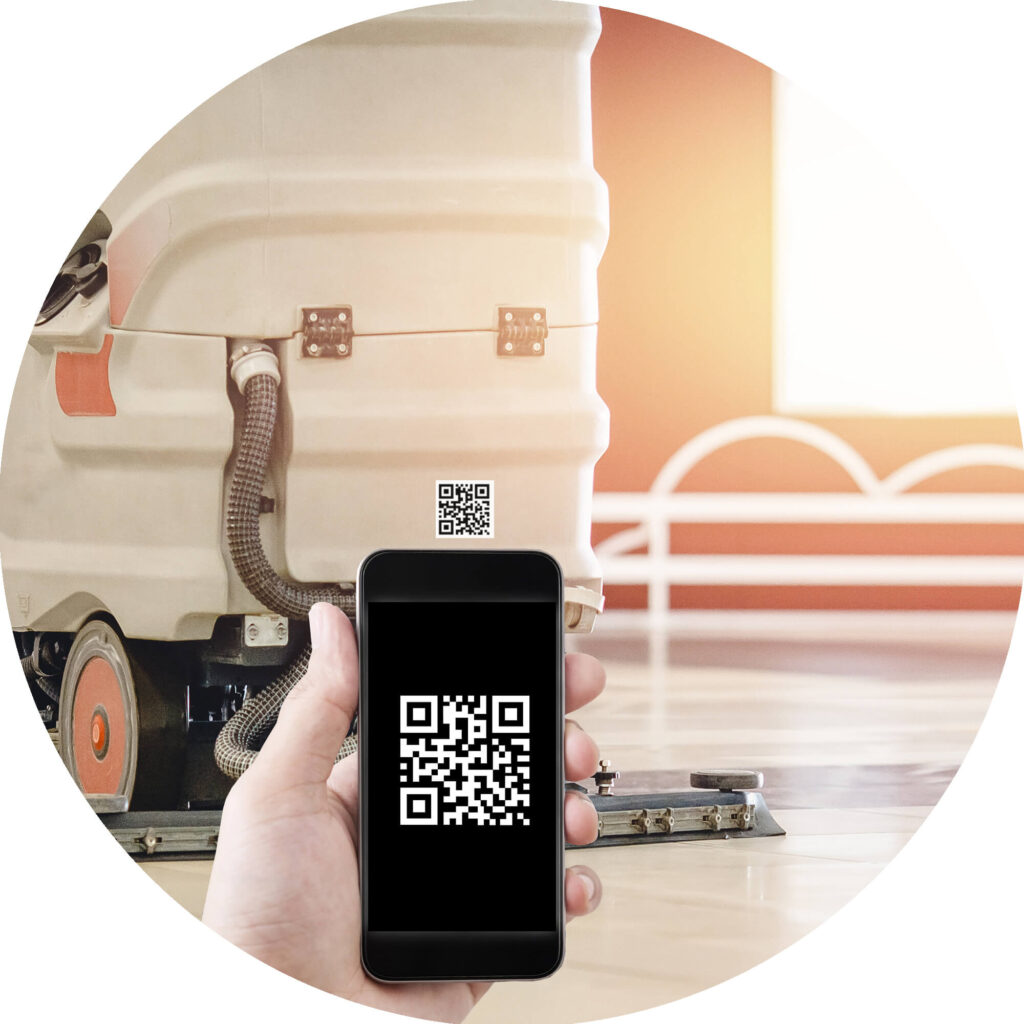 Who Benefits From Using ToolSense?
ToolSense benefits not only the management level by optimising processes throughout the company, but it also helps create an easier and more efficient workflow for employees in many different departments. Here is how everyone can profit from implementing ToolSense in the workplace:
Machine Operator
If a device, machine or vehicle malfunctions, there is not much the machine operator can do about it. In a strict chain of command, the employee would have no access to tech support and go through a string of supervisors to report a malfunction. With ToolSense, all a machine operator needs is a device capable of scanning the QR code that is placed on the machine. That way, they can easily report an issue or request necessary consumables. Their query automatically appears in the system as a ticket and can be solved by a machine manager.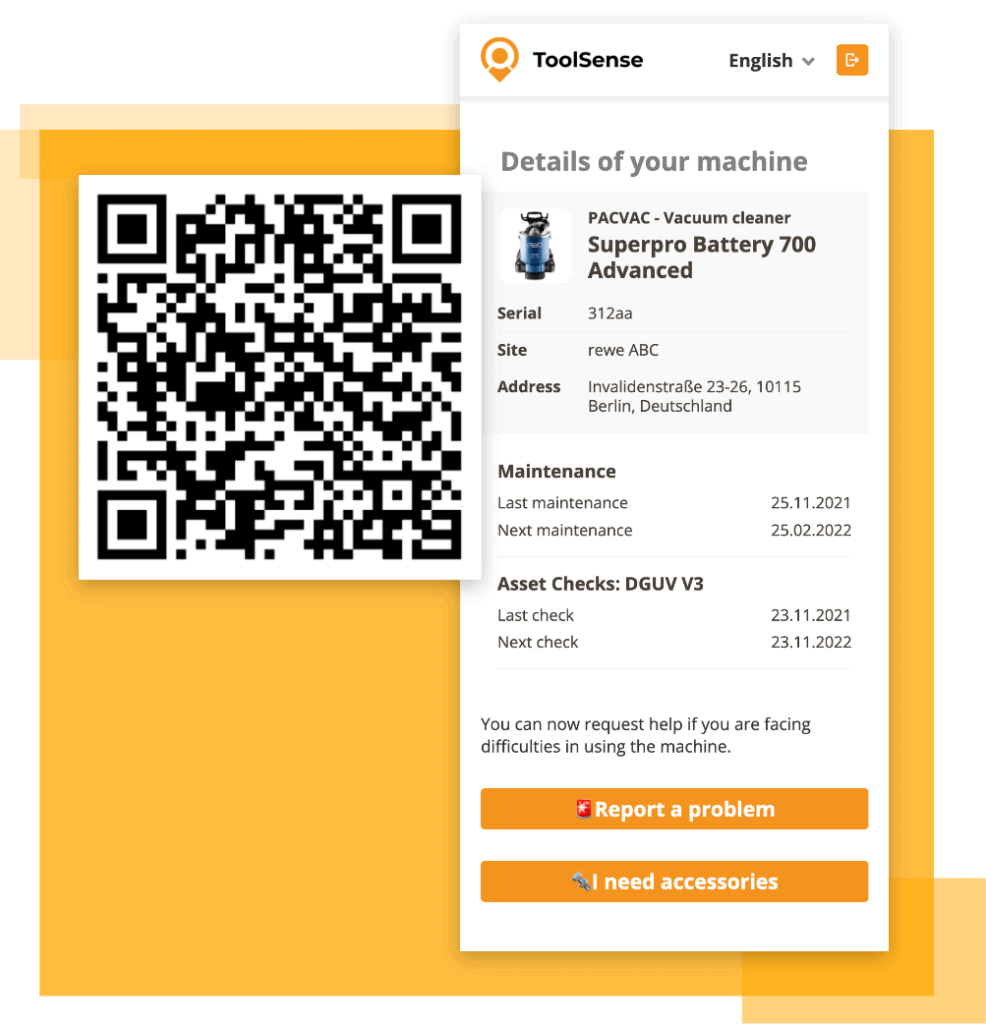 Supervisor / Site Manager / Machine Manager
Once a site manager or supervisor has equipped a machine with a QR code, their job becomes much easier thanks to ToolSense, leaving them more time for important tasks. With ToolSense, they are given an easy-to-use interface for receiving tickets about machine problems and to-dos which have been filed by machine operators. ToolSense can be used to plan equipment checks and review a machine's runtime. If a site manager is authorised to, they can easily request new machines, machine transports, or the disposal of broken equipment thanks to ToolSense.
Purchasing / Management
Once new machines or devices are purchased or rented, the purchasing department or management can set them up in ToolSense. Through the interface, they can keep track of all important maintenance appointments and checks – not just for newly added equipment, but for every device that was added to the system regardless of age. ToolSense also supplies the purchasing department or management with usage data that can be used to assess if the machine meets the company's needs or whether a smaller or larger machine is needed. Additionally, ToolSense can be used for practical total cost of ownership calculations to figure out whether to repair or replace a device. From a management perspective, ToolSense can help save both time and money.
Saving Time and Money with ToolSense: Real-Life Examples
How exactly can ToolSense be applied to a workflow, and how is it saving money? That is an important question to ask before investing in any type of software or hardware. ToolSense not only sounds practical in theory, but it has actively helped businesses overcome day-to-day challenges. Here are three real-life examples of companies already utilising ToolSense that were able to save money with the help of our equipment and service management platform.
One of our customers, a company in charge of cleaning a large site, invested in a €15.000 ride-on floor scrubber for this project specifically. Unfortunately, the project was lost to a competitor. Because each of their machines is equipped with a QR code and added to their ToolSense platform, they were able to notice that the floor scrubber was still located at their customer's site even after losing the project. When asked about the machine, the site manager explained that he had assumed it belonged to the customer. Thanks to ToolSense, they were able to notice their error and retrieve the machine, which saved the company €15.000.
Another customer was deploying four rented walk-behind floor scrubbers at a large location, each machine costing €200 each month. After installing ToolSense IoT modules, the customer noticed that the floor scrubbers were only running 10-30 minutes per day. Following a conversation with the site manager, the customer cancelled two of the machines. By saving €400 per month, ToolSense helped make the project much more profitable for the customer.
A customer's site manager was requesting new machines on a regular basis, claiming it was their customer who demanded them. To please them, the company complied and rented the requested machines. After installing ToolSense IoT units, however, they noticed that most of the machines remained inactive on site. The site manager had ordered them "just in case", meaning that he was accumulating thousands of euros in rental costs each month. The company cancelled most of the machines and saved thousands every month but, nevertheless, was able to keep up their performance.
Why ToolSense Is Different From Its Competitors
If a business has already decided to introduce IoT hard- and software to your workflow, they might be wondering why exactly ToolSense should be the right choice when many other competitors offer similar services. In fact, ToolSense has two great advantages over similar applications that will make it the perfect solution for a company.
Businesses looking for hardware or software as their IoT solution can have their pick. Many competitors offer great IoT hardware or GPS tracking (e.g. Trackunit) that will allow companies to always keep track of their devices, machines, and vehicles. Software solutions, like AssetPanda, will also improve a company's workflow. However, most competitors only focus on either the hardware or software aspect of IoT. ToolSense combines both and offers a unique and comprehensive solution for all types of businesses.
If a company utilises devices from many different manufacturers, they might struggle to find an all-encompassing IoT solution for their business. Many competitors that offer equipment and service management platforms are actually suppliers of machines, like KÄRCHER Fleet. These solutions will not work with devices and vehicles from other manufacturers. ToolSense, on the other hand, is completely independent and can be used for all devices and machines from all brands and manufacturers.
ToolSense is trusted by 700+ companies
Calculate How Much Money You Can Save With ToolSense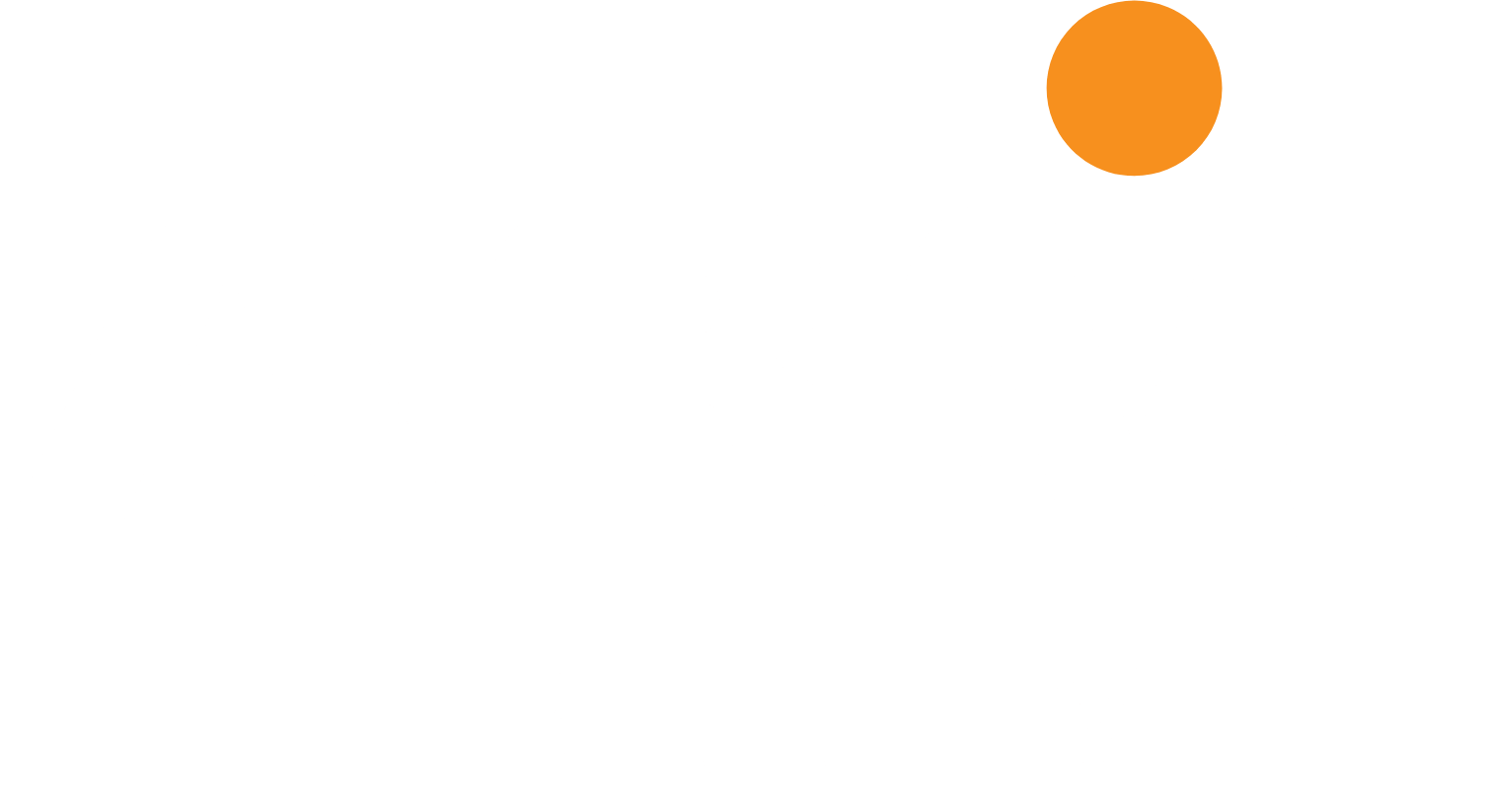 Conclusion
ToolSense, as an independent and comprehensive IoT solution, is a practical tool for many companies that are looking to digitalise their workflow. Regardless of sector, asset-intensive businesses can really benefit from ToolSense IoT and software solution. It will help solve the operational disconnect and aid in the company's digital transformation. By digitalising the process, companies can work more efficiently and profitably.
ToolSense keeps important information, dates and numbers in one place and makes it accessible to every department involved in the process. Not only do businesses profit from using ToolSense, but having an organised and easy workflow will also contribute to an enjoyable work experience for every employee. Clever IoT solutions like ToolSense can help modernise and digitalise businesses and pave the way for a profitable future.
Director Operations Performance
ISS Austria
"We wanted to have a solution that does not only track expensive assets but also cheap ones. In Austria, ISS operates over 6,500 cleaning machines alone, without even counting vacuum cleaners and other pieces of equipment. With ToolSense we bring them together on a single platform, leveraging data from IoT hardware and improving maintenance and inspection processes."