If a company owns numerous tangible assets, all those different machines, tools, or vehicles can sometimes be hard to keep track of. Not knowing where your assets are at all times can negatively impact your workflows, your schedule, and also your revenue. That is why asset tracking is a fantastic way to improve your operations and also save money in the long run. But how do you choose the best equipment tracker for your company? That depends on several factors, which we will examine in this article.
See How ToolSense Can Help You in Just 90 Seconds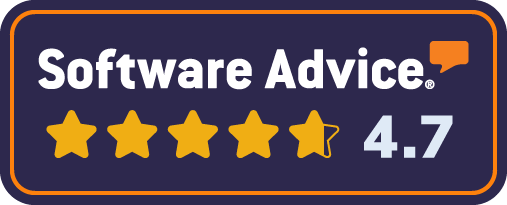 Key Facts
With an equipment tracker, you can keep track of all your assets' location data.
Tracking systems can find misplaced or stolen equipment and aid in the distribution process.
All of these methods have certain advantages and disadvantages, so that the perfect solution depends on what type of asset you are looking to track.
ToolSense, a modern asset management solution, supports all types of equipment tracking and offers an easy-to-use platform to manage your assets.
The Different Types of Tracking Devices
To decide which tracking system is the best for your company, you first need to know what types of tracking devices are available, where and how they are used. The 4 main tracking systems are based on these technologies: GPS, Bluetooth, RFID, or QR codes. All of these can be used in equipment tracking, even though not all support real-time tracking information.
Another criterion is how the tracking system is used. GPS in a mobile phone, pet trackers, or keychain trackers, such as the Apple AirTag or Tile, are meant for personal use, meaning they are designed to be used by one person only. Commercial asset trackers, such as ELD devices or OBD GPS trackers, are often connected to specialised software solutions that allow the use by multiple employees.
(Cellular) GPS Trackers
GPS stands for Global Positioning System and describes a system of satellites that circle our planet. These satellites send out signals that can be picked up by GPS trackers or mobile devices and used to locate these devices. The location can be tracked on a digital map.
GPS tracking is available worldwide. That means assets can be tracked regardless of the country or region they are in. However, there are limitations as GPS can't penetrate walls or solid structures and there is a small possibility of atmospheric interference. This can sometimes result in inaccuracies of 5 to 10 metres. A GPS device doesn't require calibration and can be used by anyone at any time. GPS tracking also allows for real-time tracking, which means the location information is available at any given moment so that vehicles can be tracked and navigated reliably. Depending on what type of device is used and how much power it requires, asset GPS trackers might suffer from shorter battery life than other types of equipment trackers.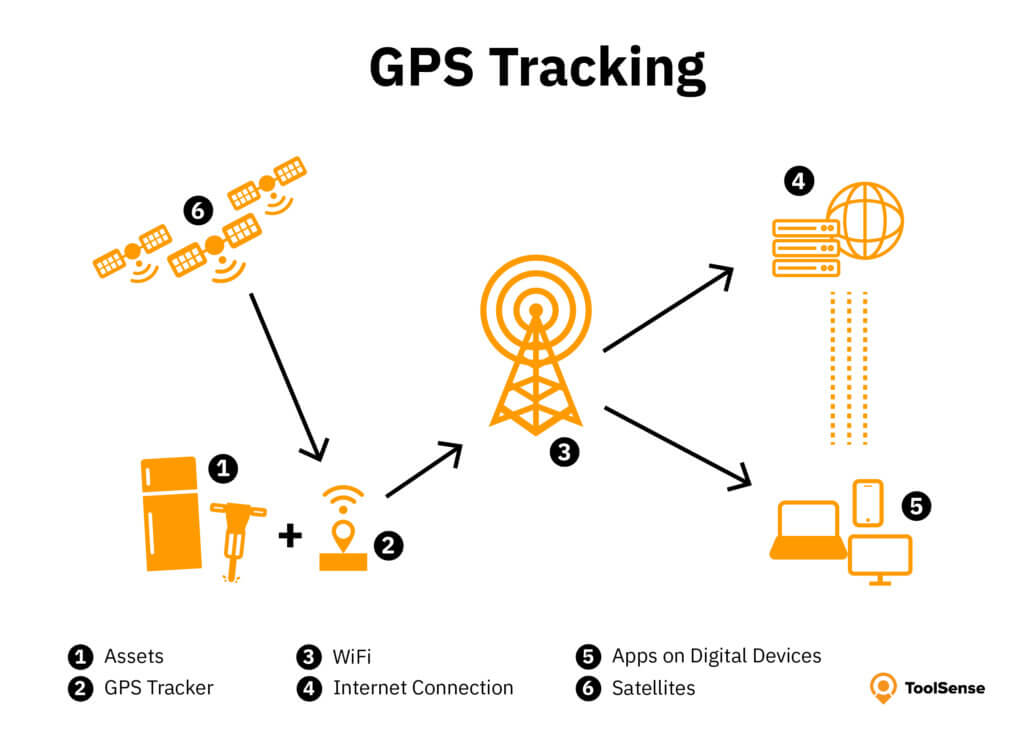 GPS trackers for equipment can be used on the following types of assets:
Heavy and mid-sized equipment or machinery
On-road vehicles for light and heavy goods
Small powered equipment
Non-powered equipment
ToolSense is trusted by 700+ companies
ToolSense Supports All Types of Equipment Tracking And Offers an Easy-to-use Platform to Manage Your Assets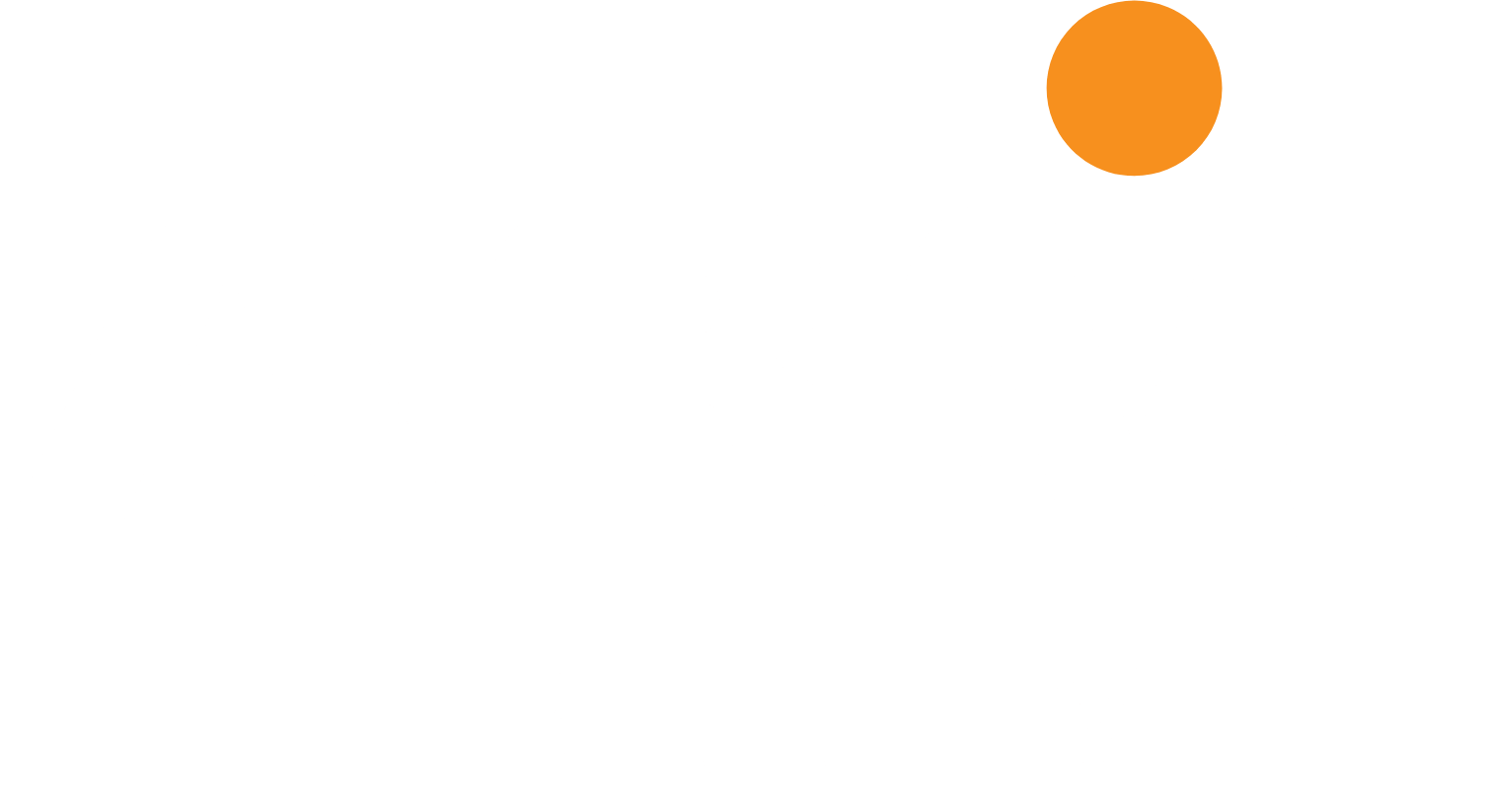 Bluetooth Trackers
Bluetooth utilises 79 different short-range radio frequencies to send and receive data. Tracking devices that have enabled Bluetooth can automatically detect each other as long as they are within range. There are different classes of Bluetooth devices that have a range of 10 to 100 metres.
One of the greatest advantages of Bluetooth trackers is their long battery life, as the technology doesn't require a lot of power for your asset tracking. Bluetooth trackers are usually built to be very durable and small, so they can be easily attached to smaller assets that don't have their own power supply. However, Bluetooth requires the assets in question to be within a certain range, so that tracking over a larger area or distance is not possible.
Bluetooth trackers are best suited to track the following equipment:
Mid-sized and heavy machinery and equipment (over short distances)
Light equipment
Small assets, such as IT hardware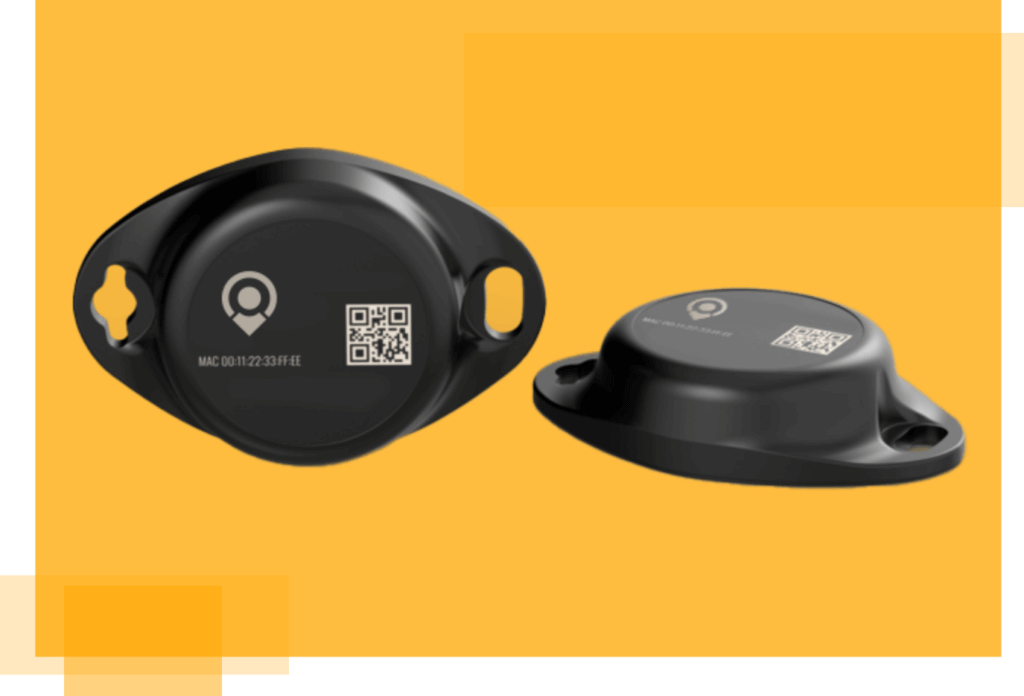 QR Codes or RFID Tags
A QR code or QR tag is a small, two-dimensional code that is quite similar to a barcode and can be scanned using a specific device or a smartphone. The image consists of multiple bars and dots that contain information regarding the asset you want to track. Once the QR code is scanned via a device, smartphone or tablet, the information is translated. Each QR code is unique so that a code or QR tag can be assigned to each asset.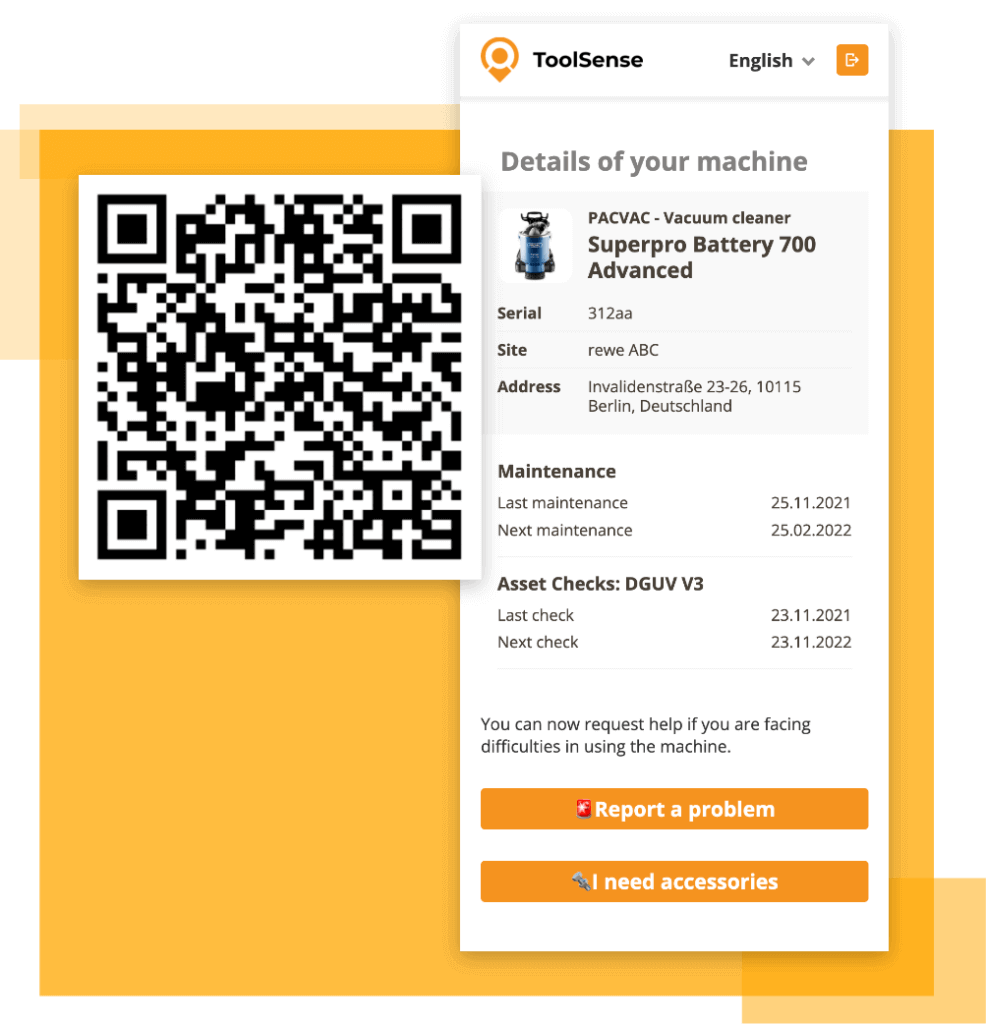 RFID stands for radio frequency identification and uses radio waves to identify and track assets. It requires an RFID tag and a device to read the information contained in the tag. It works over short distances and doesn't require direct contact between the tag and the RFID reader. The distance can even be up to 1000 metres if there aren't any interferences in the magnetic field.
Because QR codes and RFID tags are very small and don't require a battery, they can be attached to every asset, allowing you to track cheap and high-value assets alike. They can be conveniently placed anywhere on the equipment, even on something as small as a tablet, they are unobtrusive and easily generated using the right asset tracking system or software. QR codes and RFID tags can also be used on non-powered assets and inventory. However, they don't automatically transfer data and need to be scanned manually. Workers can be at risk of mixing up assets or forgetting to scan the code altogether. Generally, RFID tags make it easier to scan a large number of assets, and they are considered safer and more durable than QR codes.
QR codes and RFID tags are most conveniently used on those types of assets:
Stationary assets
Mid-sized mobile assets
Small assets, such as IT hardware
Inventory and attachments
Things to Consider Before Choosing Your System
Before you decide on an equipment tracker to use for your assets, you should first look at what types of assets you own and what information you would like to track at what frequency.
Small assets, such as inventory or IT hardware, will only need to be scanned periodically as you don't need to know their exact location at all times. QR codes and RFID tags are most convenient for these types of equipment. They can be scanned manually and transmit the information when it is needed while being unobtrusive.
For medium-sized equipment that mostly moves within a small radius, Bluetooth trackers might be more suitable. Bluetooth trackers have a long battery life and don't need to be replaced very frequently. They can be used to periodically scan for assets or keep track of them in a smaller, contained area, such as a construction site or company building.
For assets with a high value or equipment that is not stationary, GPS trackers are the best and safest option to avoid stolen tools. This could include a fleet of delivery trucks or construction equipment that is moved from one construction site to another. Assets can be tracked worldwide and with high accuracy, unless they are underground or inside a building. With a GPS tracker, you know where your assets are located at the very time you're checking your mobile device so that you never lose sight of your most important equipment.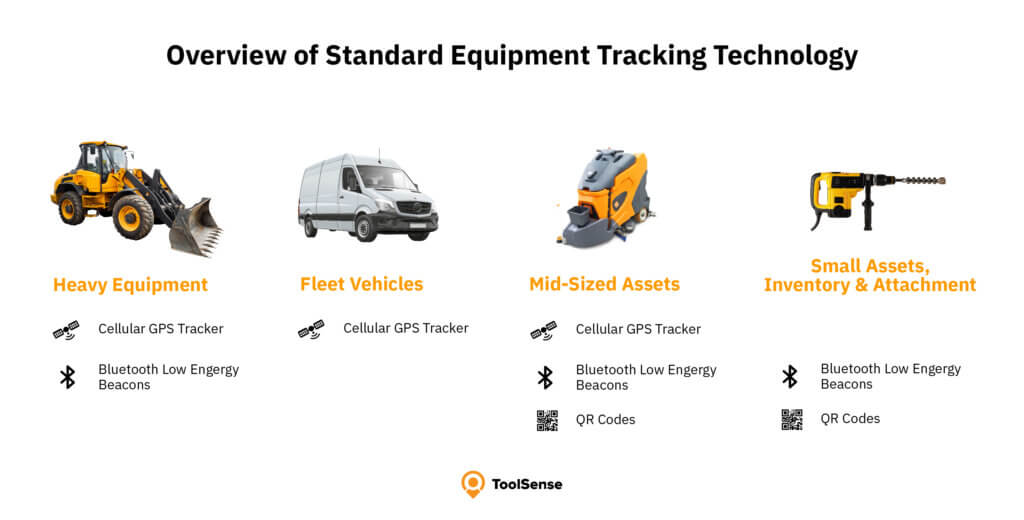 However, you don't have to decide on just one tracking system for your company. Different tools and assets often require different equipment-tracking technology. That means it is less a question of which type of equipment tracker is most suitable for your company and more a question of which type is most suitable for the individual asset. To save time and money, mixing different tracking devices is often the best solution.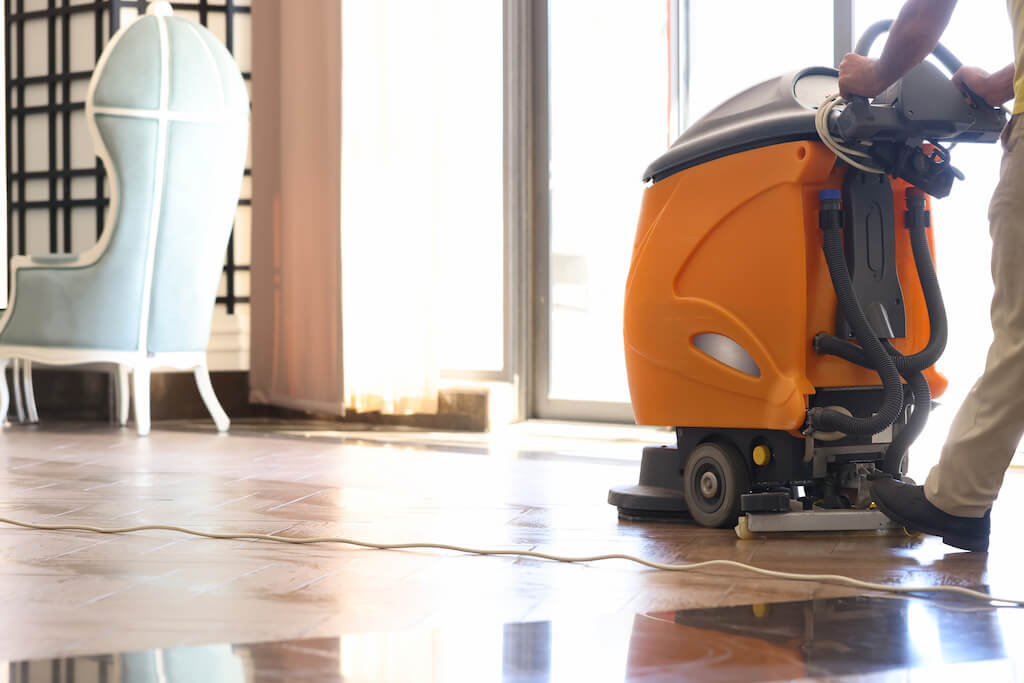 Conclusion: Combine Your Tracking System With Software From ToolSense
Regardless of which equipment tracker type you choose, you will need reliable software to read and process the data accumulated by your trackers. ToolSense provides a modern asset management solution that combines asset tracking, geofencing, work order management, and inventory management in one single system. The cloud-based platform can be easily accessed from a desk, a construction site, or on the go with a computer, smartphone, or tablet. All the information your employees need is just a few clicks away at any given time. You can track your assets' location, runtime, downtime, maintenance history, and work orders or even recover misplaced and stolen equipment.
Keep Track of All Your Assets
ToolSense offers the respective hardware, such as asset GPS trackers or Bluetooth beacons, and also allows for simple and easy QR code creation. That way, you don't have to rely on just a single solution for your multitude of assets. Combine GPS tracking for your high-value equipment with QR code solutions for your inventory, and you can keep track of all your assets in one go. All your data is combined in a single dashboard that offers fantastic analytics features, which you can use to make the most out of all your assets in the future.
Still not convinced and want to learn more about ToolSense's tracking solutions? You can find out more about our IoT hardware here.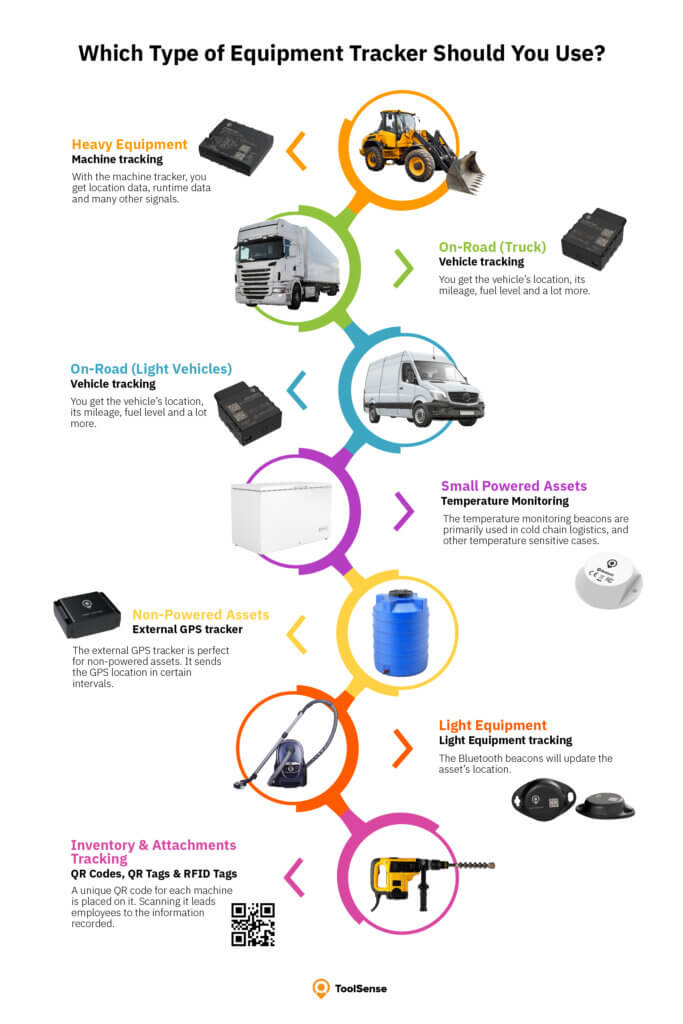 FAQ
What is an equipment tracker?
An equipment tracker is a small device that can be attached to a vehicle, machine, or piece of equipment to track the asset's location. Most often, these trackers utilise GPS, Bluetooth, or RFID technology.
How many types of tracking are there?
Equipment tracking technology is varied and usually relies on GPS, Bluetooth, NFC, QR code, or RFID technology.
What are the three 3 kinds of tracking?
The most commonly used types of equipment trackers use Bluetooth, GPS, or RFID technology.
What is a Bluetooth beacon?
A Bluetooth beacon works similarly to a lighthouse and often comes in the shape of a small, battery-powered transmitter. Using Bluetooth Low Energy (BLE), the wireless tracking device emits a constant signal.
What is GPS tracking?
GPS – or Global Positioning System – utilises satellites that constantly send out a signal, which is received by a GPS device. Thanks to a GPS tracker, the asset's or person's location can be determined.
What does GPS + cellular mean?
GPS stands for Global Positioning System and uses satellites to determine an asset's or person's position. These satellites send out signals which are picked up by a GPS-capable device, such as a GPS tracker or smartphone.