In today's fast-paced business environment, keeping track of your valuable assets is more crucial than ever. Efficient asset management can save time and money, while reducing the risk of loss and theft. Enter Bluetooth equipment tracking: a cutting-edge solution that offers real-time monitoring, energy efficiency, and seamless integration with existing systems. Curious to learn more? Let's dive in!
Key Takeaways
Bluetooth equipment tracking is a system that utilizes wireless communication between BLE tags and devices to monitor and manage assets.
It has features such as device compatibility, finding network, separation alerts, connectivity, volume design and security measures.
ToolSense provides hardware as well as software/mobile apps for comprehensive monitoring & management solutions to help businesses effectively implement an asset management system.
See How ToolSense Can Help You in Just 90 Seconds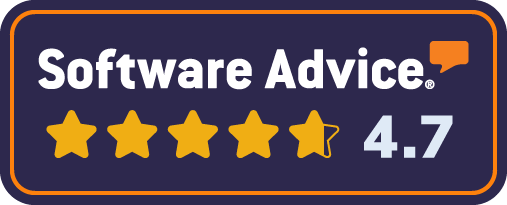 What Exactly Is Bluetooth Equipment Tracking?
By utilizing Bluetooth Low Energy (BLE) tags and devices, businesses can capitalize on the potential of equipment tracking with a wireless asset management platform. By setting up custom separation alerts, users will be notified if an item has been left behind or when the last sighting of a lost object was recorded. Deploying gateways connected to smartphones, as well as cloud-based backend software, enables organizations to take their asset management to the next level. It provides pinpoint accuracy for device location along with automated notifications about servicing and inventory updates in real time. Cost savings from increased efficiency is a direct result of Bluetooth tracker implementation.
Applications of Bluetooth Tracking
Asset tracking through Bluetooth trackers offers organizations a range of solutions to increase efficiency, reduce costs, and enhance security measures. Some of the best devices available on today's market include Oyster Edge and Nutale Key Finder. Both provide real-time location systems enabled by using Bluetooth Low-Energy technology. They have custom mapping features similar to those offered by the Tile tracker with its associated app. Tool monitoring is another common application for such equipment, where unlimited users can access the system simultaneously, allowing them to effectively manage all assets. It is essential to review various factors when selecting a suitable Bluetooth device, including compatibility, network availability, alert capabilities, connectivity strength, volume, as well as design aesthetic, before investing in a specific system.
Comparing Asset Tracking Technologies
When it comes to asset tracking, one must consider various technologies, such as Bluetooth trackers, GPS systems, and RFID tags. Each has its own unique advantages that make it a good fit for certain use cases. For instance, Bluetooth trackers rely on wireless communication between BLE tags and devices, which have a limited range, while location is monitored via satellite signals with GPS trackers. RFID tags are typically used to keep tabs on inventory in stores or warehouses. Similarly, QR code-based systems make use of Quick Response codes as well when monitoring items' whereabouts, such as shops and warehouses.
Before selecting any technology among those available options – for example, from among Bluetooth trackers versus others like RFID & GPS – it's essential to determine which one suits your needs best. This ensures you get maximum value out of the tracker for your business endeavor.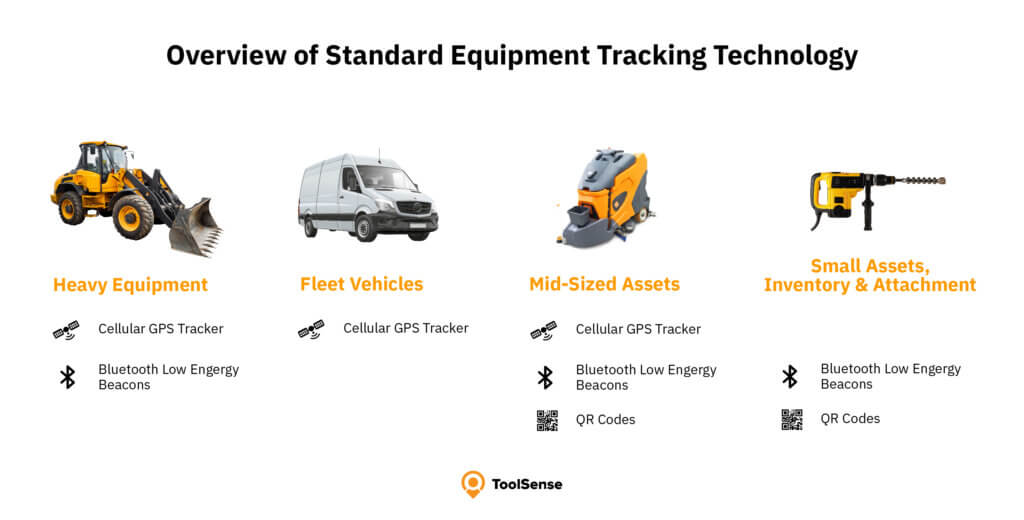 Key Features of Bluetooth Equipment Trackers
When selecting a Bluetooth tracker, there are several key elements to consider when making an informed decision on which asset management solution is best for you. These can include:
Compatibility with existing systems
Alert customizability
Range
Safety features
Update intervals
Sleep mode options
Geofencing settings
Design
Accompanying software
Usability
Installation requirements
Benefits of Bluetooth Equipment Tracking
Bluetooth-based equipment tracking offers several advantages and benefits, making it a popular choice for asset management and location tracking. Here are some of the key advantages:
Cost Effective: Bluetooth tracking solutions, such as the Tile Mate, are often more affordable compared to other technologies like GPS or RFID. They don't require expensive infrastructure or expensive subscription fees for location data.
Scalability: Bluetooth tracking solutions can scale easily to accommodate a growing number of tracked assets. Adding new devices to the network is typically straightforward.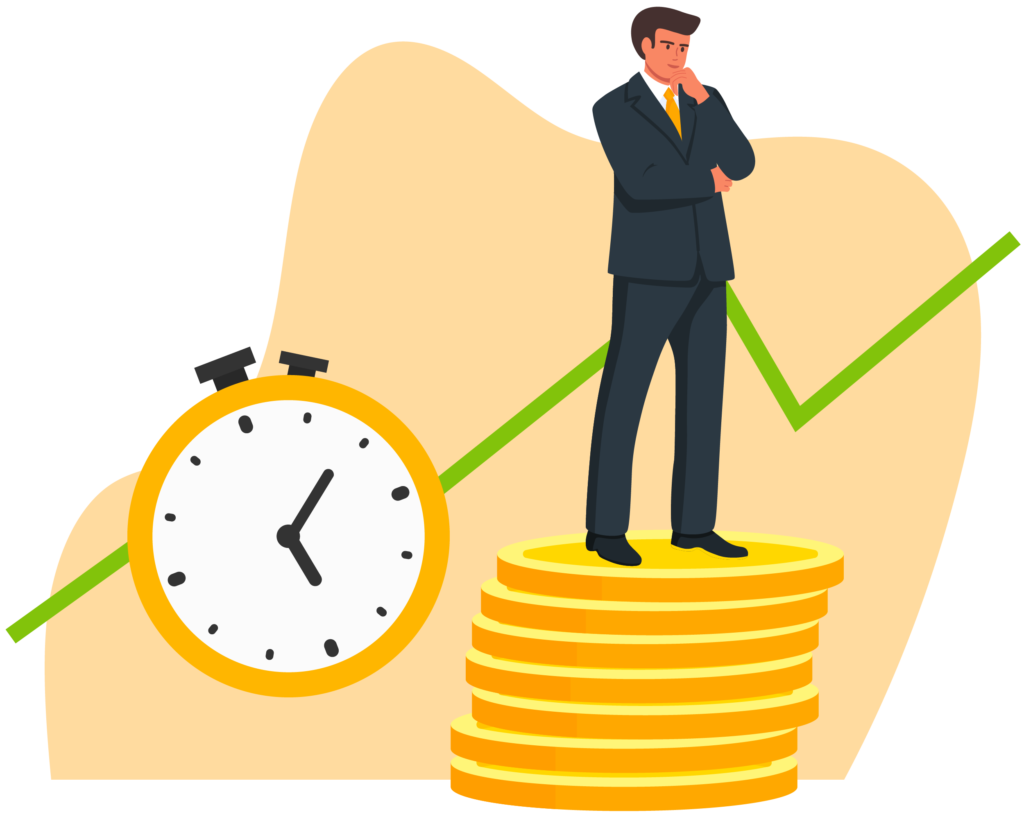 Low Power Consumption: Bluetooth Low Energy (BLE) technology is designed for low power consumption. This means that tracking devices can operate for extended periods on a single battery charge, reducing maintenance and replacement costs.
High Precision: Bluetooth tracking can provide high-precision location data, often down to a few meters. This level of accuracy is valuable for asset management and inventory control.
Geofencing: Bluetooth tracking can support geofencing capabilities, enabling you to set up virtual boundaries and receive alerts when equipment enters or exits specified areas.
Indoor Tracking: Bluetooth is well-suited for indoor tracking where GPS signals may not be available or accurate. It's ideal for tracking equipment within warehouses, factories, offices, or other indoor environments.
Real-Time Tracking: Many Bluetooth tracking systems offer real-time or near-real-time tracking, allowing you to monitor the location and status of equipment as it moves. This enhances security and operational efficiency.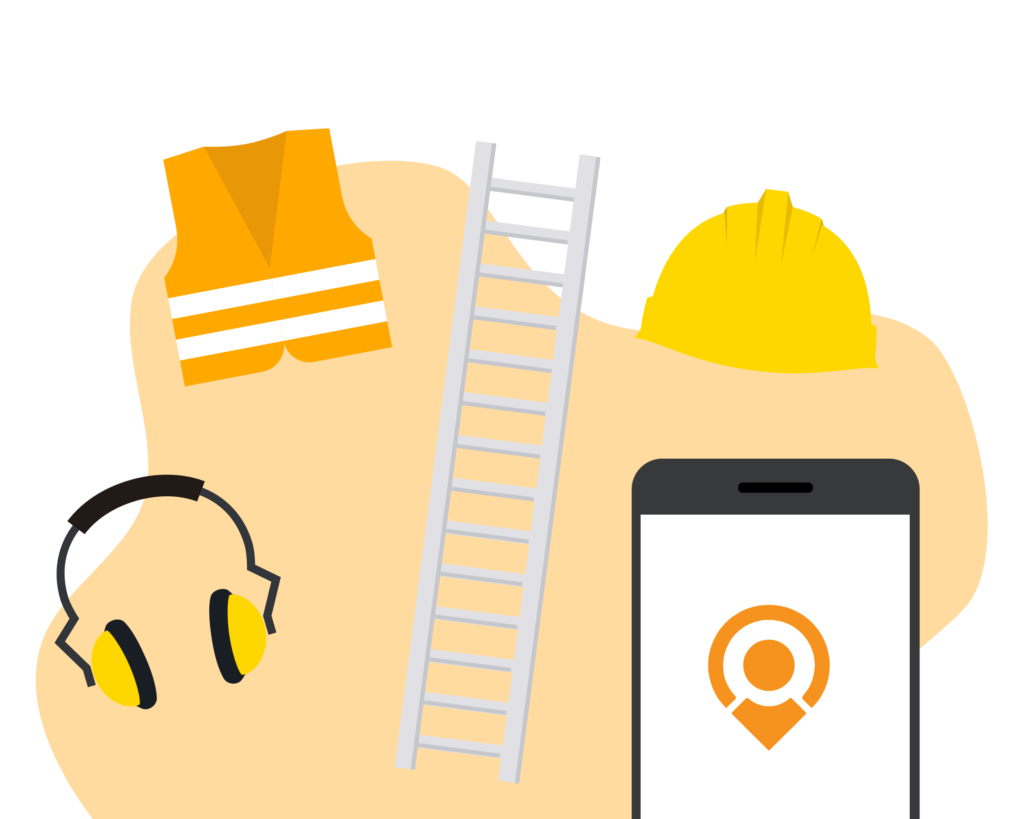 Integration: Bluetooth tracking data can be integrated with other software systems, such as inventory management or asset tracking software, streamlining data analysis and reporting.
User-Friendly: The setup and use of Bluetooth tracking systems and mobile apps are typically user-friendly, reducing the learning curve for staff.
Multi-Purpose: Bluetooth-equipped devices can serve multiple purposes. For example, they can function as beacons for tracking, but they can also transmit other data or messages, enabling additional applications like proximity marketing.
Customization: Many Bluetooth tracking apps and software platforms allow for customization of alerts, notifications, and reporting features to meet specific business needs.
Security: Bluetooth tracking solutions can include security features such as encryption and authentication to protect tracking data from unauthorized access.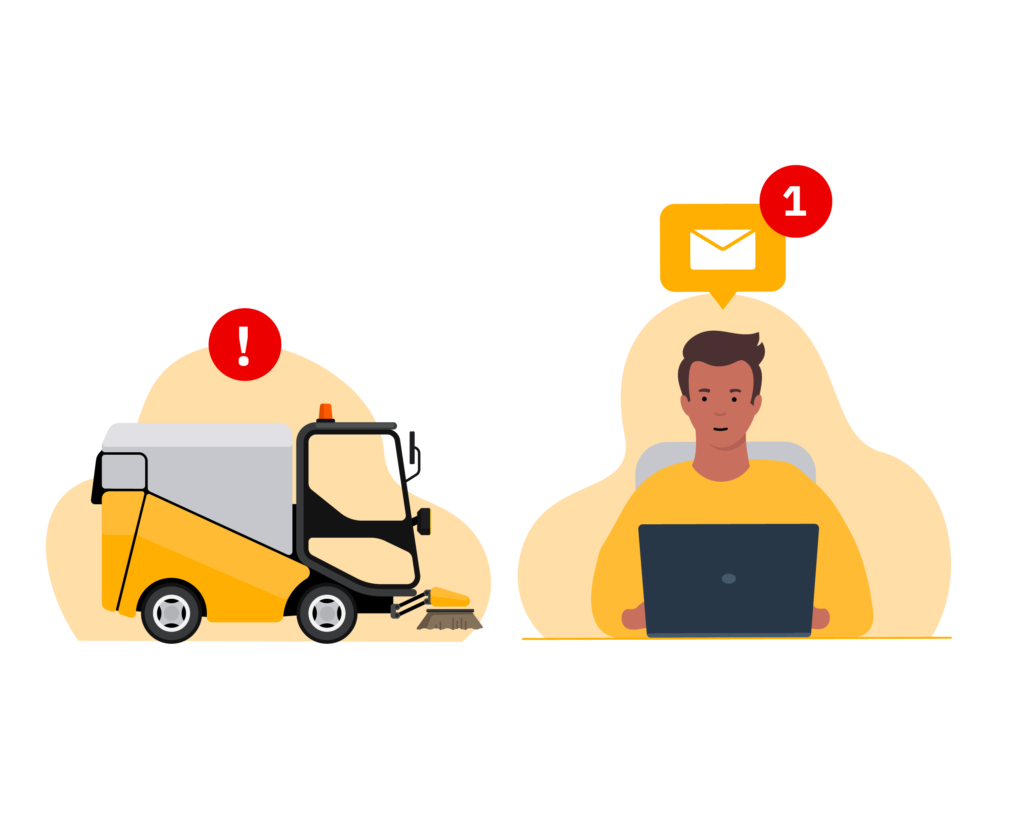 Privacy-Friendly: Bluetooth tracking can be designed with privacy in mind. Unlike some other tracking technologies, Bluetooth asset tracking doesn't rely on personally identifiable information (PII) and can be implemented with user consent and privacy protections.
Robust Ecosystem: Bluetooth technology is widely adopted and has a robust ecosystem of devices, hardware, and software solutions, making it easier to find compatible components and vendors.
Low Maintenance: A Bluetooth equipment tracking system typically requires minimal maintenance, reducing downtime and operational disruptions.
These advantages make Bluetooth a versatile and cost-effective choice for equipment tracking, particularly in scenarios where high precision, indoor tracking, and real-time monitoring are critical. However, it's essential to carefully evaluate the specific equipment tracking system to ensure they meet your organization's unique requirements and goals.
Challenges and Limitations of Bluetooth Equipment Tracking
When selecting a Bluetooth equipment tracking solution, it is important to consider some potential challenges and limitations that come with this technology. These can include slow data transfer speeds, security issues, distance restrictions, battery life, as well as accuracy and scalability problems. There are latency delays along with the risk of signal interference in busy environments, plus privacy matters which could be raised. Being aware of these concerns before making your choice is essential for finding an appropriate system that meets all needs effectively.
Bluetooth Equipment Tracker Alternatives
Asset tracking can come in various forms, and it is essential to select the most suitable solution for your business. GPS trackers are commonly employed as a tool to monitor objects or individuals by utilizing Global Positioning System (GPS). RFID tags make use of radio waves technology for transmitting data – these kinds of devices are often used for inventory monitoring and animal identification purposes. Lastly, QR-code-based systems offer more options when it comes to asset tracking. They can be scanned with mobile phones or other gadgets, which grants access to pertinent information regarding those items being tracked.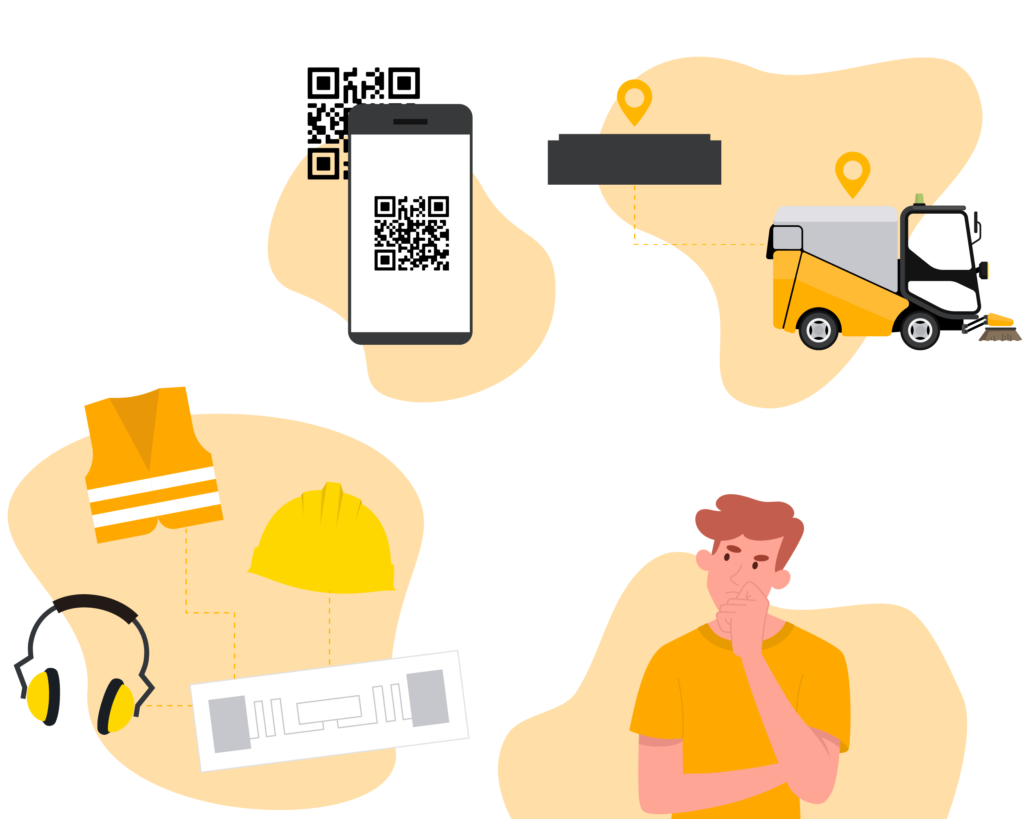 How to Choose the Best Bluetooth Tracker
When deciding upon an asset tracking solution, consider aspects, such as the size and weight of the BLE device, its longevity, as well as energy consumption. Also consider scalability of the technology used, GPS precision for data retrieval purposes and value set on each item being monitored. Look at expenses incurred in terms of risks or losses linked to these assets, while taking the geographical region where they will be located into consideration too. Finally, assess both ease-of-use when installing, along with the total cost it takes to purchase and maintain a system that can store tags relating to items tracked. By factoring in all this information, you can select an asset tracking solution which fulfills your business needs perfectly to ensure a smooth running management processes and ultimately provide rewards long-term investment wise.
Why ToolSense Is the Best Bluetooth Equipment Tracking Provider
ToolSense provides a comprehensive asset tracking system based on Bluetooth technology that is tailored to the individual needs of its customers, with expert support and simple integration into existing systems. This asset management program offers real-time asset surveillance as well as data analysis options for businesses in all types of industries, such as construction, education, transportation, or mining. It combines cloud-based software and modern Internet of Things (IoT) hardware to generate efficient equipment monitoring results.
Existing equipment lists can be easily imported into the ToolSense platform via a simple Excel import feature, allowing for a short implementation time. Every asset will receive a single lifecycle folder that stores vital information regarding the equipment, such as usage, location, downtime, related work orders, maintenance history, invoices, warranty information, photos, videos, and more. Employees can easily access this information either through a desktop software or a mobile app, allowing them to work from anywhere regardless of their location.
Aside from asset tracking with the help of cutting-edge IoT-technology, ToolSense also offers useful analytics features that give fantastic insight into the individual asset, its usage, location, and maintenance status, giving businesses the opportunity to make informed decisions surrounding their equipment. The clever work order management feature also allows employees to issue and receive work orders seamlessly for improved maintenance management, greater efficiency, and manage assets regardless of location.
Evaluating Equipment Tracking Software and Mobile Apps
When evaluating asset tracking software and mobile apps, it's important to consider several factors to choose the right solution for your specific needs. Here are key considerations:
Compatibility: Ensure that the software or app is compatible with your existing hardware, such as Bluetooth-enabled devices and smartphones. Compatibility issues can lead to functionality problems.
Range and Coverage: Evaluate the Bluetooth range and coverage capabilities. Different Bluetooth versions (e.g., Bluetooth 4.0, Bluetooth 5.0) have varying ranges. Choose a solution that suits the size and layout of your tracking environment.
Tracking Accuracy: Assess the accuracy of location tracking. High-precision tracking is essential for valuable assets or equipment. Look for solutions that offer real-time or near-real-time tracking accuracy.
Battery Life: Consider the impact of the tracking software or app on device battery life. Some solutions are optimized for minimal power consumption to extend battery life.
Scalability: Determine if the software or app can scale to meet your growing needs. Whether you're tracking a few assets or thousands, the solution should handle your requirements.
Integration: Check if the software or app can integrate with your existing systems and software, such as inventory management or asset tracking systems. Compatibility and seamless integration can save time and resources.
User Interface and Usability: Evaluate the user interface and ease of use. A user-friendly app or software will reduce the learning curve for your team and improve efficiency.
Data Security: Ensure that the solution provides robust data security features. You're likely tracking valuable assets, and data breaches could have serious consequences. Look for encryption, access controls, and authentication measures.
Alerts and Notifications: Look for customizable alert and notification features. You should be able to set up alerts for events such as asset movement, low battery, or device disconnection.
Reporting and Analytics: Assess the reporting and analytics capabilities of the software or app. Comprehensive reporting can provide valuable insights into asset utilization and help optimize operations.
Cost: Consider the total cost of ownership, including upfront costs, subscription fees, and any additional hardware requirements. Compare pricing models among different providers.
Support and Maintenance: Research the level of customer support and maintenance services offered. Quick response times and reliable support can be crucial when issues arise.
Future-Proofing: Think about your long-term needs. Consider how well the solution can adapt to emerging technologies and industry trends.
Compliance and Regulations: Ensure that the tracking solution complies with relevant industry regulations and data privacy laws. Non-compliance can result in legal issues and fines.
By carefully considering these factors and conducting thorough research, you can select the equipment tracking system or app that best aligns with your organization's requirements and goals.
Implementing Bluetooth Equipment Tracking in Your Business With ToolSense
Thanks to ToolSense, businesses can implement Bluetooth equipment tracking by utilizing IoT trackers and beacons. This solution will provide all-inclusive management tools such as tracking assets, monitoring maintenance performance, inventory control, and work order processing – each customizable to a company's individual needs.
To implement this system successfully in your business, it is essential to first select the appropriate hardware solutions. It is also necessary to educate personnel on how best to utilize these applications, so they understand the new software and hardware tools at their disposal for a more efficient asset management process. Once the asset list has been imported into the ToolSense platform, employees can start to implement modern IoT solutions in their daily workflow to prevent asset theft, improve maintenance management, and keep track of all equipment over various locations.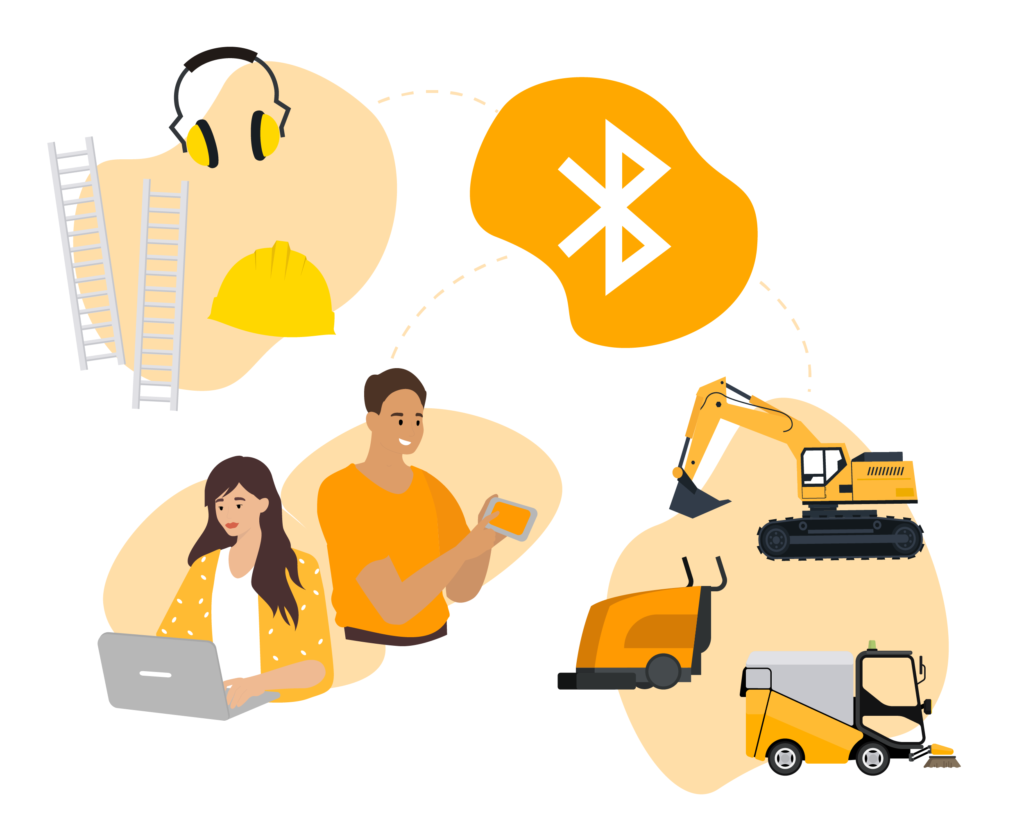 ToolSense Bluetooth trackers are best suited to track the following equipment:
Mid-sized and heavy machinery and equipment (over short distances)
Light equipment
Small assets, such as IT hardware
SIRIN
For low-cost assets (ladders, power tools, vacuums and more)
Captures location & sends over gateway
10 years battery lifetime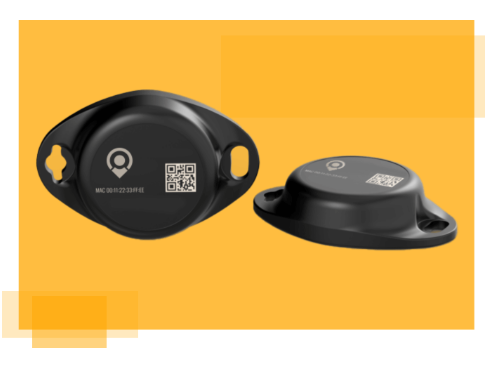 Conclusion
In summary, using Bluetooth equipment tracking technology can be a smart and efficient choice for businesses of any size when it comes to monitoring their assets. This solution offers many advantages, such as real-time updates, affordability, user-friendly interfaces, and easy compatibility with IoT systems. One must also bear in mind device size/sturdiness level, energy needs, scalability options, and accuracy as well as asset worth before deciding on an appropriate system. The payoff from implementing this tech is higher productivity at lower costs, plus better general control over resources overall.
ToolSense is trusted by 700+ companies
Join 700+ Asset-Intensive Companies Operating on ToolSense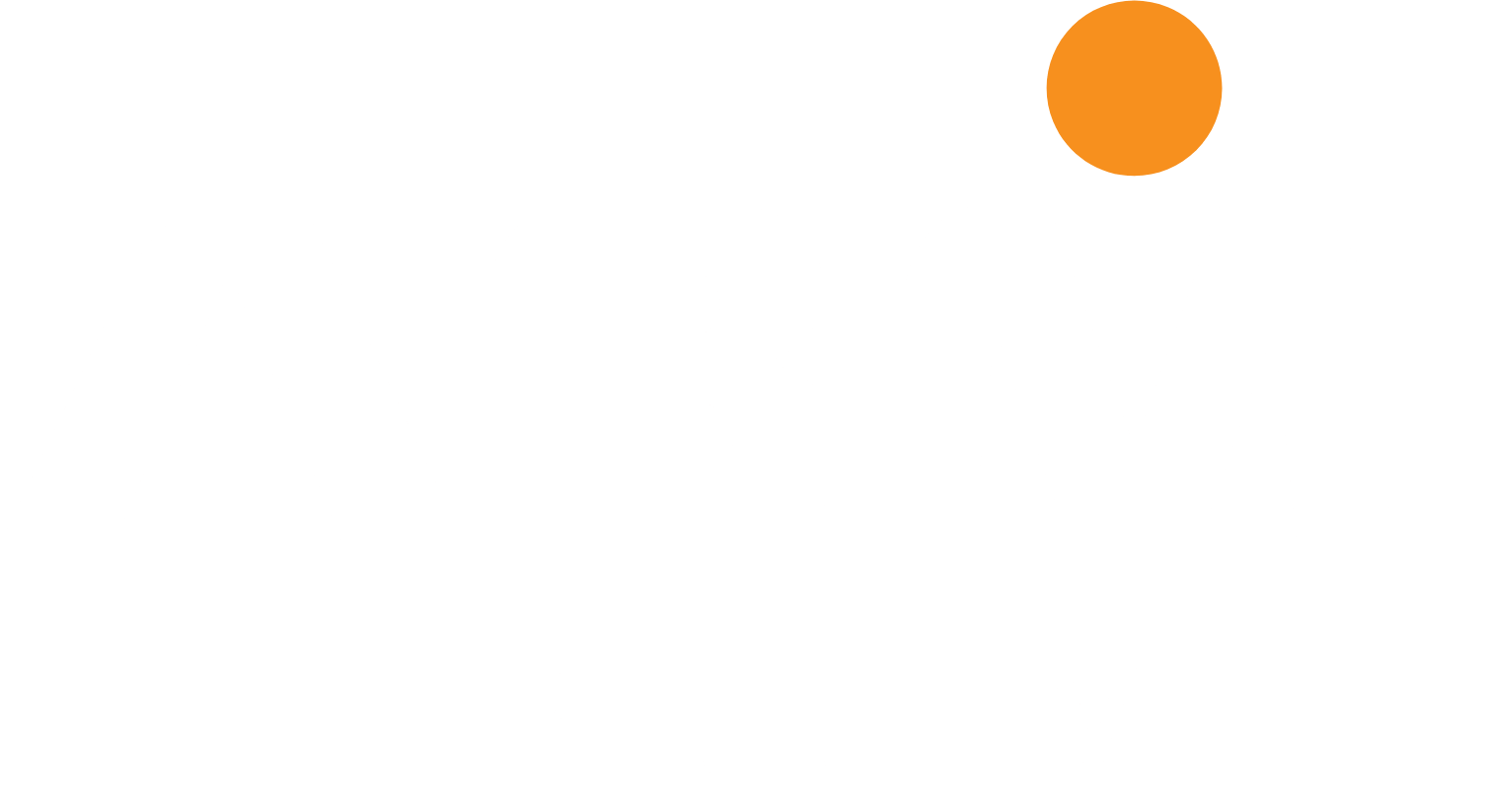 FAQs
Can Bluetooth be used as a tracking device?
Tracking devices, such as Tile® Mate and AirTag®, use a Bluetooth peer-to-peer network which, when combined with the proper app or mobile phone, can enable you to locate your items. These technologies make it possible for users to keep track of their possessions via Bluetooth connection.
How does Bluetooth asset tracking work?
Asset tracking that utilizes Bluetooth technology enables a two-way communication between trackers and objects. By linking the tags to smartphones or other compatible devices, it is possible to locate assets in real time. This system can be either active or passive, depending on whether BLE tags are powered by batteries or not. As such, this type of asset monitoring with wireless capabilities opens up new possibilities for organizations looking into furthering their security measures against loss prevention scenarios, as well as offering additional flexibility for logistics management systems.
What is the smallest Bluetooth tracking device?
Apple AirTag® is the smallest Bluetooth tracking device; it's just 1.3 inches in diameter and 0.3 inches thick, significantly smaller than other trackers in the market.
What is the range of a Bluetooth tracker?
Bluetooth trackers have a range of up to 300 ft, the connection and tracking dependent on how well their Bluetooth signals reach your device.
What industries can benefit from Bluetooth equipment tracking?
The usage of Bluetooth technology in equipment tracking brings a multitude of benefits to the construction, mining, warehousing, and retail industries. It can help streamline their operations, which ultimately leads to significant productivity gains.