Construction companies work with several expensive tools – from small, handheld devices to large vehicles. At the same time, the construction industry is not a stationary one, as employees and tools move from worksite to worksite. In construction and other industries, companies often utilise asset tracking to keep an eye on critical equipment and gather more in-depth insights into important tools. To do so, GPS tracker for equipment are introduced to a company's workflow. This article will look at different GPS-based construction equipment tracking devices, their key features, and use cases.
KEY TAKEAWAYS
GPS is an abbreviation for Global Positioning System.
They are used to locating assets of all types and analyse their location and their movement.
Additionally, GPS tracking can be utilised to monitor an asset's runtime or idle time, optimise maintenance schedules, and increase theft or misuse protection.
Businesses can profit from using GPS tracking services through better asset utilisation, improved maintenance strategies, and increased profits.
The three best GPS trackers for equipment are ToolSense Rocbird, Qtanium 400 and TS10: Plant Machinery GPS
ToolSense offers a comprehensive solution that combines asset management, maintenance management, work order management and inventory management with modern IoT tracking devices, such as GPS trackers or Bluetooth sensors.
Equipment Tracking Devices – What Are the Options?
Businesses can use different methods to track their assets, all of which have different use cases, advantages, and drawbacks. The most common methods are:
Bluetooth trackers have a good battery life, but they only work within a range of 10–100 meters. They are best suited for stationary equipment or smaller assets.
RFID tags, on the other hand, do not require batteries and use radio waves to detect assets within a radius of up to 1000 meters, without any interference. These tags are small and ideal for stationary assets or smaller to mid-sized equipment.
QR tags and barcodes also do not need batteries, but they require manual scanning. However, for reliable heavy equipment tracking, what are the available options? For vehicles and heavy equipment, GPS tracking devices are usually the preferred method to track the equipment's location and gather tracking data.
Learn more about the different equipment tracking methods in our blog-article.
Tool Tracking via GPS in a Nutshell
How Does It Work?
The term GPS refers to the Global Positioning System, which involves a group of satellites orbiting the Earth. These satellites emit signals that can be received by GPS trackers installed on devices, like construction equipment or mobile phones.
By analysing these signals, the GPS trackers determine the precise location of the device, regardless of where it is in the world. It's important to note that GPS signals may encounter difficulties in penetrating solid structures, such as walls, and there may be slight inaccuracies of 5 to 10 meters due to atmospheric interferences.
Show me the three best GPS Trackers

ToolSense Rocbird, Qtanium 400 and TS10: Plant Machinery GPS in Comparison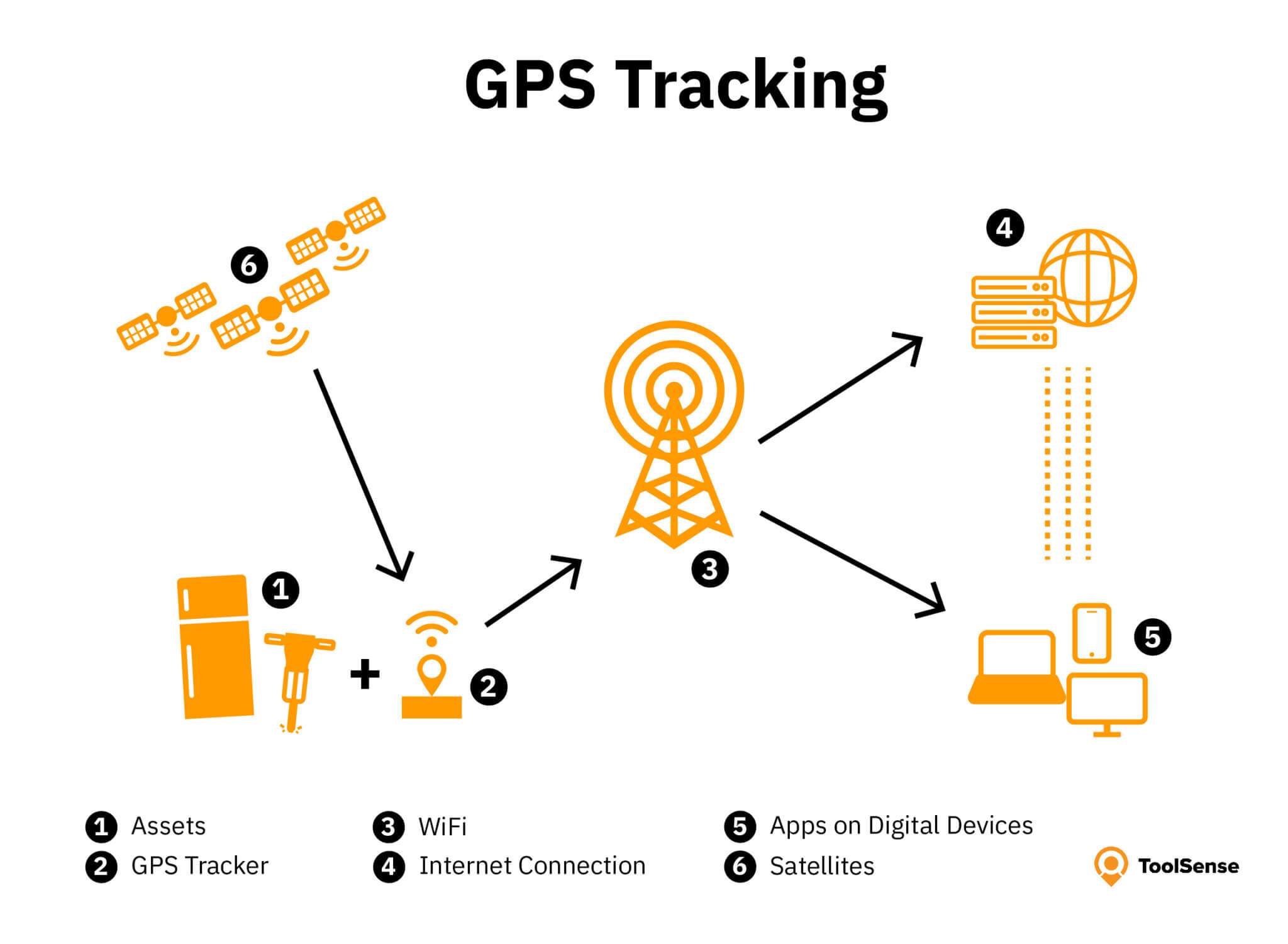 Features of GPS Tool Trackers
When it comes to construction equipment GPS tracking, it's important for companies to carefully consider the key features offered by each system before making a commitment. To ensure they choose the best option, businesses should look for the following features in a reliable equipment tracker:
1. Real-Time Data and Vehicle History
Real-time tracking is a fantastic feature and absolutely mandatory for GPS tracking of construction equipment. Knowing the precise location of your construction equipment is not only essential to prevent loss or theft, but it can also enhance asset utilisation. The vehicle's history contains crucial tracking information, such as engine hours and locations, which can provide valuable insights into its usage and criticality. This data can help companies devise effective maintenance plans for specific equipment. Taking the importance of such data and its accuracy into account, it makes sense to make sure to use a reliable asset tracking software and the right GPS tracker.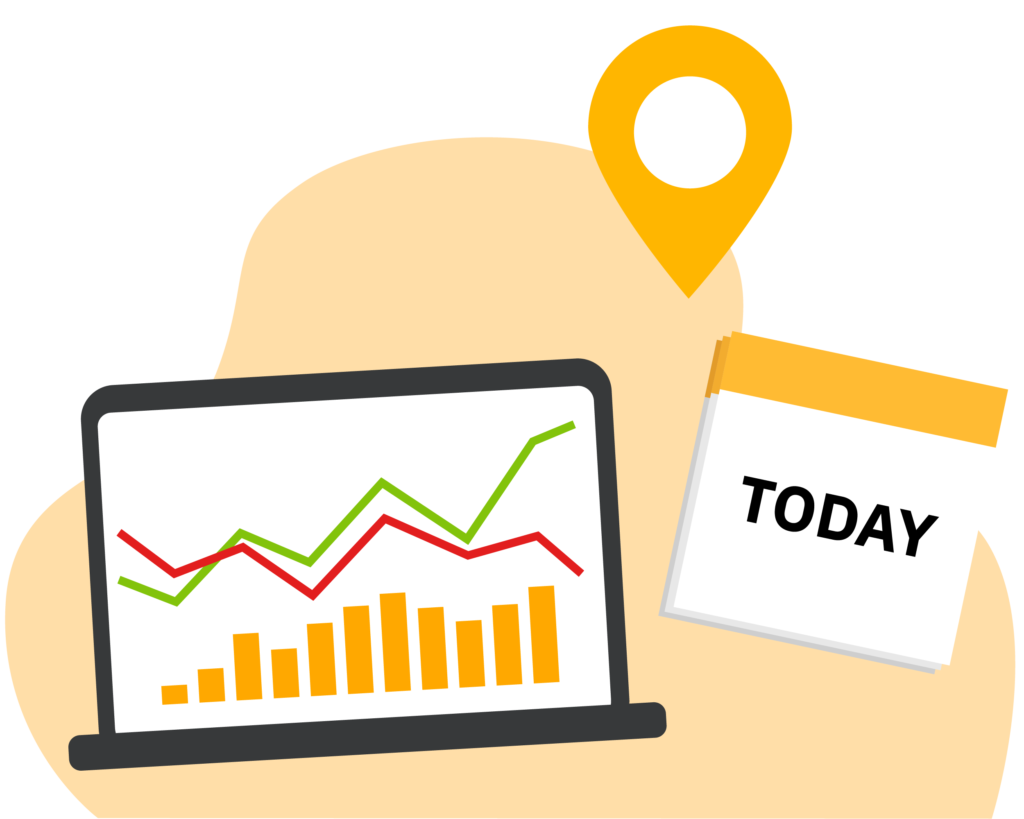 2. Customisable Alerts
Companies can use equipment tracking devices along with software to customise their alerts, which can be delivered either as notifications within the app or as email alerts. These alerts inform employees of any runtime or issues with heavy equipment that has a GPS tracker attached. Some software also allows for the creation of a geofence, an invisible barrier. If a vehicle or equipment leaves the predetermined perimeter, employees will receive a notification, preventing any potential asset theft or misuse.
3. Reporting and Analytics
IoT solutions in the modern era, such as GPS tracking for construction equipment, should have advanced reporting and analytics features. Merely collecting tracking data is only one part of the equation; the other part is interpreting and presenting the data for businesses in comprehensive analytics. This provides a more profound understanding of each asset and allows companies to identify problem areas, assign the appropriate level of criticality, develop a more effective maintenance plan, and maximise the use of existing equipment.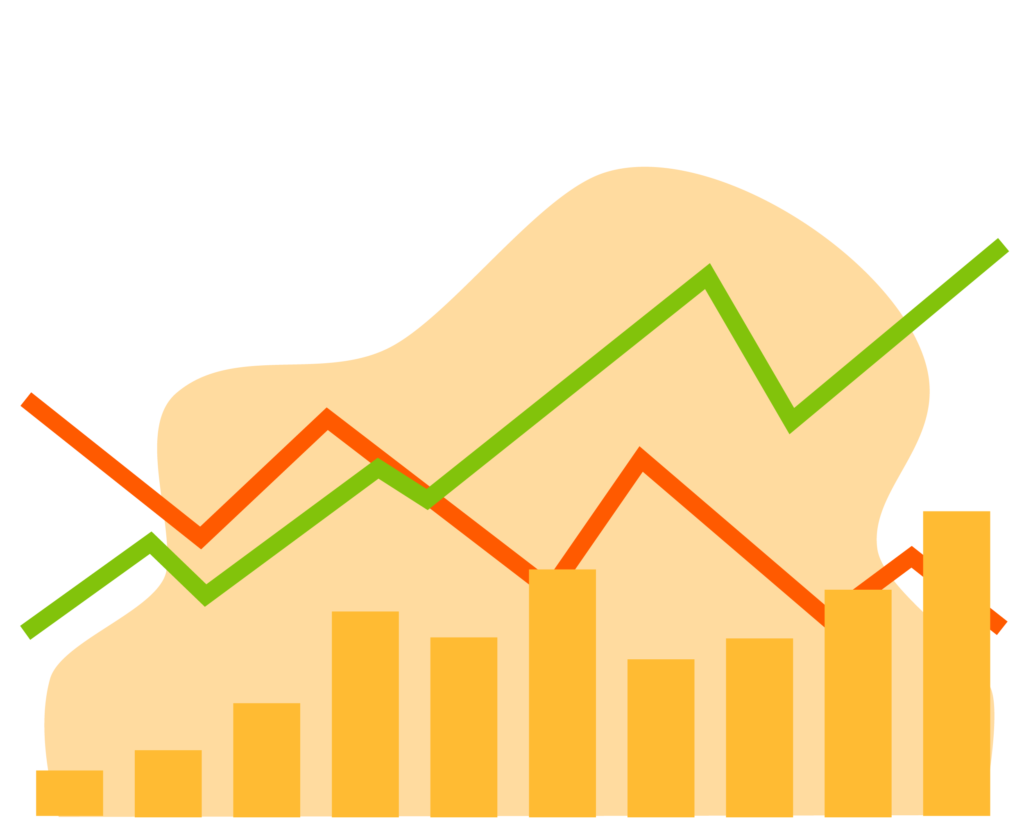 4. Maintenance Management
Regular maintenance is crucial to ensure construction equipment runs smoothly. However, it can be challenging to determine how often to conduct maintenance and who should do it. Additionally, it's essential to know what recent inspections have revealed.
By using GPS tracking for heavy equipment, companies can access more than just location data. They can also gather and analyse machine data to create a maintenance schedule and organise inspections and repairs within the software.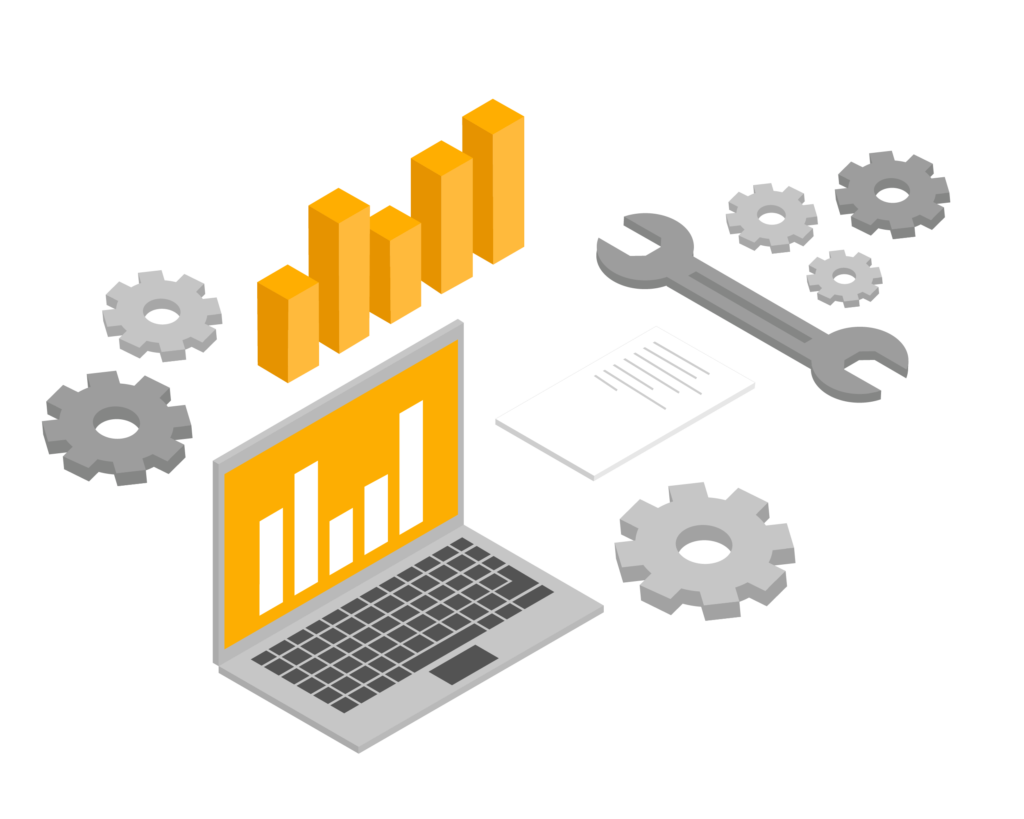 5. Work Order Optimisation
Managing work orders can be difficult when employees are working at different construction sites. To simplify the process, construction GPS equipment is typically used with software that enables employees to issue and receive work orders from any location at any time. This is particularly crucial for work orders pertaining to essential maintenance tasks and inspections that on-site workers may overlook.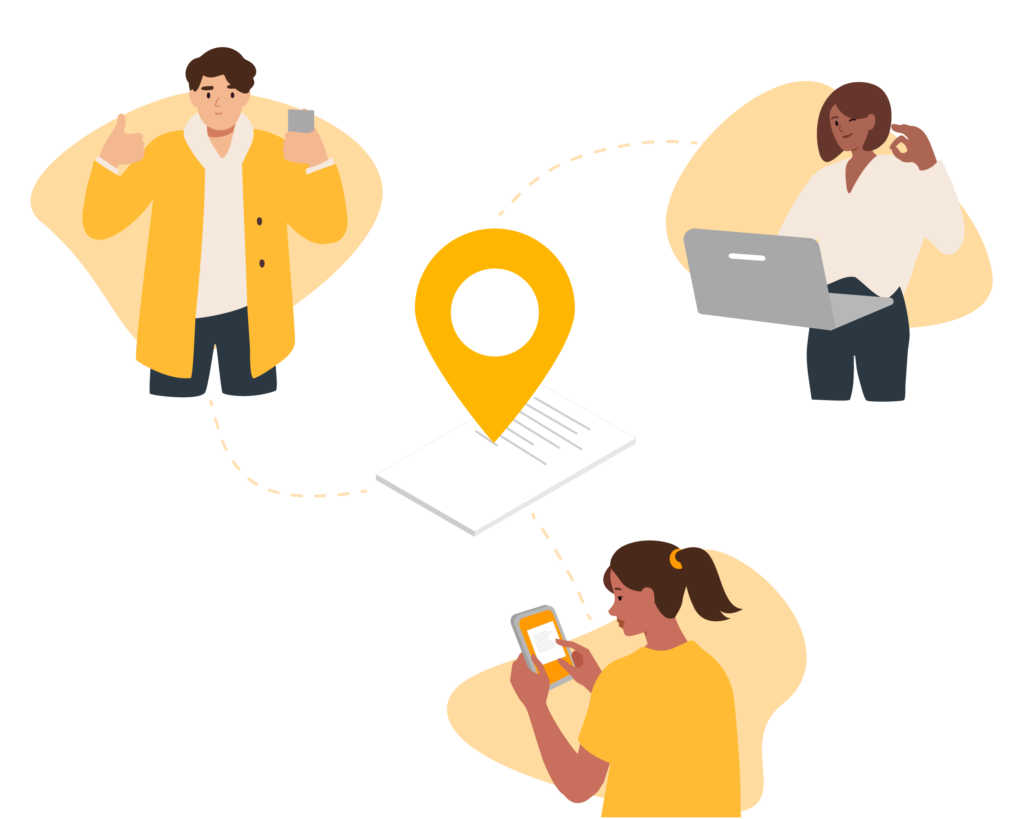 GPS Tool Tracker – Track Vehicles and Heavy Equipment
Equipment GPS trackers are extremely versatile and can be used on various types of equipment, not only vehicles.
GPS for Heavy Equipment
Heavy pieces of equipment, such as bulldozers, excavators, or asphalt pavers, are expensive assets that companies rely on to fulfil customer orders. Theft, misuse, neglected maintenance tasks, or subpar utilisation can dampen a business's profits. By tracking your heavy equipment, you know where your assets are at all times – no matter if they're on the move, at a construction site, or idle – enabling companies to better deploy their machines.
GPS Tracking for Small Equipment
Small equipment can be just as important as heavy equipment for a company's day-to-day workflow. From small tools to spare parts for heavy equipment, sometimes it makes sense to utilise not only heavy equipment GPS tracking, but also invest in a GPS tracker for small equipment.
A GPS tracking device for small equipment works just like its bigger counterpart and allows companies to locate tools, prevent theft, and organise maintenance tasks associated with the equipment. Because toolbox trackers come in different sizes, companies can easily find out that suits their individual tracking needs.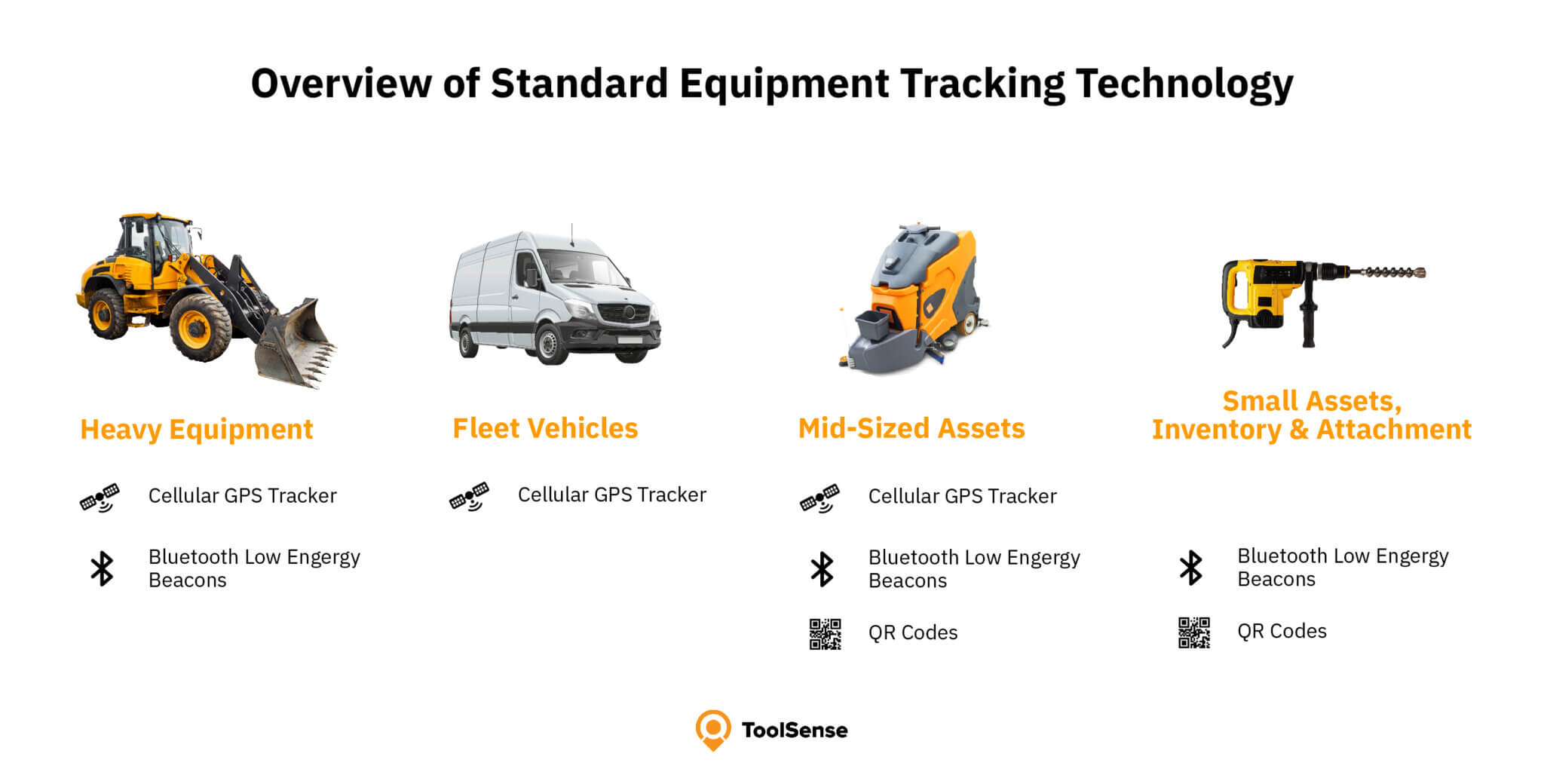 GPS Tracker for Construction Equipment
Construction equipment is an umbrella term for a variety of machines and tools, ranging from large vehicles, such as excavators, to smaller items, like drills. Critical equipment must be available and functional at all times for a construction business to succeed. One way to ensure functionality and availability is the use of GPS construction equipment trackers through which companies can access the asset's location, status, and more at any given time thanks to a software or an app.
4 Use-Cases for GPS Equipment Tracking
1. As a Geofence
A geofence is a digital fence that utilises GPS signals to create an invisible barrier. Once a device that is outfitted with an equipment GPS tracker crosses the predetermined line, companies will receive an alert or a notification. This can be used to prevent both theft and misuse. In case a machine is stolen, businesses and police can use the tool tracker to locate the asset quickly and effortlessly.
2. To Improve Safety
Telematics and GPS tracking for equipment go hand in hand, allowing companies to have a closer look at how the vehicles in question are used. Telematics can measure a vehicle's speed, brake incidents, and how drivers handle individual turns. The right telematics software calculates risk factors in a driver's road behaviour and suggests improvements to increase safety. Companies can use this information to educate their staff and offer additional classes to prevent risky driving.
3. To Optimise Your Maintenance Strategy
GPS for construction equipment can track more than just location. With the right tracker-software combination, companies can follow runtimes, travelled distance, upcoming maintenance appointments, and more. Information gathered from the equipment tracker can be used to determine proper maintenance intervals for each asset – either according to runtime or travelled distance – and keep the equipment in the best shape possible. Depending on the software provider, companies can also schedule appointments and assign maintenance tasks to specific employees within the maintenance software or app.
4. For Remote Site Management
If work order management is included in the tracking software, companies can remotely manage construction sites and other workplaces. Employees can issue work orders directly related to the asset and receive updates on whether certain tasks have been carried out successfully. Deploying machines, coordinating workers, and overseeing maintenance tasks is another popular use case for GPS tool trackers.
The 3 Best GPS Trackers for Tools and Equipment
ToolSense Rocbird
ToolSense offers a comprehensive equipment management solution that includes equipment tracking, maintenance management, inventory management, and work order management. It works with various IoT solutions, such as GPS trackers, Bluetooth sensors, and unique QR codes, so that businesses gain maximum flexibility by combining tracking methods that suit the individual assets best.
ToolSense's tracker "Rocbird" is a small GPS device that can be easily attached to machines, containers, tools, and more, without becoming obtrusive or getting in the way of important tasks. It offers reliable GPS location tracking around the world. The IP68 rating makes it suitable for a variety of outdoor equipment, such as construction equipment, because it is protected against water, mud, and dust.
The cloud-based software solution and mobile app allow employees to issue and receive work orders, access maintenance schedules and checklists, as well as other file types that can be stored in the asset's lifecycle folder. ToolSense becomes a single source of truth for information related to your equipment, sends out customisable reminders, and offers helpful insights and analytics to further optimise asset utilisation and maintenance strategies. It can be used for any type of equipment and offers a free trial.
Aside from the Rocbird, ToolSense offers different hardware components to upgrade your IoT-based equipment tracking options.
Qtanium 400
A good choice for hefty equipment is the GPS equipment tracker and accompanying software Qtanium 400. Due to its IP64 rating and geofencing abilities, it is perfectly suited for construction equipment and other types of vehicles that are exposed to rain and mud. Additionally, it offers insightful reporting and enables companies to schedule and manage maintenance appointments within the software.
TS10: Plant Machinery GPS Tracker
For businesses operating on a tight budget, the TS10 Plant Machinery GPS tracker is a more affordable alternative. It is waterproof, easily installed, and unobtrusive. Real-time tracking and geofencing alerts that are sent straight to your phone offer excellent theft protection. Additionally, the TS01 Plant Machinery GPS tracker grants access to the vehicle's full movement history for analytics and planning purposes.
Comparison Table
The following table showcases the three introduced GPS devices and compares certain key features.
| | | | |
| --- | --- | --- | --- |
| | ToolSense Rocbird | Qtanium 400 | TS10 Plant Machinery GPS tracker |
| Suitability | For all types of equipment | Most suitable for heavy equipment | Most suitable for heavy equipment |
| Waterproof Rating | IP68 | IP67 | IP67 |
| Geofencing | ✅ | ✅ | ✅ |
| Phone Alerts | ✅ | ✅ | ✅ |
| Insights | Extensive insights | Extensive insights | Only vehicle history |
| Maintenance Management | ✅ | ✅ | ⛔️ |
| Work Order Management | ✅ | ⛔️ | ⛔️ |
| Free Trial Available | ✅, learn more | ⛔️ | ⛔️ |
Key features of three top GPS asset tracking devices.
4 Benefits of Using GPS Trackers for Equipment and Asset Tracking
Theft and Misuse Protection
One of the main benefits and reasons that companies utilise equipment trackers is theft protection. Once a tool or vehicle is outfitted with a GPS tracker, the accompanying software will alert users to theft or misuse if the asset leaves a predetermined perimeter. By preventing theft or misuse in the first place – or simplifying the retrieval of stolen property – businesses can save a lot of money.
Enhanced Safety
Utilizing GPS tracking in combination with telematics software enables companies to monitor a driver's road behavior while using a company asset or vehicle. Telematics software and apps will track speed, turn behavior, as well as brake maneuvers, and offer safety advice. Employers can use telematics reports to educate drivers on safer road behavior to avoid accidents and enhance employee safety.
Increased Profits and Reduced Costs
Most GPS equipment tracking devices come with software or an app that offers insights, analytics, and reports that help companies gain a more profound understanding of their assets and workflows. By optimising asset usage, increasing safety, conducting preventive maintenance, and preventing theft, companies can cut unnecessary costs and increase their profits
The Potential of Implementing an Asset Management Software / CMMS
Upgrade Your Asset Management
Combining GPS asset tracking with asset management or computerised maintenance management software is easier than expected. ToolSense offers a comprehensive solution for companies that want to make the most of their equipment by offering asset tracking, maintenance management, inventory management, and work order management in a single software. This can be paired with modern IoT solutions, such as GPS or Bluetooth trackers, to better understand and utilise existing assets.
Conclusion
Tracking your equipment brings many benefits: theft protection, better maintenance management, improved safety, and increased profits. Utilising GPS equipment tracking, which picks up signals emitted by satellites orbiting our Earth, is one of the easiest and most reliable ways to locate and track assets successfully. It constitutes the basis for comprehensive asset management and better asset utilisation.
ToolSense offers an all-in-one, easy to use software solution that is suitable for all types of businesses and industries and compatible not just with GPS equipment trackers, but also with Bluetooth sensors, RFID chips, and QR codes. This allows businesses maximum flexibility while also offering other must-have features, such as remote access via an app, clever lifecycle folders, and insightful analytics. By combining asset tracking, asset management, maintenance management, inventory management, and work order management in a single platform, companies receive everything they will ever need to manage their daily workflows and assets without having to invest in multiple expensive solutions.
FAQ: The Best GPS Tracker for Equipment and Tools
What is the significance of GPS in equipment tracking, and how does it work?
GPS (Global Positioning System) plays a vital role in equipment tracking by enabling precise location determination through a network of satellites. By receiving signals from these satellites, GPS trackers installed on equipment can provide real-time location information, aiding businesses in preventing theft, optimizing asset utilisation, and enhancing overall efficiency.
What key features should businesses consider while choosing GPS trackers for construction equipment?
When selecting a GPS tracker for construction equipment, businesses should prioritize essential features such as real-time data and vehicle history, customisable alerts, reporting and analytics capabilities, maintenance management, and work order optimisation. These features ensure better monitoring, maintenance scheduling, and asset management.
How can GPS tracking devices enhance equipment safety and reduce accidents?
By integrating GPS tracking devices with telematics software, companies can monitor driver behavior, including speed, braking, and turns. This valuable data empowers businesses to identify risky driving practices and provide safety insights to drivers, leading to accident reduction and improved employee safety.
What are the advantages of implementing an asset management software with GPS tracking capabilities?
Integrating GPS tracking capabilities into an asset management software, such as ToolSense, streamlines asset tracking, fleet tracking, maintenance management, inventory control, and work order management within a single platform. This holistic solution offers valuable insights, optimizes asset utilization, reduces costs, and ultimately increases profitability.
Which GPS trackers for equipment are recommended by ToolSense?
ToolSense recommends three top GPS devices for equipment and asset tracking: Rocbird, Qtanium 400, and TS10 Plant Machinery GPS tracker. These trackers offer reliable GPS location tracking, real-time data, geofencing, and maintenance management features to ensure efficient equipment management.
In which industries can GPS trackers for equipment provide significant benefits?
GPS trackers for equipment can be advantageous in various industries, including construction, manufacturing, logistics, and fleet management. Any industry relying on valuable assets can benefit from GPS tracking solutions to optimize asset utilization, prevent theft, and streamline maintenance.
ToolSense is trusted by 700+ companies
Join 700+ Asset-Intensive Companies Operating on ToolSense