Businesses that offer landscaping, lawn and gardening services rely heavily on their equipment. To make the most of your equipment and ensure everything is up and running when needed, those landscaping tools need maintenance and service. Regular cleaning and maintenance intervals might look like additional costs at first, but can end up saving you money in the long run. That is why you should stop relying on pen and paper for your preventive maintenance and start looking into an easy-to-use equipment management software that will help you keep track of your equipment and the most important information surrounding equipment maintenance. It's important that all equipment is safe and ready to operate when your crews arrive at a job site.
Key Takeaways
Landscaping equipment maintenance is important to keep every piece of equipment in working order.
Keeping up with proactive maintenance can help a company retain its productivity and reduce downtime.
Landscape equipment maintenance software like ToolSense aids in the maintenance process by keeping all important information in one place and sending out scheduled maintenance reminders.
Most Common and Preventable Causes of Landscape Equipment Downtime
Oil and Filters
If it runs with a motor, your landscape equipment will need oil and new filters at some point during its lifecycle – just like any other machine or vehicle. If this part of the landscaping equipment maintenance plan is neglected, you could end up with engine failure. Regular maintenance and check-ups with oil and filter changes can easily prevent the more expensive replacement of the entire engine.
Air Filters
Your landscaping equipment is using air filters? If that is the case, they, too, need to be serviced and cleaned at regular intervals during proactive maintenance appointments. A clogged air filter can lead to carbon build-up and hinder proper air circulation. It is recommended to always have at least one replacement air filter in stock in case you need it. A landscape equipment maintenance software can help you keep an eye on spare part orders.
Tool Belts
A gardener uses multiple important tools for his job. To keep them close, a tool belt is often utilised. Did you know that those belts are a part of the landscape gardening equipment that should be serviced regularly? While those items certainly aren't the most expensive piece of equipment, it is recommended to check them at least once a week to make sure they are in working order. Even a broken tool belt could result in a workplace accident. It's best to store tools in a dry, well-ventilated shed or garage.
Tire Pressure
Just as you would with a car, checking the tire pressure on lawn equipment is vital to make sure everything is working properly. Keeping the pressure in the recommended range allows for the equipment to run as efficiently as possible. It also prevents wear on the tire itself, prolonging its life and saving you the replacement costs.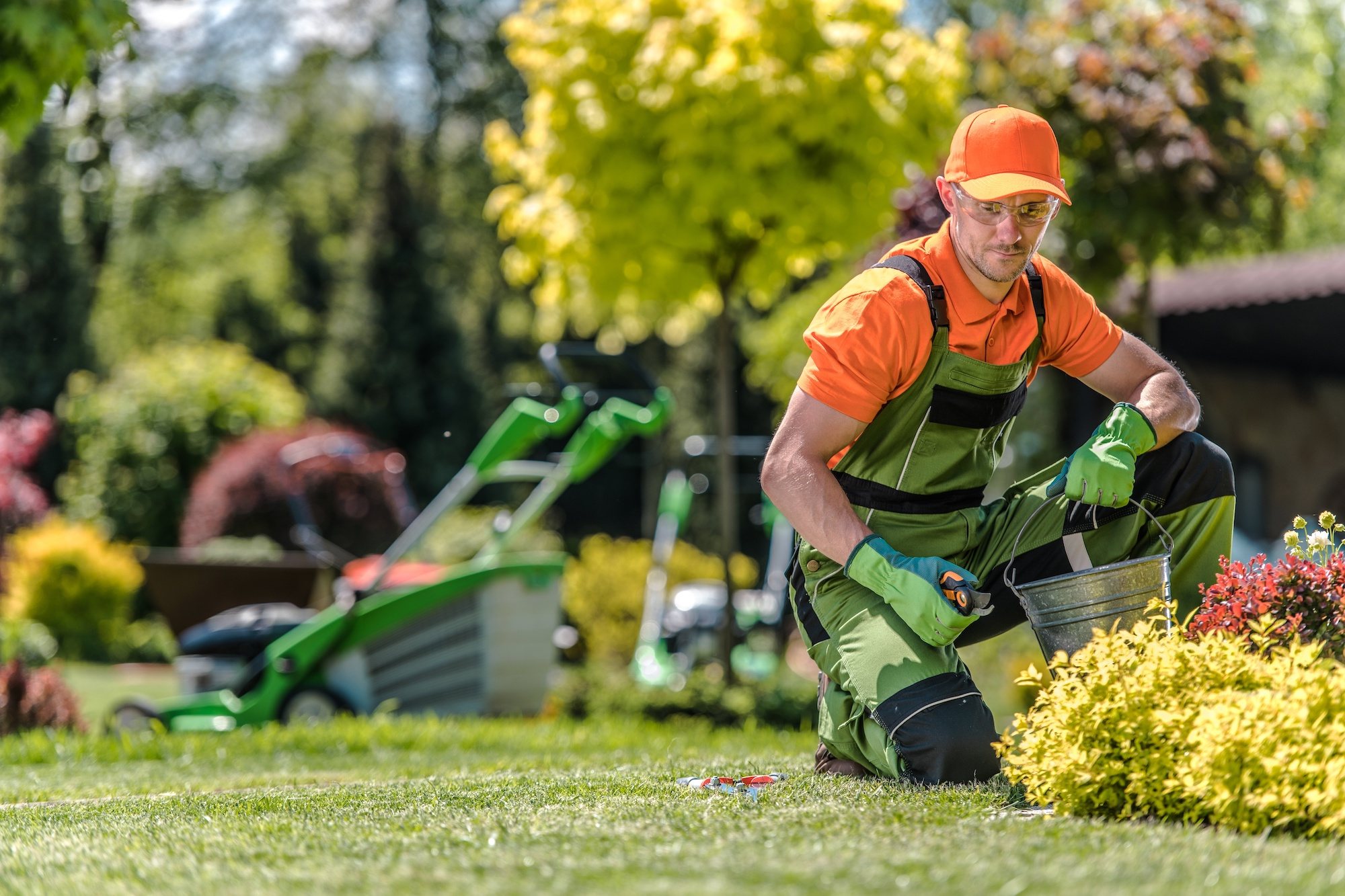 Blades
Sharp and well-balanced blades are a must for lawn maintenance equipment because it is the most efficient tool for cutting grass. Rust and other dulling effects can be prevented by proper routine maintenance. Also, these regular appointments ensure the blades are running smoothly at all times. Unbalanced blades can result in vibrations and damage other parts of your lawn equipment if neglected for too long.
Lubrication
Lawn maintenance equipment often contains a lot of moving parts – whether it is wheels or spinning blades. To make sure that everything is moving smoothly, those moving parts need lubrication, grease or oil. Depending on the type of equipment and the parts in question, it is sometimes wiser to invest in higher-quality grease because if a part gets stuck or moves more slowly than recommended, expensive repairs could be the result.
Cleaning
Regular cleaning can contribute to a longer lifespan in many types of equipment. Especially when it comes to landscape maintenance equipment that comes in contact with dirt, grass, or water, cleaning is a vital step on the landscape equipment maintenance checklist. This prevents rust, the build-up of dirt, and ensures that the tools are always in perfect working.
ToolSense is trusted by 700+ companies
Keep Track of All Machines, Vehicles and Landscaping Tools and Increase Your Business's Productivity and Revenue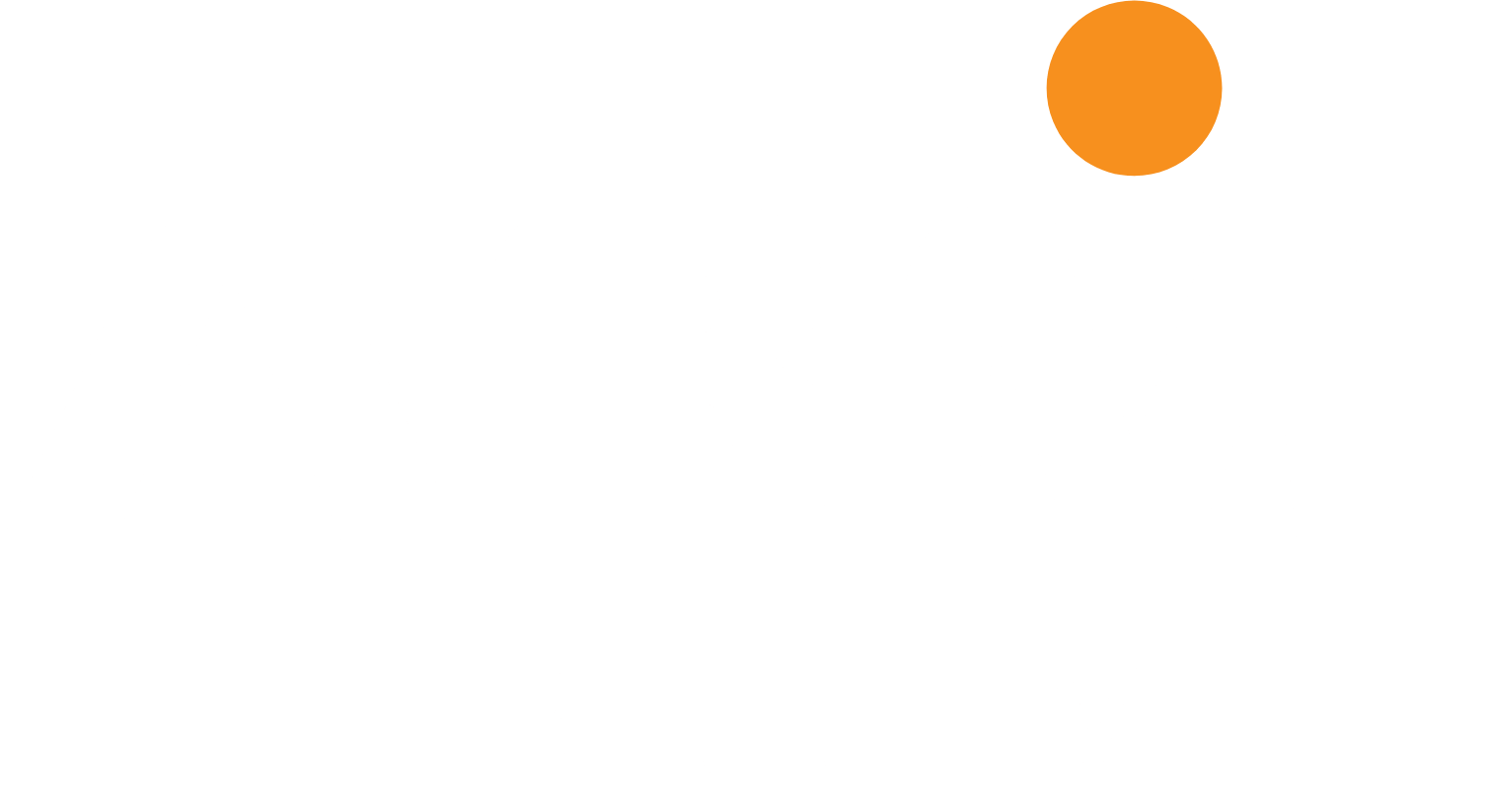 7 Best Practices for Landscaping Equipment Maintenance
Create Maintenance and Service Reminders
Landscape equipment maintenance software like ToolSense is a great way of keeping track of your appointments. Especially if your company operates a large number of equipment, keeping up with maintenance and service becomes a real challenge. An equipment management software lets you create a reminder for every piece of equipment that will alert you to upcoming maintenance checks in the future. You will never have to worry about missing an important date ever again.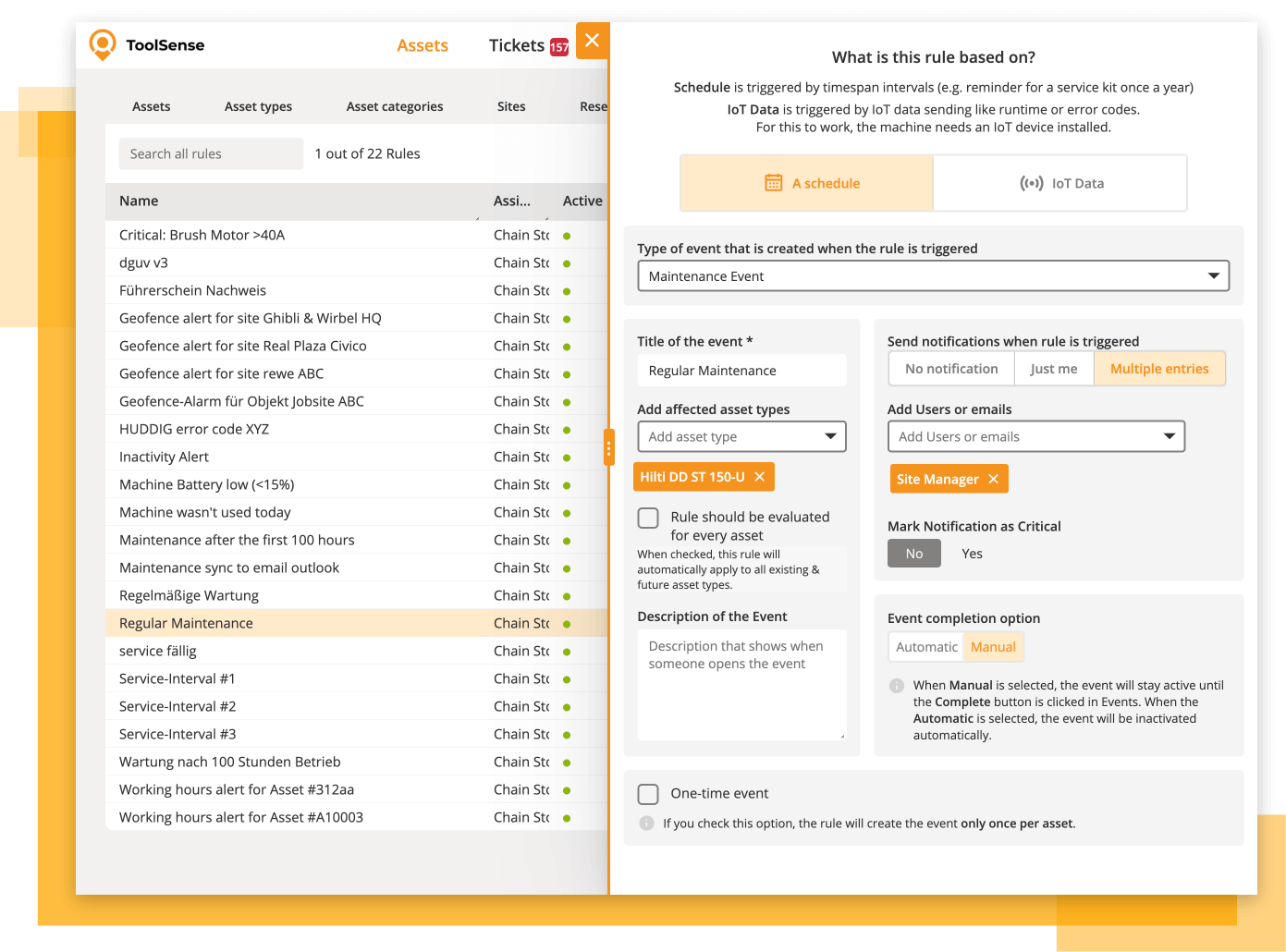 Make Routine Inspection Your Priority
Routine inspections may seem costly and a waste of time at first, but your landscape maintenance company will benefit from them in the long run. Underlying issues can be discovered before a machine breaks and worn-out spare parts replaced before they result in downtime. For a busy company, downtime is one of the top productivity killers, so preventive maintenance will end up saving you both time and money. Broken equipment negatively impacts productivity and creates delays throughout your operation.
Work Together as a Team to Resolve Issues
Communication is key! Both office workers and landscape gardeners out on maintenance appointments need to have access to vital information. This is another handy application for a landscape equipment maintenance software where everything around a piece of equipment is stored. Warranty information, runtimes, maintenance dates, damage reports and videos are all placed in the equipment's lifecycle folder. Thanks to ToolSense's practical ticket system, a worker out on a job can scan a machine's QR code and file a problem report that will be instantly delivered to the corresponding employee at the office. This allows for excellent teamwork and ensures that reports always end up where they need to without spending time in a filing tray. A mobile equipment management solution is the best way to stay connected to your team, communicate tasks and receive updates.
Track Work Orders and Service Inspections
Work Orders Help You Track Maintenance Progress
Unsure about the status of your service inspection? With an equipment management software like ToolSense, you are always up-to-date. Work orders can be tracked through the system and updated by any employee so that no information goes missing. Because every landscaping tool is equipped with a QR code, it is easy to scan the code with the help of a modern smartphone or tablet and update the status of the inspection. All work orders are stored in a machine's lifecycle folder for maximum transparency.
Keep an Eye on Maintenance Expenses
Maintenance costs are getting higher and higher? Time to take a look at where your money is going. Landscaping equipment inspection apps and software not only track the individual machines, but also the expenses they cause. Does a certain tool need maintenance at very short intervals, or is another machine eating up spare parts? The right software will help you uncover the true reason your equipment is losing your business money so that you can take steps to become more profitable.
Maintain an Overview of all Equipment, Runtimes, And Costs
Asset management software like ToolSense is a fantastic tool if you want to manage your equipment. Because every landscape gardening equipment has a unique QR code that is scanned whenever an event takes place, it becomes easier to comprehend how much your machines are costing you and how much profit they bring to your company. You can analyse locations, runtimes, downtimes, work orders, service inspections and costs for every single asset your company operates. With a powerful platform like ToolSense, you gain incredible insight into your equipment that will help you make the most economic decisions for your business.
Work From Anywhere
While some employees may be confined to a desk, others spend the entire day working landscape maintenance jobs. Especially with recent developments in the job market and the rise in remote work, being able to work from anywhere has gained popularity. Landscaping equipment inspection apps and other asset management software enable all workers to access the same information from any location at any given time. Because software like ToolSense is also cloud-based, multiple employees can edit the same documents at the same time. This improves the day-to-day workflow and creates a modern work environment.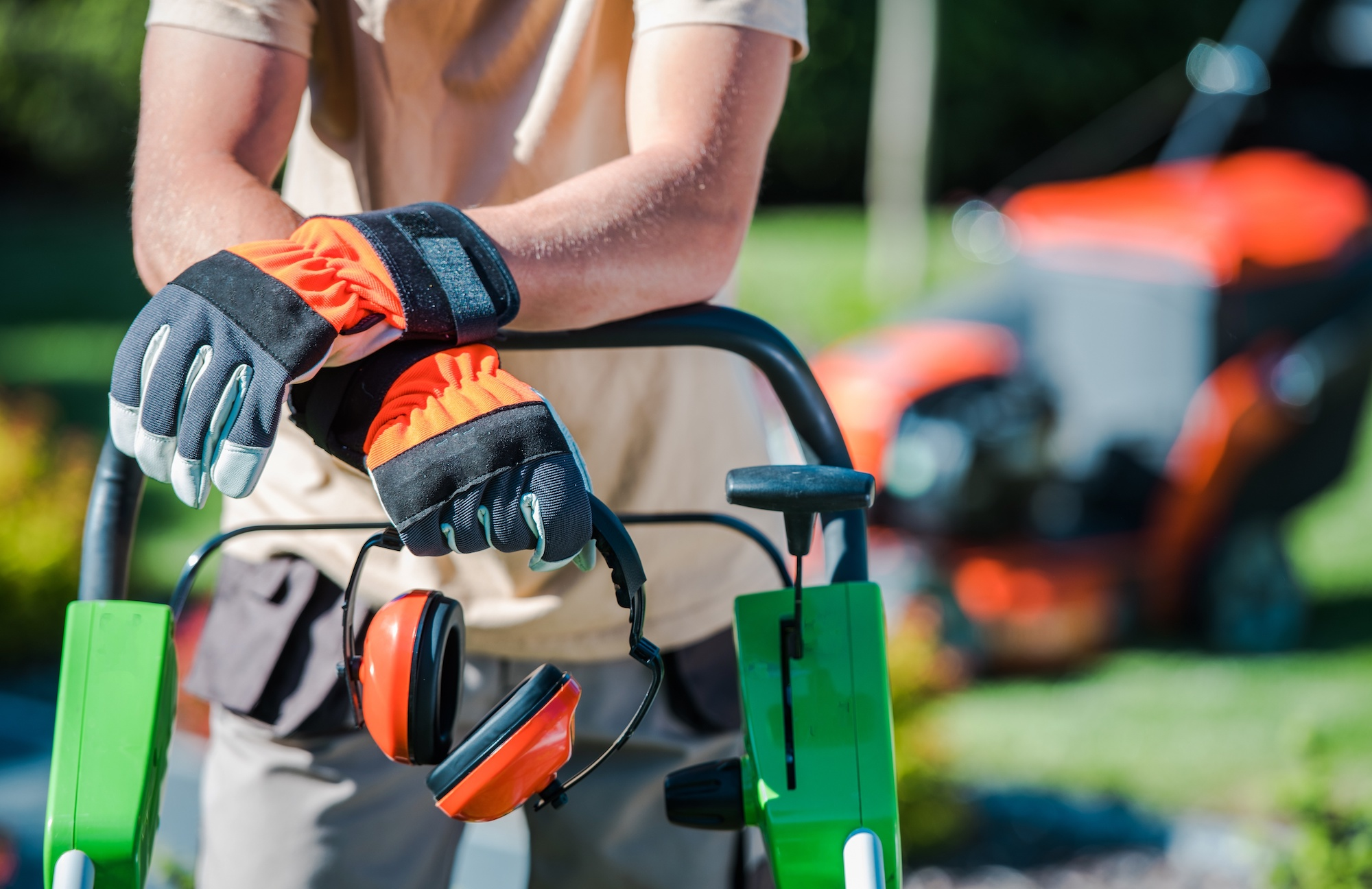 Conclusion
Landscape equipment maintenance checklists can be long, so it is important to not rely solely on pen and paper. Essential dates and information can slip through the cracks and end up costing you a lot of money. Thanks to clever platforms like ToolSense, you have all the information that you need in one place: maintenance and service inspection dates, locations, runtimes, downtimes, work orders, spare part requests, damage reports, videos and much more are stored in your equipment's lifecycle folder. With ToolSense you gain a fantastic overview of all your machines, vehicles and landscaping tools that will help you increase your business's productivity and revenue. The maintenance of landscaping equipment and a well-functioning set of tools is essential for your team to successfully perform any job. Keep your landscaping business growing by managing equipment maintenance in ToolSense.
ToolSense is trusted by 700+ companies
Keep Track of All Machines, Vehicles and Landscaping Tools and Increase Your Business's Productivity and Revenue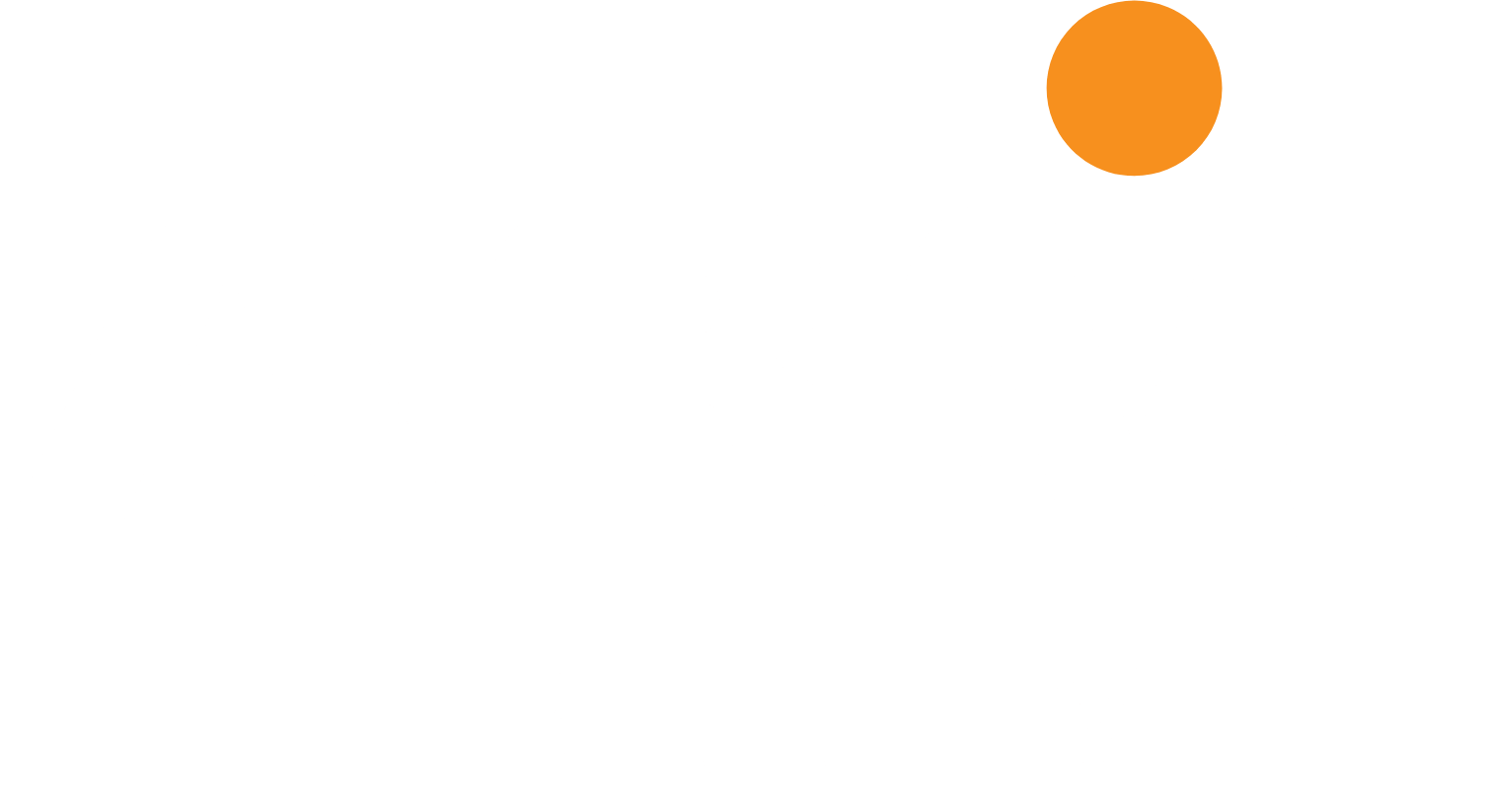 FAQ
What Is Equipment Maintenance?
During maintenance check-ups and service inspections, the equipment used in a company is checked for faults and wear and tear. They are also used to determine whether a piece of equipment is safe to use by an employee or whether it could pose a hazard.
Why Is Equipment Maintenance Important?
Proactive maintenance helps uncover flaws, faults and worn-out parts before they can lead to downtime, thus nipping a problem in the bud before it surfaces. This can help save a company a lot of money and ensure everything is up and running when the equipment is needed.
What Equipment Do Landscapers Use?
Landscaping equipment usually includes lawnmowers, grass trimmers, hedge clippers, leaf blowers, and many types of hand tools.
What Is the Most Common Cause of Landscape Equipment Downtime?
Common causes for landscape equipment downtime can involve blunt blades, engine failure due to lack of oil, not enough lubrication on moving parts, tire pressure, and neglected cleaning protocols.
How Can Equipment Maintenance be Improved?
An equipment management software can help with preventive maintenance by providing handy landscape equipment maintenance checklists. It also helps keep track of work orders and maintenance appointments, as well as the status of all inspections, including those that failed.