The facility management industry is among the most important as it provides vital tools and services needed for the upkeep of buildings, infrastructure, or grounds. Ensuring functionality, safety, and sustainability are all part of facility management. Why is facility management so vital to businesses? One of the most important functions of FM is safety. Management and maintenance of grounds and buildings turn them into a safe and healthy work environment, which prevents workplace accidents or even deaths. Additionally, it contributes to a good and productive work environment, which, in turn, promotes increased efficiency and employee well-being. With all these benefits attached to it, it is no wonder that the facility management industry is booming.
In 2022, the global facility management market was valued at $1,260.36 billion, but this is expected to rise to $1,856.44 billion by 2029 – with a compound annual growth rate of 5.7% (Fortune Business Insights). Read on if you want to learn more about this industry and the latest statistics surrounding facility management.
Facility Management Market Statistics
The facility management industry has grown over the last decades, owing its success to modern software solutions, such as asset management or maintenance management software, which helped identify bottlenecks, reduce risks, and improve efficiency. Here are some interesting facility management statistics (Webinar Care) from recent years:
The facility management industry has shown an average annual growth rate of 2.5% over the last 5 years.
The lowest-paid facility managers in the US have an annual income of about $31,330 while the highest-paid managers earn $134,570 annually.
81% of all property managers were able to increase their revenue during the last two years, whereas 5% of property managers reported a decrease.
88% of all property managers expected their revenue to grow during the next two years.
45.1% of all facility managers want to improve efficiency.
ToolSense is trusted by 700+ companies
Ensure Functionality, Safety and Sustainability for Your Facility Management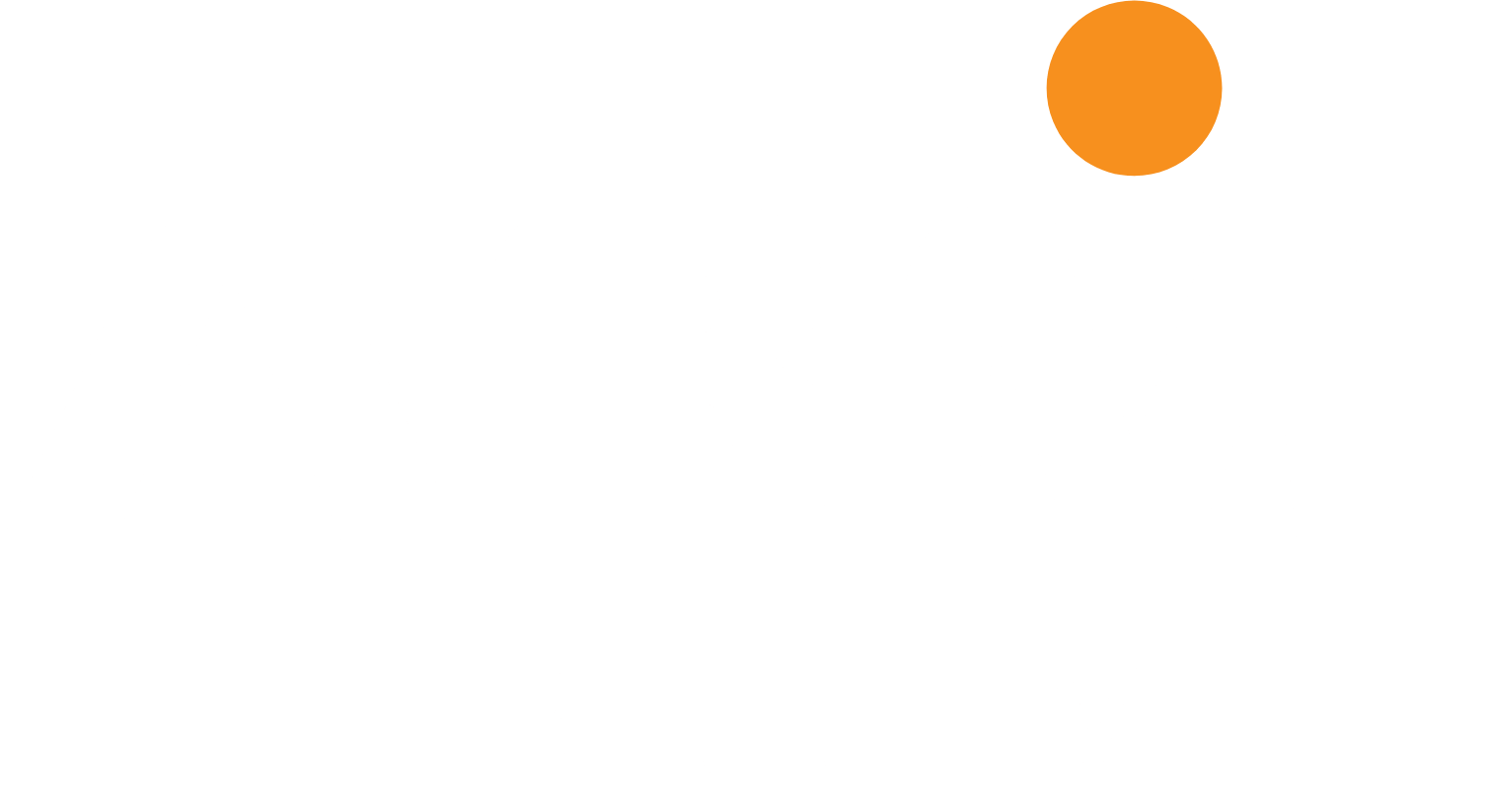 Top Trends in Global Facility Management Market
Sustainability
Facility management done right can greatly reduce a company's carbon footprint and contribute to a more sustainable workplace. With rising awareness concerning climate change and sustainability, businesses put in great efforts to create environmentally friendly workspaces. By preferring recycled or recyclable materials and conserving energy wherever possible, facility management contributes its share to increased sustainability.
Cloud-Based Applications
Another trend of recent years is the rise in cloud-based applications, which come with many advantages. Instead of storing files on a local computer, cloud-based apps and programmes can be accessed from desktop and mobile devices alike, regardless of location. Better security, easier access, and increased flexibility have made cloud-based applications popular in the facility management industry.
Virtualisation and Mobility
Another factor that continues to contribute to a more flexible or fully remote workplace is the use of virtualisation and mobility tools in the facility management industry. Not only do these help employees to work remotely, but they also improve efficiency and reduce costs.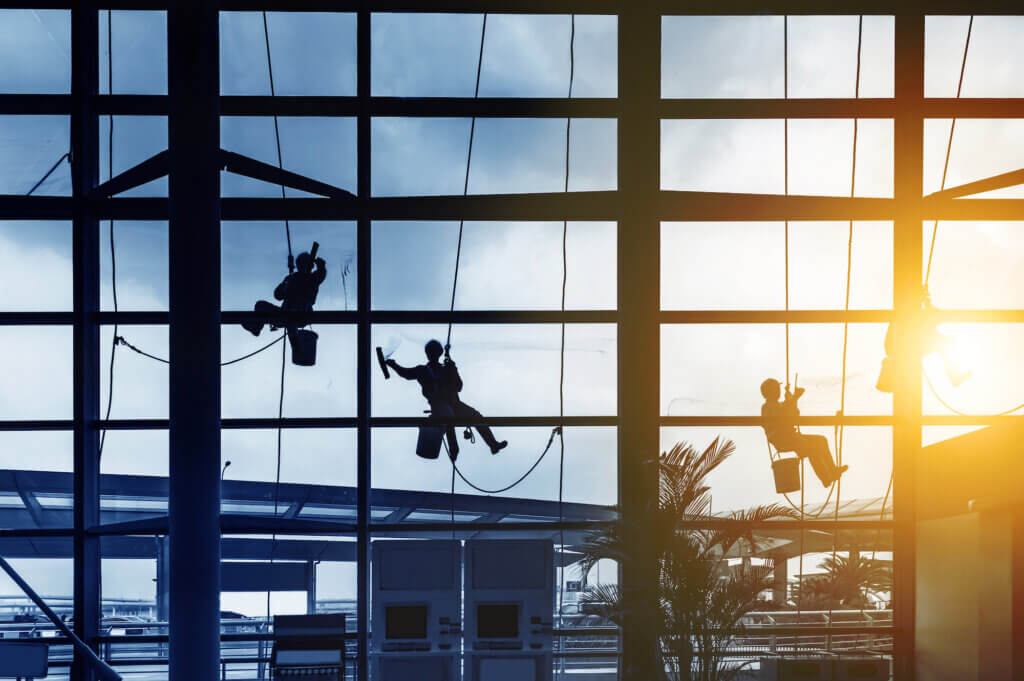 Data for Decision-Making
Utilising data analytics tools gives companies better insights into their facility management and allows them to better identify bottlenecks or other problems. This data can be included in a company's decision-making process to reduce risk, increase efficiency and save money.
Advanced Analytics
Advanced analytics tools can give a business better, more in-depth insights into everything surrounding facility management. Facility managers can recognise patterns and determine whether something is about to break before it does.
Flexible Workplace Designs
The Covid-19 pandemic and a shift in how younger generations view work-life balance have led to more flexible or even fully remote workplace designs. This trend will continue since it contributes to greater employee satisfaction and sustainability. It can also save a company a lot of money.
Expected Growth
The facility management market is expected to grow in the coming years, with the Middle East and Africa promising the biggest growth of 4.66% during the forecast period of 2022-2027 (Mordor Intelligence).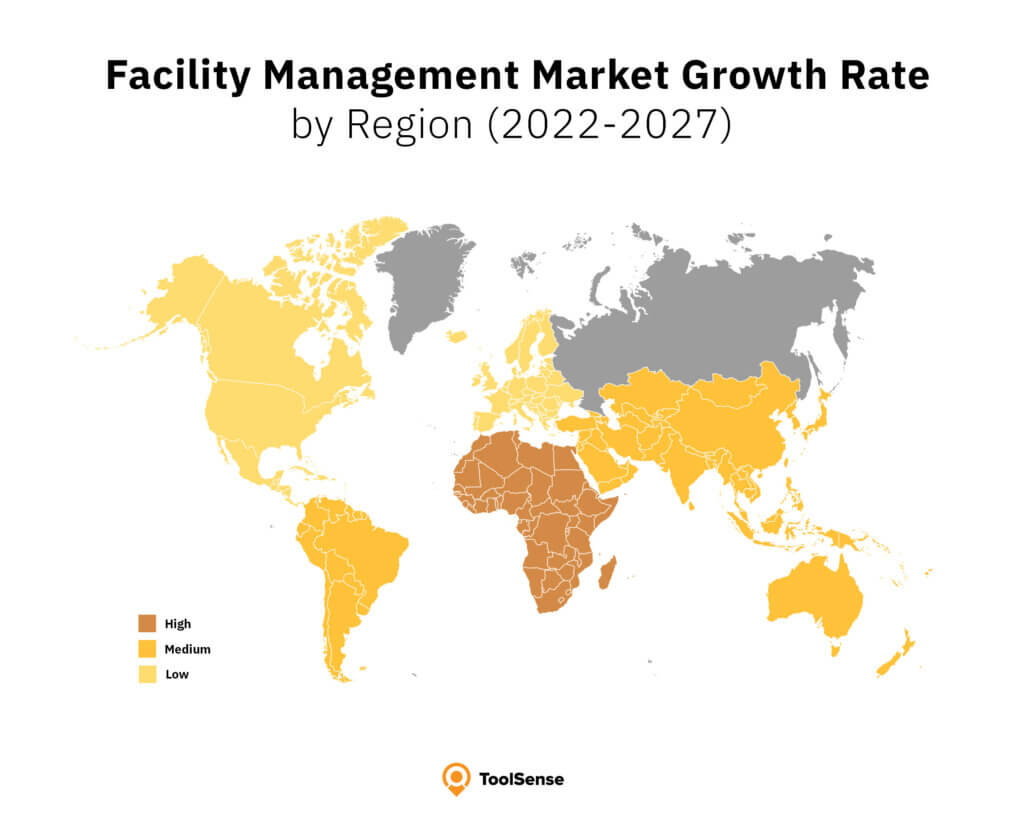 Global Facility Management Market Insights
The current global market size is valued at $1,260.36 billion (Fortune Business Insights). Facility management is made up of hard and soft services. Soft services describe all services related to managing the usage of the facility. Hard services are services related to all physical aspects that come with managing the facility. These are the current facility management industry statistics:
The global facility management market has a size of $1,260.36 billion.
The facility management industry is expected to have a compound annual growth rate (CAGR) of 5.7% over a forecast period of 7 years.
The largest and fastest-growing segments of facility management are hard services.
Hard services make up more than half of the global facility management market (Skyquestt).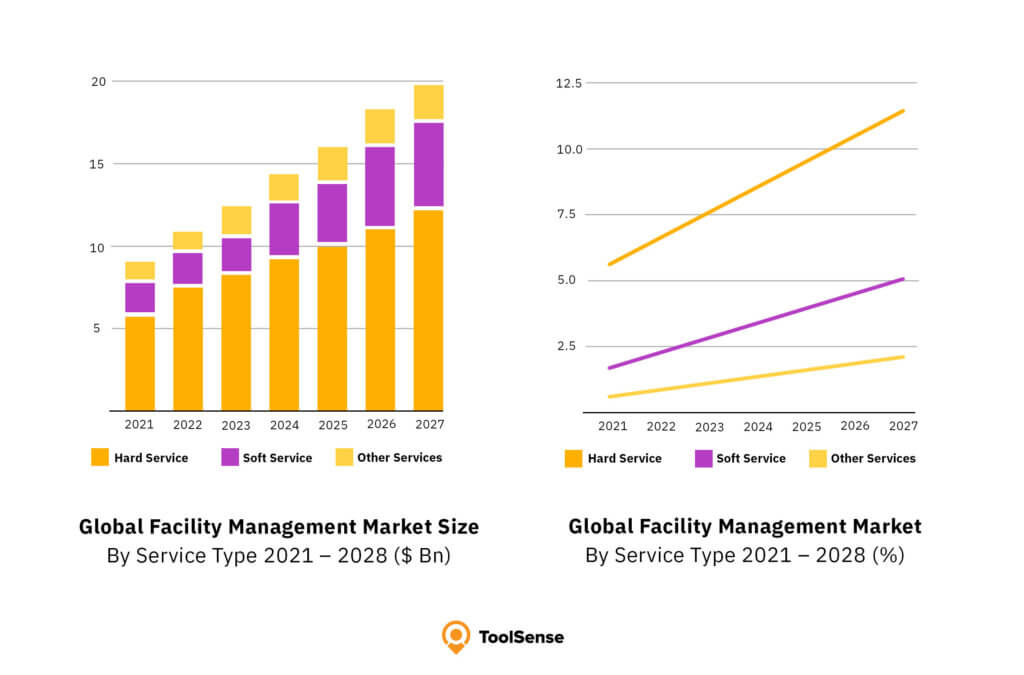 Global Facility Management Market Regional Insights
Asia Pacific has the largest share of the global market.
North America is the fastest-growing region in the global facility management industry.
In the Asia Pacific region, China, Japan, and India are the largest contributors to the global facility management market.
This growth has been driven by the implementation of IoT technologies in recent years.
Countries, like Qatar and Saudi Arabia, are also expanding significantly and are expected to grow in the following years due to their focus on tourism.
Investments in South America, the Middle East, and Africa are also expected to increase growth in the global facility management market (Skyquestt).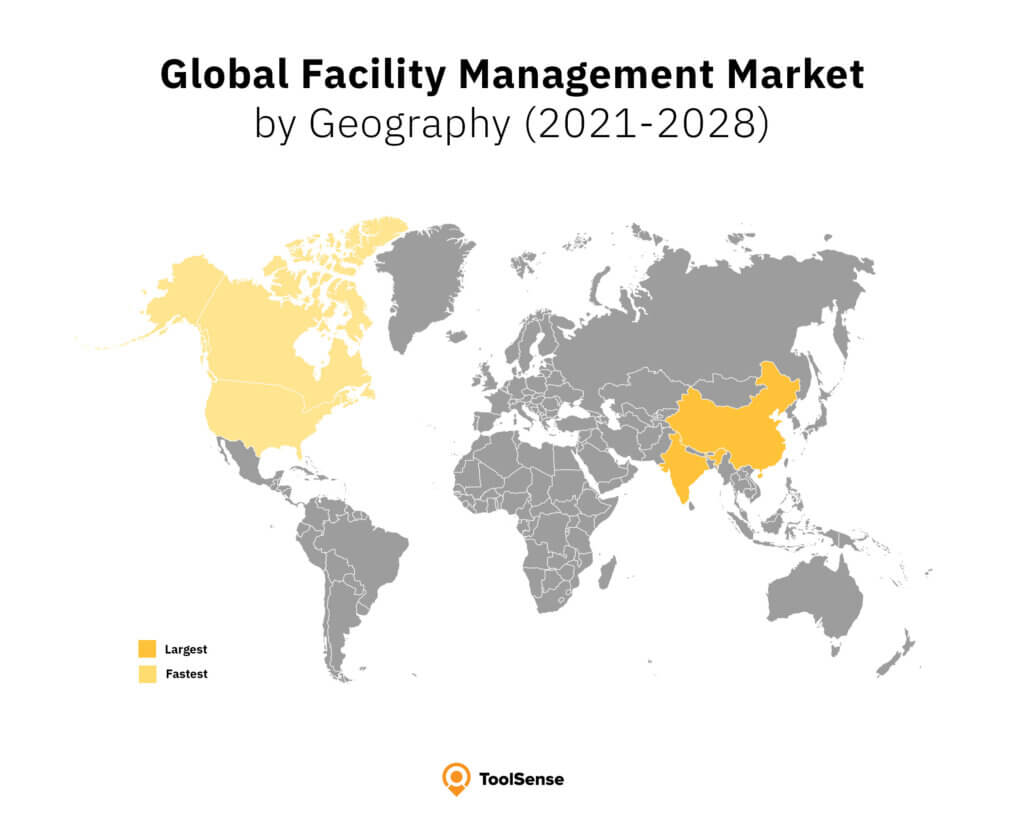 Global Facility Management Market Dynamics
Driver
Cloud-based solutions are the biggest driver in the facility management industry. Storing files and data locally comes with multiple risks, including security, loss of data, or accessibility issues. Meanwhile, cloud-based platforms can host your sensitive data securely and offer security updates and backups, allowing facility managers to retrieve lost files effortlessly. Cloud services are accessible from anywhere, regardless of device or location. Overall, they contribute to an increase in productivity and can lower operating costs while keeping your files safe.
Implement the Newest IoT Technology
Restraint
Facility management isn't always a priority for businesses because they have yet to grasp its importance. Additionally, companies can be slow to implement recent changes in work environments, such as moving from traditional work schedules to flexible or fully remote options. The implementation of IoT tools and cloud-based services also proves to be a slow process, as businesses are wary of the cost-benefit ratio. Because IoT tools and software are expensive, many facility managers are still reluctant when it comes to these great expenses.
Opportunity
Facility management is in high demand, whether companies are aware of this or not. The biggest opportunities in this industry lie in education and awareness. Businesses need to be made aware of all the benefits the facility management industry has to offer – such as increased workplace safety and efficiency, smoother workflows, and greater employee well-being. On the other hand, facility managers require education about all aspects of their job, including modern solutions and technologies. Young professionals and newcomers especially require a suitable mentoring programme to start their careers while long-term facility managers need to be brought up to date on the latest technological changes.
Challenge
The facility management industry is not without its challenges, however. Especially in an unstable economy, businesses are trying to save money wherever they can, and sadly, facility management often suffers the consequences. Additionally, many companies still rely on a reactive maintenance strategy rather than a proactive one, which makes proper facility management hard to implement.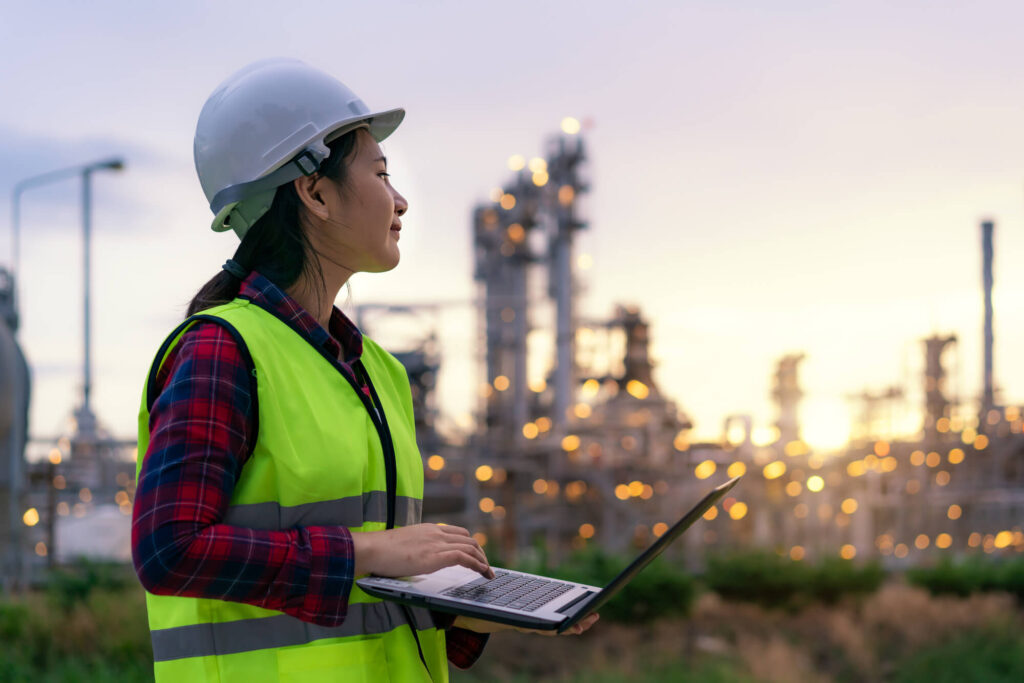 Segmentation by Industry
Since the facility management industry is divided into sectors, we can have a look at the statistics (Fortune Business Insights) regarding the segmentation of the industry:
Healthcare, government, education, military and defence, and real estate are all divisions of the facility management market.
Real estate makes up the largest segment of the facility management industry.
This is followed by other unclassified industries.
Education is the third-largest sector, followed by healthcare and military and defence.
The smallest sector in the global facility management market is government.
Due to expansion in construction and development, the real estate sector is expected to grow around the globe.
Growth is also expected for the healthcare sector due to an increase in healthcare facilities in certain regions.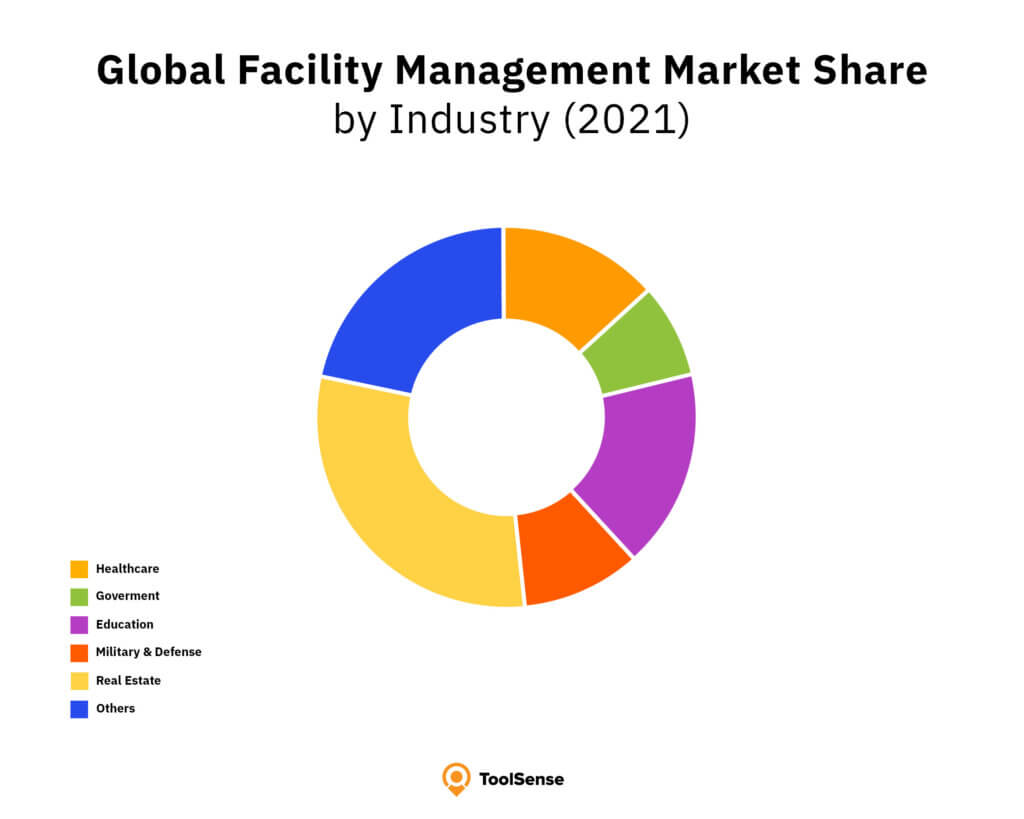 Facility Management Usage Statistics
After taking a look at the global facility management market, it is time to have a look a more detailed usage statistics regarding facility management:
Energy costs can be reduced by up to 20% through the use of smart and sensor technology (Webinar Care).
Productivity can be increased by up to 20% with the help of data analytics (Vizito).
Join Thousands of Industry Professionals and Sign Up for Our Newsletter Today
Sign up now to access the latest market insights and improve your asset operations efficiency.
Facility Management Software Statistics
Next to market and usage statistics, a look at specific facility management software statistics (Webinar Care) also sheds some light as to how and why software is used:
Asset and facility management software has a global market value of $4 billion.
This market value is expected to grow at a compound annual growth rate (CAGR) of 11% over the next few years.
Approximately 80% of computerised maintenance management software users don't use all the functions the software has to offer.
In 2017, a company reported that utilising CMMS software saved them 320 hours and increased production by 15%.
Challenges in Facility Management
Increasing Threat of Cybersecurity
Utilising IoT tools and cloud-based software comes with multiple benefits that result in better productivity and employee satisfaction. It can also save both time and money. However, interconnecting machines, sensors, and computers through cloud-based services can make businesses more susceptible to cyber-attacks. While the risk itself doesn't necessarily increase due to security measures the cloud-based ​​tools have to offer, the connection between machines and computers increases the damage a cyber-attack might do. Cybersecurity should therefore be a top priority for all companies that implement IoT technology.
Making the Workplace Sustainable
The environmental impact and climate change are becoming increasingly important factors for business decisions, which is why creating a sustainable workplace is one of the biggest challenges that facility managers currently face. Choosing environmentally friendly materials, saving energy wherever possible, and having a closer look at the supply chain and potential environmental factors related to transportation methods are the first steps in making the workplace more sustainable.
Senior Vice President of Service Delivery
ABM Industries
"Being able to combine equipment on one dashboard, where we have motorized and non-motorized equipment, is key for ABM. We currently have 5,000–6,000 non-motorized pieces of equipment out there in the field. Bringing that all together into one system is a big benefit."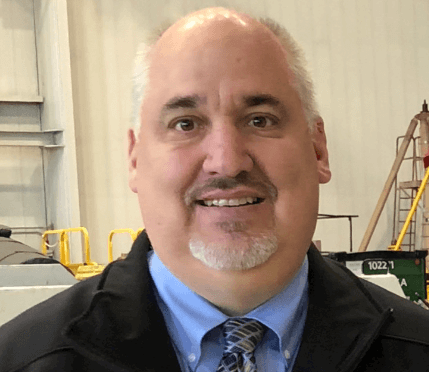 Improving Energy Management
A workplace that hasn't perfected its energy management can't be entirely sustainable, so when a company is trying to become more environmentally responsible, energy management is the best place to start because any type of building consumes energy. However, a facility manager can optimise this by switching to LED lighting, improving the access to natural light sources, and implementing energy-saving strategies. The addition of sustainable energy sources, such as solar panels, can also have a positive impact.
Inefficient Company Compliance
For proper facility management, responsible employees need time, a sufficient budget, and clear guidelines. Sadly, company managers often don't provide enough time or money that is required, or guidelines and instructions are unclear. As a result, facility managers can't find and repair flaws early enough or waste time on inefficient workflows. It is up to management levels to provide facility managers with everything they need.
Implementing Proactive Maintenance Programmes
In a reactive maintenance strategy, a company will wait for a certain asset to break before they begin repairs. Proactive maintenance, instead, develops a proper schedule to prevent faults and flaws from occurring in the first place, which results in less unexpected downtime. However, many businesses are reluctant to change their maintenance strategy, as proactive maintenance is more costly to implement even though it can save money in the long run.
Maintenance Management Based on Actionable and Data-Driven Insights
Managing maintenance across an entire fleet is quite a challenge. Build custom workflows in our Asset Operations Platform to easily manage maintenance processes for thousands of assets.
Competitive Landscape
Both local and international companies – each having decades worth of industry experience – can be found in the global facility management market, which can make it a very competitive industry. To strengthen their service portfolio, many companies have incorporated technologies or spent a lot of money on advertising. Here are some examples of companies and their competitive strategies from 2022:
A Dubai-based group of companies, Imdaad, offers facility management services and technologies and has recently joined with real estate provider LMD to provide quality facility management solutions across Egypt.
Imdaad also works with Disrupt-X, an IoT company, to unite sustainable quality facility management and modern IoT solutions.
Farnek, a facilities management company based in the United Arab Emirates, specialises in green facility management. This company has created a unique smart facility management technology solution company that uses intelligent analytics tools and connects people, assets, and locations. Their facility management system uses the internet of things, building management systems, cloud machine learning, and AI.
The Hard Facilities Management framework agreement was launched by the NHS Shared Business Service to promote creative solutions and innovation (Mordor Intelligence).
Key Players in Global Facility Management Market
Below is an international list of major players in the facility management industry:
Sodexo (France)
CBRE Group, Inc. (US)
ISS A/S (Denmark)
Compass Group (UK)
Aramark (US)
Jones Lang LaSalle Incorporated (US)
Cushman & Wakefield plc. (US)
Tenon Group (India)
Johnson Controls International plc. (Ireland)
Dussmann Group (Germany)
Serco Group PLC (UK)
Mitie Group Plc (UK)
G4S Plc (UK)
Veolia Environment (France)
Director Operations Performance
ISS Austria
"We wanted to have a solution that does not only track expensive assets but also cheap ones. In Austria, ISS operates over 6,500 cleaning machines alone, without even counting vacuum cleaners and other pieces of equipment. With ToolSense we bring them together on a single platform, leveraging data from IoT hardware and improving maintenance and inspection processes."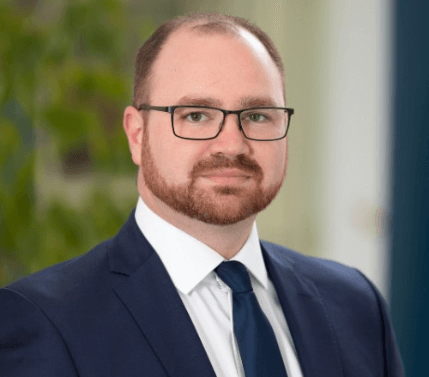 Covid-19 Impact on Facility Management
The Covid-19 pandemic has impacted facility management in different ways and created new challenges along the way. Before 2019, some companies already operated with flexible or even fully remote work models, but as the pandemic hit, many more rushed to implement changes to their work models, going partially or fully remote in a very short time. New technologies, such as cloud-based software, were needed for employees to work from any location. However, changes also had to be made to the office spaces to make them safer for employees who couldn't work remotely. This meant adjusting desk positions to create more space between them, or adding screens to limit direct contact. All these changes to the building and its interior were the responsibility of facility managers.
These adjustments, however, weren't the only consequences the Covid-19 pandemic had on the FM industry. These facility management industry statistics (ASHE) show what changes companies had to make during or right after the pandemic:
26% of companies had to furlough at least one staff member in facility management
21% of all companies reassigned at least one staff member
14% of companies had to reduce salaries for at least one staff member
8% had to lay off at least one member of staff
4% of companies had to loan out at least one staff member
20 Statistics for Facility Managers
Hybrid work models have been implemented in 70% of all companies.
48% of all employees can work from home at least partially.
16% of all companies worldwide have gone fully remote.
97% of all employees have expressed the wish to work remotely.
Miles travelled because of daily commutes can be reduced by 140 billion through remote work models.
Remote work models can save companies $11.000 per employee.
Remote work models can save employees $7.000 per year.
Flexible work models are a priority for 60% of all millennials.
Remote work models contribute to greater employee happiness in 84% of employees.
25% of remote employees find it difficult to unplug after work.
44% of companies don't allow working remotely.
In 2022, the facility management market will grow by 1.3%.
A workspace costs between $8.000 and $14.000 each year.
Data analytics are used by 63% of all companies to increase productivity.
Energy costs can be cut by up to 20% with smart technology.
Security is especially important in data analytics to 27% of all companies.
$1.2 trillion are spent on IoT technologies.
By 2030, 75% of the entire workforce will be manned by millennials, the first "digital native" generation.
The percentage of people not fully engaged in their jobs is 63%.
Italy provides the best work-life balance (Vizito).
Facility Management Latest Statistics and Recent Developments
Between 2020 and 2030, employment in the facility management sector is expected to grow by 9%.
About 44% of unexpected downtime is caused by old equipment.
Unplanned downtime costs about $50 billion each year, which equals approximately 5-20% of a company's productive capacity.
Preventive maintenance strategies can save businesses between 12-18%, or $5 for each $1 that is spent.
It is expected that IoT technologies create $800 billion in economic value by 2024.
Approximately 17 billion connected devices are used worldwide, of which 7 billion are IoT devices.
80% of manufacturing businesses use predictive maintenance.
Over 50% of manufacturing companies use predictive maintenance with the help of analytics tools (Webinar Care).